Sosiale wetenskappe: geskiedenis
Graad 6
Die pad na demokrasie in sa sedert 1910
Module 5
Vreedsame protes tot die 1950's
Aktiwiteit 1:
Om bronne te gebruik oor vreedsame protes in die 20's en 3o's
[lu 1.2]
VREEDSAME PROTES IN DIE 1920'S EN 1930'S
(a) Vul die ontbrekende name van die republieke en kolonies voor 1910 op die kaart in. Gebruik jou eie bronne.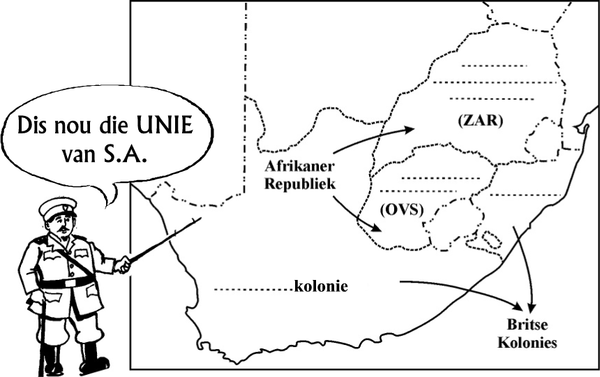 Op 31 Mei 1910 as Britse dominium (susterstaat) met Louis Botha as eerste premier gestig. Swartmense het egter nie stemreg gehad nie en kon nie aan verkiesings deelneem nie. Slegs in die Kaapprovinsie het Kleurlinge en sekere swartmense stemreg gehad. In reaksie hierop is die SANNC (South African Native National Congress) in 1912 onder leiding van eerwaarde John Dube in Bloemfontein gestig. Hul sou hul beywer vir geregtigheid en vryheid vir swartmense in SA. Hul was teen geweld en wou hul ideale deur redelikheid, geduld en volharding bereik.
Tydens die 1920's was organisasies soos die Industrial and Commercial Worker's Union of SA van Clements Kadalie die grootste vakunie in SA. Hulle het verskeie stakings op plase, dorpe en stede aangemoedig. Botsings met die polisie het voorgekom en baie mense het gesterf. In 1923 is die SANNC se naam verander na die ANC (African National Congress). Hulle het egter in die 1930's byna tot niet gegaan weens interne verdeeldheid en finansiële probleme.
Massa-aksies teen apartheid in die 1940's en 50's
In die veertigerjare, en veral na die Tweede Wêreldoorlog, het wêreldwye steun vir menseregte toegeneem. Ook die ANC het 'n herlewing beleef. Maar in 1948 het die Nasionale Party van dr. D.F. Malan die bewind oorgeneem en apartheid, wat reeds toegepas is, het amptelike landsbeleid geword en is streng toegepas. Swartmense kon voorheen openbare geriewe gebruik wanneer hulle wou en verskillende rasse kon met mekaar meng en trou. Nuwe wetgewing het dit egter verbied:
- 1949: Wet op Gemengde Huwelike
- 1950: Groepsgebiedewet (voorbeeld A)
- 1952: Paswet
- 1953: Wet op Afsonderlike Geriewe (voorbeeld C)
So het die Bevolkingregistrasiewet (1950) alle Suid-Afrikaners in vier rassegroepe verdeel: Swart mense, Blankes, Indiërs en Kleurlinge. Die wet het mense se hele lewe beperk: woonplek, werk, opvoeding en vryheid van beweging. Kleurlinge in die Kaapprovinsie het hul stemreg verloor. Weens die Groepgebiedewet moes mense hul huise verlaat en woonbuurte soos Distrik Ses ontruim en na onontwikkelde dele op die Kaapse Vlakte trek.
Hier volg drie voorbeelde waar wette grootskaalse ontevredenheid veroorsaak het:
Voorbeeld A: Goepsgebiedewet
(b) Gestel jy is 'n inwoner of opruimbeampte by Sophiatown. Bestudeer meegaande bronne en skryf dan 'n kort briefie aan jou maat of maak 'n muurkaart waarin meer inligting verskaf word. Verskaf minstens twee bronne.
(Onthou ook die wie, waar, wanneer, wat, waarom.) Hou eers 'n klasgesprek daaroor. Vergelyk dan jul inligting met mekaar en pas dit aan, indien nodig.
BRON A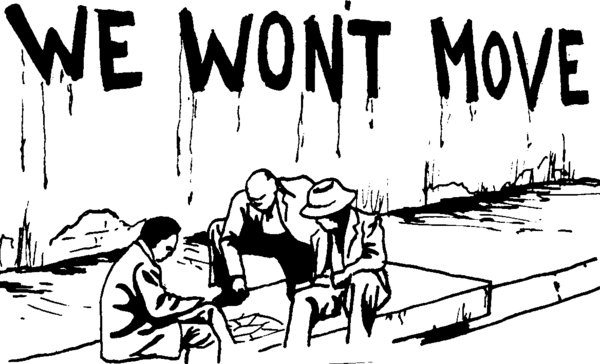 BRON B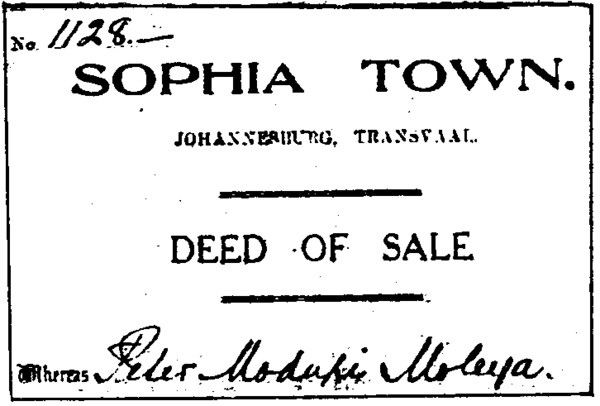 In 1955 moes Sophiatown aan die Wes-Rand (vandag Triomf), by Johannesburg, deur swart mense ontruim word. In Februarie 1955 is swart mense binne drie ure vanaf Sophiatown na Meadowlands (vandag deel van Soweto) verskuif.