ONTHOU ! Om met vuur te werk is gevaarlik, want jy kan jouself brand. Hou 'n noodhulptas byderhand en doen alles onder volwasse toesig.
Waterdigtheid: Jy benodig water, 'n meetbeker, 'n bak en 'n stophorlosie. Gooi 50 ml water op die lappie en bepaal die tyd wat dit vir die water neem om deur die materiaal te syfer. Is dit redelik lank of kort?
Kleur: Skryf slegs neer watter kleur die kledingstof is.
Duursaamheid: Jy benodig 'n baksteen. Vryf elk van die stukke tekstielstof stadig heen en weer oor die baksteen. Tel hoeveel keer jy die materiaal oor die baksteen moet vryf voordat dit skeur.
Beskrywing van tekstielstof – is dit geruit, geblom, effekleurig, donker, lig, pastel, ens?
Tekstuur: Is dit glad, rekbaar, wollerig, grof, skurf, vol riffels?
Gevoel van tekstielstof – Voel die tekstielstof hard of sag?.
Temperatuur van tekstielstof – Voel die tekstielstof warm of koud?
Tekstielstowwe
1Nylon
2Poliëster
3Katoen
4Sy
5Wol

Sterkte

Brandbestandheid

Waterdigtheid

Kleur

Duursaamheid

Beskrywing

Tekstuur

Gevoel

Temperatuur

Natuurlik (N) of

Sinteties (S)
[LU 1.3]
Opdrag 6 B
Kan jy drie eienskappe van natuurlike tekstielstowwe uit bogenoemde aflei?
Kan jy drie eienskappe van sintetiese tekstielstowwe uit bogenoemde aflei?
Voltooi deur die korrekte antwoorde neer te skryf.
Tekstielstowwe van wol is warm en meer geskik vir die ( winter/somer ), omdat dit hitte binne hou, terwyl tekstielstowwe van katoen en linne koel is en meer geskik is vir die ( somer/winter ). Wanneer hitte van 'n plek van hoë temperatuur vloei na 'n plek met 'n laer temperatuur in 'n vaste stof, word dit konduksie genoem. Wanneer ons materiaal gebruik wat 'n swak geleier van hitte is om die hitte binne of buite te hou, noem ons so 'n materiaal 'n isolator . Vesels soos wol, leer, pels en vere hou warm lug binne, dus is hulle goeie isolators. Natuurlike stowwe soos wol word dus verkieslik in die ( somer/winter ) gedra. Sintetiese stowwe laat water ( maklik/moeilik ) deur en hou hitte ( binne/buite ).
[LU 1.3]
Opdrag 6 C (vir verryking)
Ontwerp 'n eksperiment om te bepaal hoe kreukeltraag/kleurvas/rekbaar verskillende tekstielstowwe is.
Skryf die doel neer.
Skryf die metode en benodigdhede neer.
3 en 4. Kopieer die tabel en vul in.
| | | | | | | |
| --- | --- | --- | --- | --- | --- | --- |
| | | 1Nylon | 2Poliëster | 3Katoen | 4Sy | 5Wol |
| 3 | Waarneming | | | | | |
| 4 | Gevolgtrekking (S of N) | | | | | |
[LU 1.3]
Opdrag 7
Probleem: Jy is 'n lid van 'n groep bergklimmers wat die hoogste berg in Afrika, Kilimandjaro, wil gaan uitklim. Vind eers uit watter klimaat jy kan verwag. Beplan dan jou uitrusting vir die ekspedisie. Teken met byskrifte om te verduidelik wat jy gaan aantrek en van watter stof elke kledingstuk gemaak gaan wees.
[lu 1.2]
Opdrag 8
Hier is etikette wat agter in die krae van wit skoolhemde vasgestik is. Beantwoord die volgende vrae na aanleiding daarvan.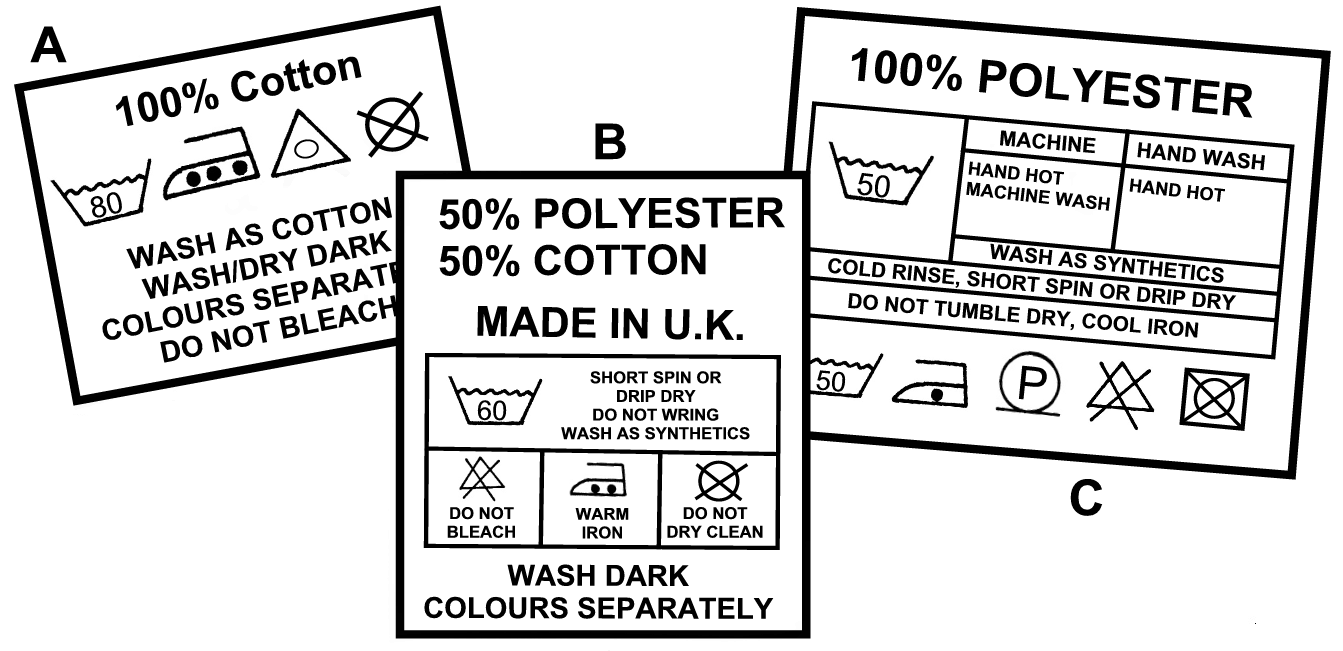 Is die hemp van 'n natuurlike of 'n sintetiese tekstielstof of 'n mengsel gemaak?
Etiket A:
Etiket B:
Etiket C:
Watter persentasie van elke tekstielstof is gebruik?
Etiket A:
Etiket B:
Etiket C:
Sien jy enige versorgingsimbole vir was, stryk en bleik vir die tekstielstof? Maak 'n kopie van die tabel en teken die simbole oor.