Arts and culture
Grade 8
Critical and creative expression
Module 10
Exposure of the abuse of human rights
VISUAL ARTS
Activity 1:
To recognise the role of visual art in the exposure of the abuse of human rights
[lo 2.2, 2.7]
STEP 1
1. What is stereotyping?
2. Write down two forms of prejudice.
3. Mention forms of discrimination you can think of.
4. How were people made aware of discrimination in the past. How are they made aware of it at the present time?
5. Study the two interpretations below and then write in your journal which one influenced you the most and why.
Interpretation 1
The mobile units acted quickly and surprised the Jewish communities.
Men, women and children were ordered to gather and then marched to the outskirts of their town or city where they were shot and left in unmarked mass graves.
Interpretation 2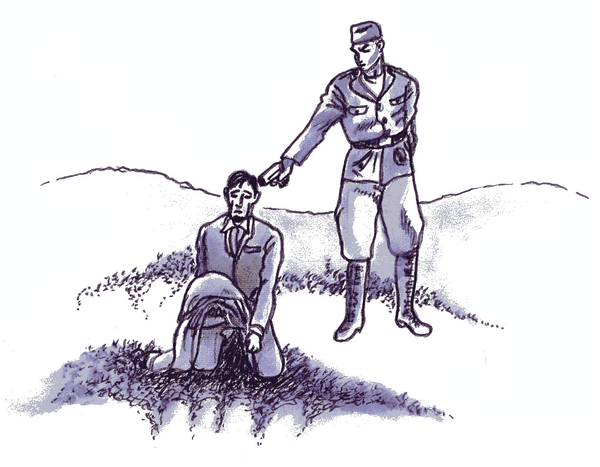 STEP 2
Now find pictures and articles in magazines or newspapers to make a poster protesting against the abuse of human rights.
STEP 3
After you have been divided into groups, you can decide which pictures or articles will be the most effective and then:
Paste the items that you have chosen as a photo montage (a type of collage where only photos and articles are used and not materials like wool, string or objects with other textures). Paste this onto your A 1 sheet.
Then take colour pastels or koki's and combine the pictures and articles into a unit. This will serve as the background.
Think of a slogan petitioning against the abuse of human rights.
Cut letters from magazines and paste these over the background of the poster. Remember that the letters must be clearly visible and bold enough to carry your message and slogan to the viewer.
Activity 2:
To classify composition, style and subject in various works of art
[lo 2.4]
STEP 1
Study the illustrations and then answer the set questions.
Composition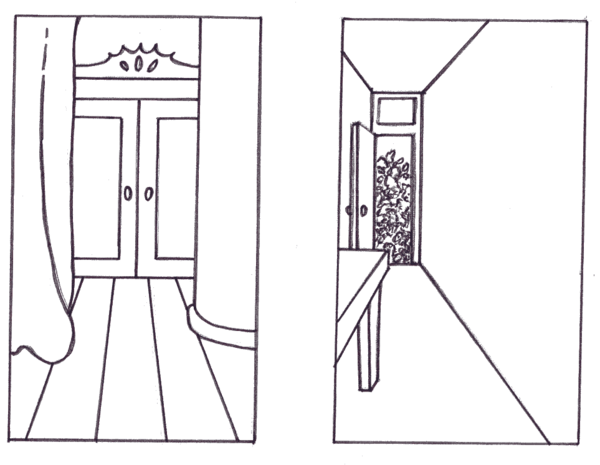 1. What is the composition of a work of art?
2. Mention as many as possible differences between the two illustrations with regard to composition.
Style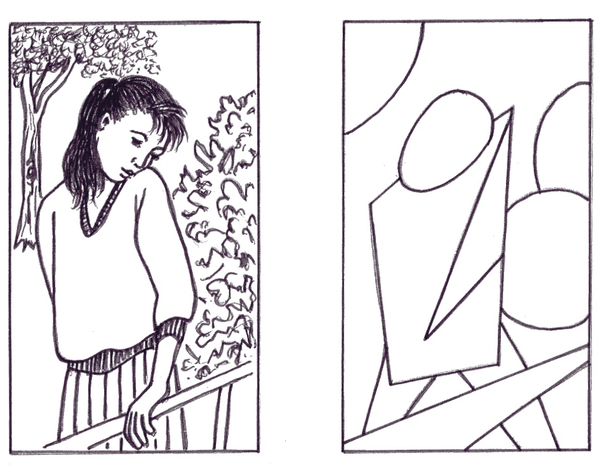 1. How do the above two works of art differ?
2. Describe in your own words what style is.
Subject or Theme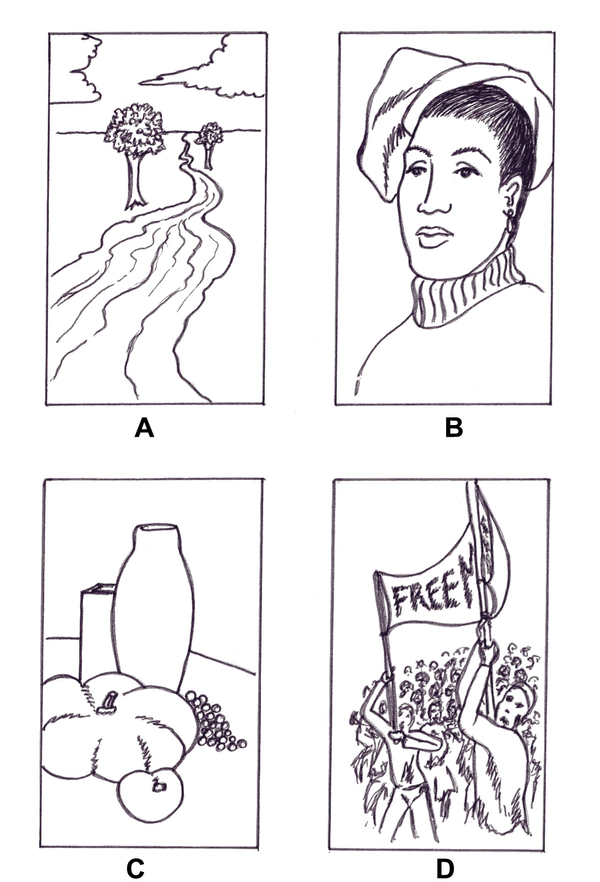 1. In the illustrations A to D, four different subjects are portrayed. Try to identify all four:
STEP 2
Your educator will show you a number of copies of works of art. You must classify these works of art according to composition, style and subject. First write down the name of the artist and the work of art on the left.
| | | | |
| --- | --- | --- | --- |
| Name of the artist and work of art | Composition | Style | Subject |
Assessment
Learning Outcome(LOs)
LU 2
REFLECTINGThe learner will be able to reflect critically and creatively on artistic and cultural processes, products and styles in past and present contexts.
Assessment Standards(ASs)
We know this when the learner:
COMPOSITE
2.2 discusses how the Arts have contributed and can contribute towards social and cultural change (e.g. as a mirror, in documentaries, as suggestions, commentaries, predictions).
VISUAL ARTS
2.7 identifies and explains how photography, filmmaking, sculpture and printmaking can document human rights abuses;2.8 comments on composition, style and subject matter in artworks (e.g. landscape, portraits, still-life, public art or resistance art) over time.