Lewensvaardighede
Graad 1
By die skool
Module 2
My eerste dag op skool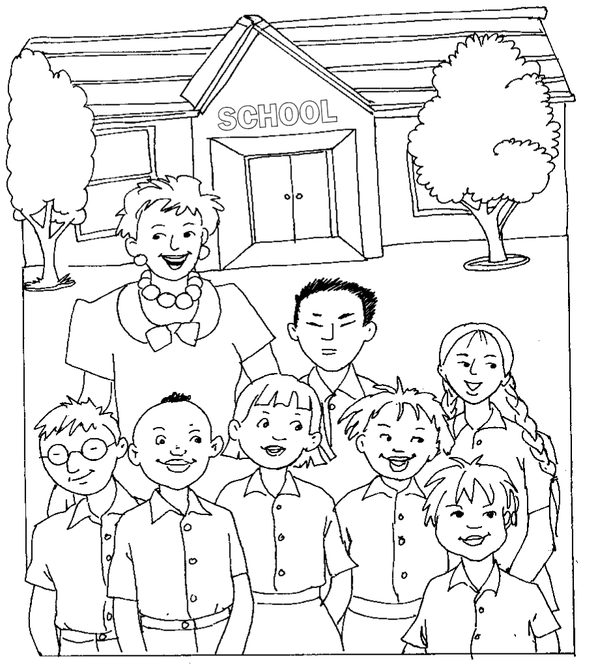 Eerste dag op skool
Hoe voel jy vandag? Kleur die prentjie in wat die beste wys hoe jy voel.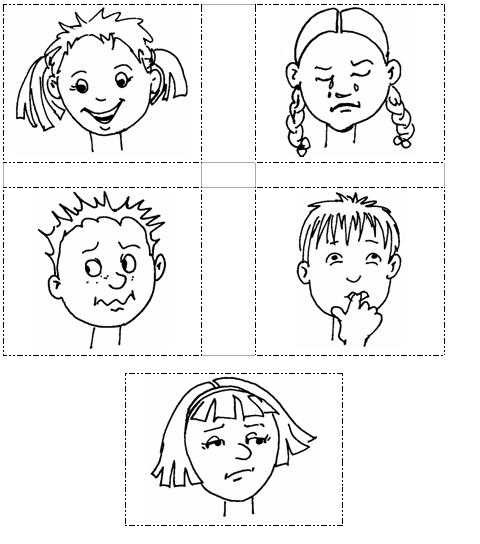 Teken jouself op die eerste skooldag in jou klas. Vertel en teken hoe jy voel oor skool, jou vriende en jou onderwyseres.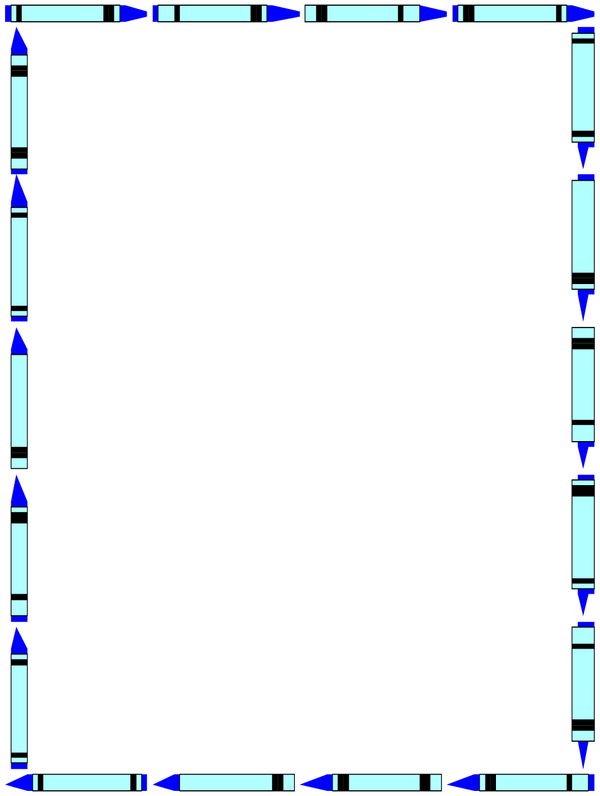 Teken hoe jou fotoraampie gaan lyk .
Kleur al die materiaal wat jy vir jou fotoraampie gaan benodig in: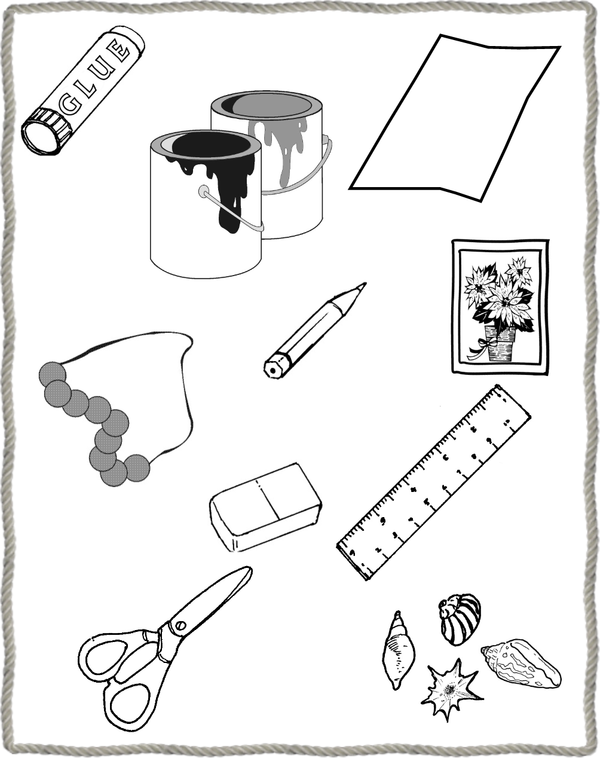 My fotoraam
Kleur die gesiggies in om te sê hoe jy oor jou fotoraampie voel.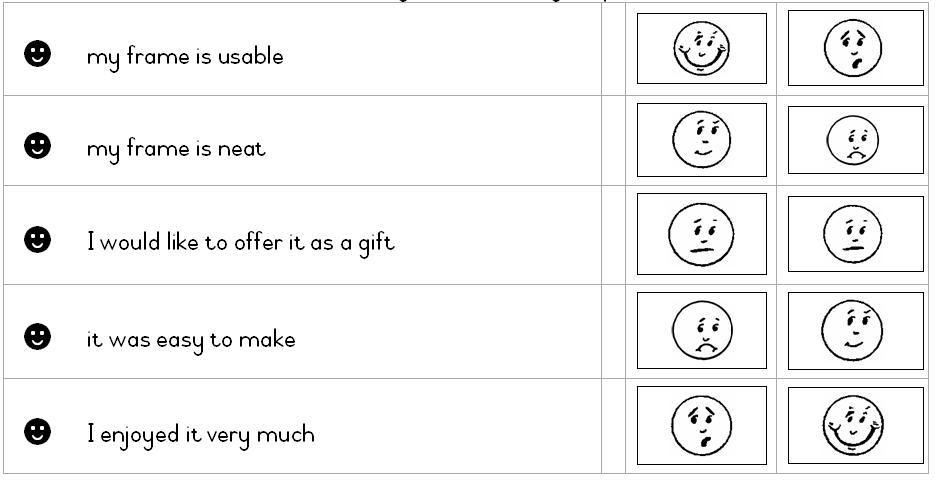 Kyk mooi na al die prentjies. Waarmee sal jy graag vir Juffrou wil help? (Maak 'n regmerkie by die prentjies) Kies enige vyf prentjies.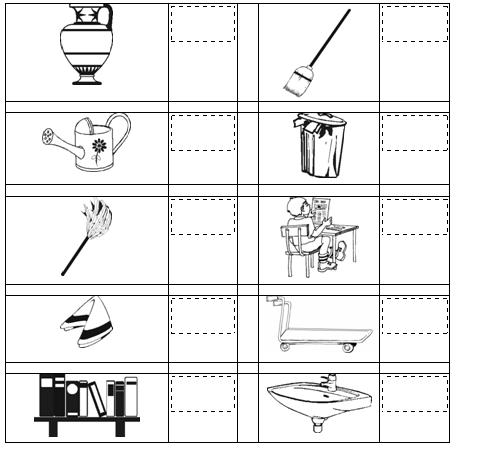 Assessering
Leeruitkomstes(LUs)
lewensoriënteringLU 3
PERSOONLIKE ONTWIKKELING:Die leerder kan verworwe lewensvaardighede gebruik om persoonlike potensiaal te bereik en uit te leef om doeltreffend te reageer op uitdagings in die lewe.
Assesseringstandaarde(ASe)
Dit is duidelik wanneer die leerder:
3.3. verskillende gevoelens kan toon en identifiseer, insluitend respek vir lewende dinge.
EBWLU 2
VOLHOUBARE GROEI EN ONTWIKKELINGDie leerder kan begrip toon van volhoubare groei, heropbou en ontwikkeling en krities oor verwante prosesse nadink.
Dit is duidelik wanneer die leerder:
2.1 take en verantwoordelikhede by die skool beskryf en sê waarom dit uitgevoer moet word (Opvoeder se aantekeninge).
TEGNOLOGIELU 1
TEGNOLOGIESE PROSESSE EN VAARDIGHEDEDie leerder kan tegnologiese prosesse en vaardighede eties en met verantwoordelikheid toepas deur gepaste inligtings- en kommunikasietegnologie te gebruik.
Dit is duidelik wanneer die leerder:
1.1 ( ondersoek ) - ondersoek instel oor waarom produkte van sekere materiale gemaak word (Opvoeder se aantekeninge);1.2 ( ontwerp ) – gepaste materiaal of stowwe kies om 'n eenvoudige produk te maak om 'n gegewe behoefte te bevredig;1.3 ( maak ) – 'n eenvoudige produk van verskillende stowwe of soorte materiaal maak;1.4 ( evalueer ) – uitdrukking en verduideliking gee oor die gemaakte produk.
Memorandum
Die leerders kry geleentheid om te vertel hoe hulle oor skool voel. Sommige leerders mag dalk reeds 'n skoolomgewing goed ken en ander nie.
Bespreek die verskillende emosies wat hulle voel en help hulle om dit te identifiseer.
Bespreek die emosies weer twee weke later om te bepaal of die leerders al meer veilig en op hulle gemak voel. Vra vrae soos waarom en hoekom? Wat leer dit hulle van 'n onbekende situasie? Kan hulle aan ander soortgelyke situasies dink?
Verdeel die klas in groepies van ± vyf leerders elk. Elke groep moet aan drie belangrike dinge dink wat hulle elke dag kan doen om die klaskamer skoon en netjies te hou. Die opvoeder skryf dan met die klas se hulp die vyf belangrikste klaspligte neer (EBW 2.1). Die leerders moet beurte neem om die pligte uit te voer (Die opvoeder kan 'n pligstaat opstel). Hou 'n klasbespreking oor ander persone wat take en verantwoordelikhede by die skool het (bv. die skoolhoof, opvoeders of prefekte). Wat sal gebeur as hulle nie hulle pligte nakom nie? Beklemtoon elke leerder se verantwoordelikheid om bv. weer netjies te maak waar hy / sy gewerk het.
Leerders ontwerp en maak 'n fotoraam vir die gesinsfoto. Wys en bespreek die verskillende soorte vorms en rame wat 'n mens kry. Leerders ondersoek watter soort materiaal vir 'n raam gebruik kan word. Verduidelik die verskillende stappe. Leerders voltooi die werkvelle om al die verskillende materiale te herken wat hulle vir die raam benodig, asook die ontwerp van die raam. Evalueer die produk (Teg. 1.2 – 1.4).
Questions & Answers
Receive real-time job alerts and never miss the right job again
Source:  OpenStax, Lewensvaardighede. OpenStax CNX. Sep 21, 2009 Download for free at http://cnx.org/content/col11102/1.1
Google Play and the Google Play logo are trademarks of Google Inc.
Notification Switch
Would you like to follow the 'Lewensvaardighede' conversation and receive update notifications?