In some groups of organisms with sex chromosomes, the gender with the non-homologous sex chromosomes is the female rather than the male. This is the case for all birds. In this case, sex-linked traits will be more likely to appear in the female, in which they are hemizygous.
Human sex-linked disorders
Sex-linkage studies in Morgan's laboratory provided the fundamentals for understanding X-linked recessive disorders in humans, which include red-green color blindness, and Types A and B hemophilia. Because human males need to inherit only one recessive mutant X allele to be affected, X-linked disorders are disproportionately observed in males. Females must inherit recessive X-linked alleles from both of their parents in order to express the trait. When they inherit one recessive X-linked mutant allele and one dominant X-linked wild-type allele, they are carriers of the trait and are typically unaffected. Carrier females can manifest mild forms of the trait due to the inactivation of the dominant allele located on one of the X chromosomes. However, female carriers can contribute the trait to their sons, resulting in the son exhibiting the trait, or they can contribute the recessive allele to their daughters, resulting in the daughters being carriers of the trait ( [link] ). Although some Y-linked recessive disorders exist, typically they are associated with infertility in males and are therefore not transmitted to subsequent generations.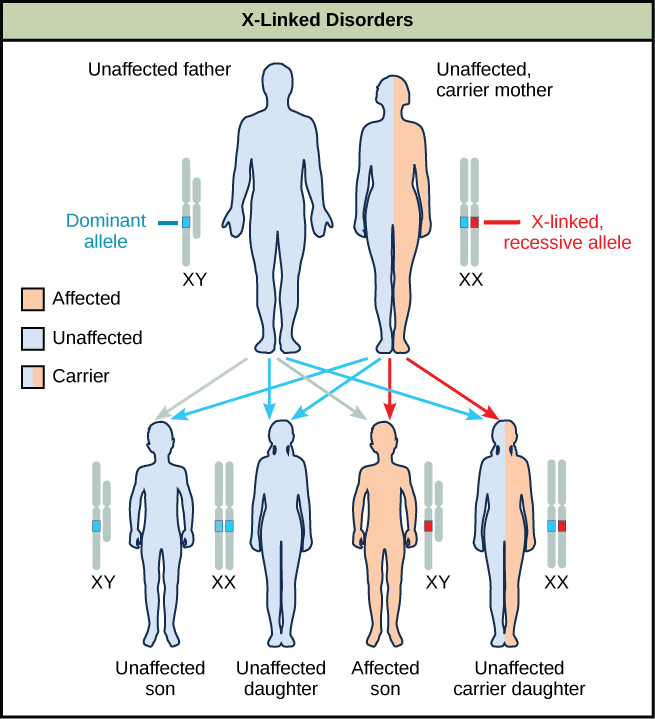 Link to learning
Watch this video to learn more about sex-linked traits.
Lethality
A large proportion of genes in an individual's genome are essential for survival. Occasionally, a nonfunctional allele for an essential gene can arise by mutation and be transmitted in a population as long as individuals with this allele also have a wild-type, functional copy. The wild-type allele functions at a capacity sufficient to sustain life and is therefore considered to be dominant over the nonfunctional allele. However, consider two heterozygous parents that have a genotype of wild-type/nonfunctional mutant for a hypothetical essential gene. In one quarter of their offspring, we would expect to observe individuals that are homozygous recessive for the nonfunctional allele. Because the gene is essential, these individuals might fail to develop past fertilization, die in utero , or die later in life, depending on what life stage requires this gene. An inheritance pattern in which an allele is only lethal in the homozygous form and in which the heterozygote may be normal or have some altered non-lethal phenotype is referred to as recessive lethal .
For crosses between heterozygous individuals with a recessive lethal allele that causes death before birth when homozygous, only wild-type homozygotes and heterozygotes would be observed. The genotypic ratio would therefore be 2:1. In other instances, the recessive lethal allele might also exhibit a dominant (but not lethal) phenotype in the heterozygote. For instance, the recessive lethal Curly allele in Drosophila affects wing shape in the heterozygote form but is lethal in the homozygote.