Afrikaans huistaal
Hier volg die nuus
Opvoeders afdeling
Memorandum
INLEIDING
Die Graad 2-opvoeder moet voortbou op die werk wat in Graad 1 gedoen is ten opsigte van die Huistaal. Dit is daarom noodsaaklik dat die opvoeder vertroud sal wees met elke leerder se vermoë om die Huistaal te gebruik. 'n Vertrekpunt moet volgens die leerders se vorderingsverslag, profiel en portefeuljes bepaal word alvorens met Graad 2-modules begin word. Indien nodig moet die nodige aanpassings gemaak word.
Tydskedule
Daar word voorgestel dat ongeveer twee modules per kwartaal voltooi word. Die opvoeder moet haar deur die leerders laat lei aangesien die vinnige werkers gouer deur die modules sal werk terwyl die stadige werkers heelwaarskynlik meer tyd sal nodig hê.
Die bladsye vir die opvoeder wat by elke module aangeheg is, word nie aan die leerders uitgedeel nie.
LUISTER, PRAAT, LEES EN SKRYF
Deur middel van nuusberigte oor die televisie, fakse, briewe, telefoonoproepe, padkaarte en 'n blokkiesraaisel word 'n verlore papegaai weer aan die dieretuin terugbesorg.
Met bl, gl, kl, fl, pl, sl, vl vind woordbou plaas en leerders ontwikkel probleemoplossing-vaardighede.
Die hoofletters U, Z, J, P, D, R, B, C, en O word aangeleer.
"Ek wil iets sê" beklemtoon die belangrikheid van luistervaardighede.
Leerders afdeling
Inhoud
Luister na die gedig.
Verdeel in groepe en bespreek die vrae.
Ek wil iets sê
My ma sê ek praat te veel -
Maar hoe dan nou gemaak?
Daar's so baie woorde in my kop
En hul beland my in die sop.
Ek wil mos graag aan almal sê
Wat ek sien en doen en leer.
Wil hul dan nie alles hoor nie?
Stel hul nie in my belang nie!
Die woorde borrel in my kop
Want hul wil uit, ek kan nie help nie
Net Ouma sê: "Kom sit hier, ek sal luister
Na al die stories wat jy fluister".
G.J.M.
Vrae om te bespreek
Wie praat so baie? Gee vir hom/haar 'n naam.
Wat wil hy/sy sê?
Hoekom dink julle wil ma nie luister nie?
Praat oor hoe hy/sy voel omdat niemand wil luister nie.
Het dit al ooit met julle gebeur?
Vertel hoe jy gevoel het.
Sê "ja" of "nee" - Dis belangrik om te LUISTER as iemand praat. Gee jou redes.
Wat het Ouma gedoen?
| | | | | | | | |
| --- | --- | --- | --- | --- | --- | --- | --- |
| LU 1.3.2 | | LU 1.3.5 | | LU 1.3.6 | | LU 1.3.7 | |
Dit is belangrik om te luister sodat jy met die persoon kan praat.
Lees wat sê hulle vir mekaar. Kleur die prentjies in as jy dink hulle het na mekaar geluister.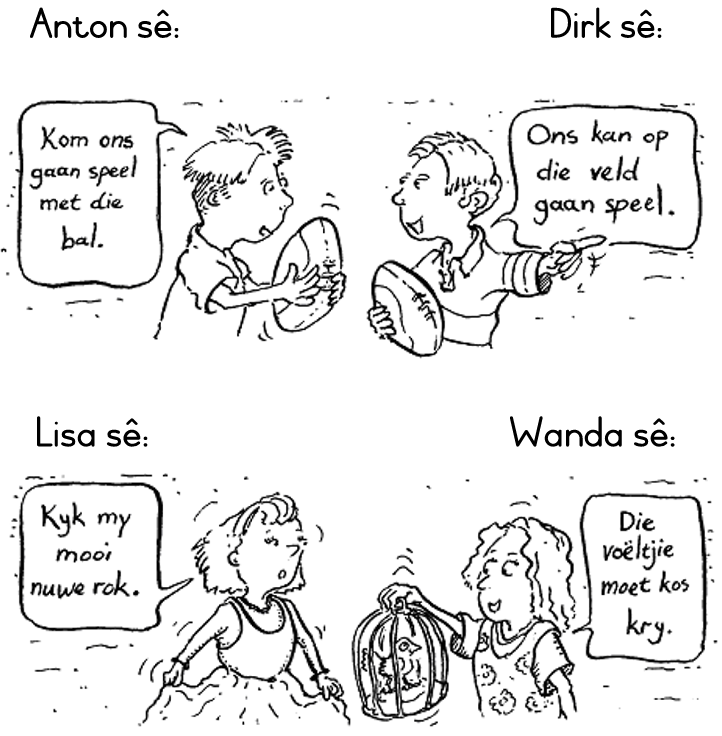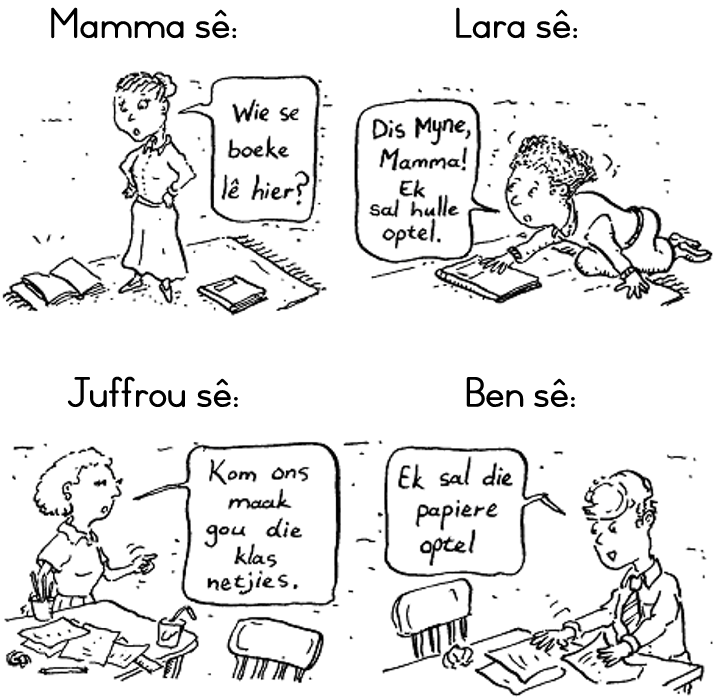 Ons luister ook na . . . . . . . . . .
Teken soveel dinge as wat jy kan waarna ons LUISTER.

Soek wat bymekaar pas.
Skryf die sinne oor. Begin met 'n hoofletter en eindig met 'n punt.
| | |
| --- | --- |
| As die telefoon lui | na haar storie op die televisie. |
| Ek luister na die pragtige | na die nuus op die radio. |
| Ek hoor die | wil iemand met my praat. |
| Mamma luister en kyk | voëltjies buite. |
| Pappa luister | musiek. |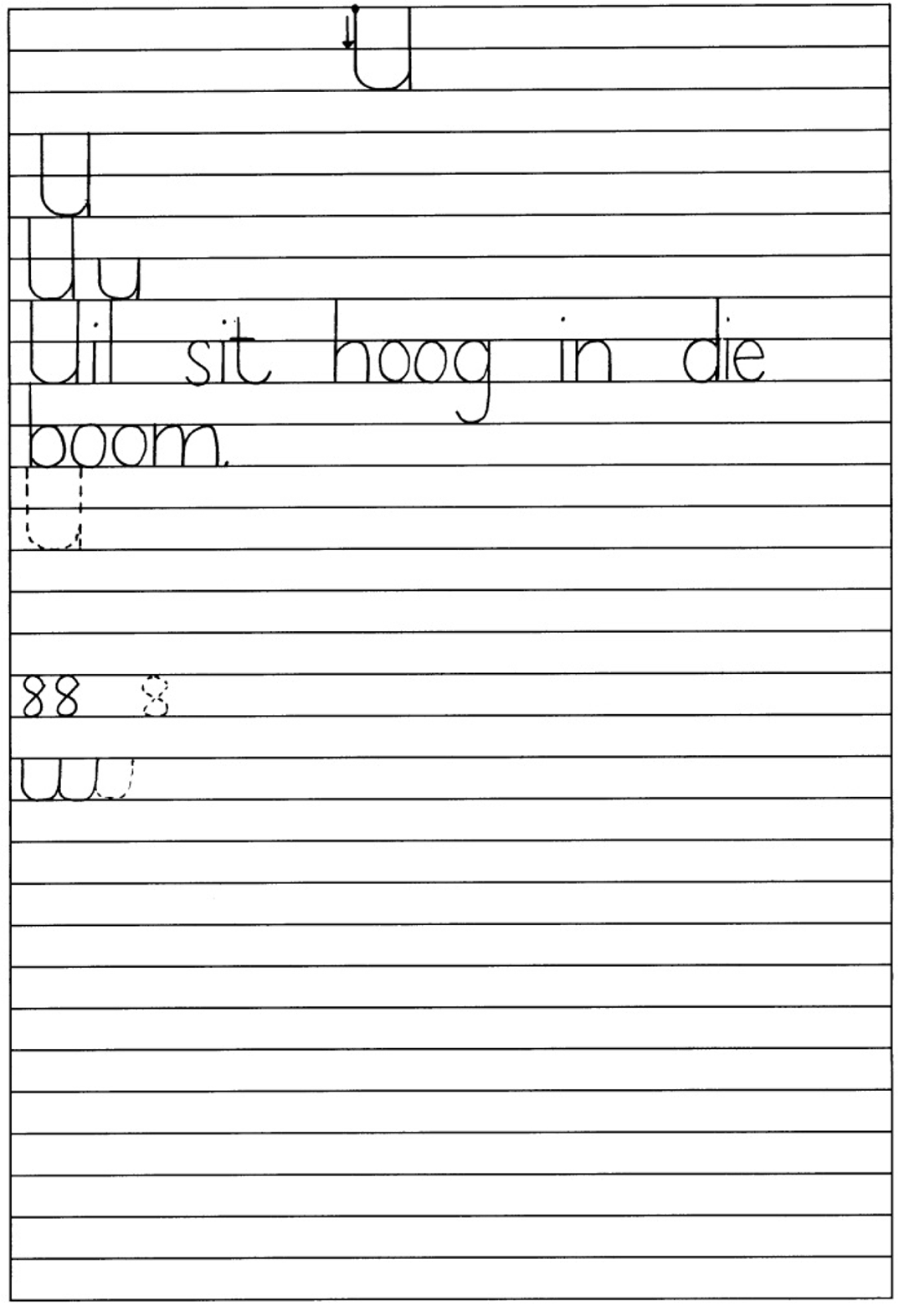 Assessering
Leeruitkomste 1: LUISTER : Die leerder is in staat om vir inligting en genot te luister en gepas en krities binne 'n wye verskeidenheid situasies te reageer.
Assesseringstandaard 1.3: Dit is duidelik wanneer die leerder met genot na kort stories, rympies, gedigte en liedjies uit verskeie kulture luister en begrip toon;
1.3.2 vir besonderhede luister;
1.3.5 rae oor 'n mondelinge teks beantwoord;
1.3.6 gevoelens oor 'n mondelinge teks uitdruk en redes gee;
1.3.7 oorsaak en gevolg in 'n mondelinge teks bepaal.
Leeruitkomste 3: LEES EN KYK : Die leerder is in staat om vir inligting en genot te lees en te kyk en krities op die estetiese, kulturele en emosionele waardes in tekste te reageer.
Assesseringstandaard 3.2: Dit is duidelik wanneer die leerder betekenis uit geskrewe teks skep:
3.2.1 'n storie alleen of saam met die onderwyser lees:
Leeruitkomste 4 SKRYF : Die leerder is in staat om verskillende soorte feitelike en verbeeldingstekste vir 'n wye verskeidenheid doeleindes te skryf.
Assesseringstandaard 4.1: Dit is duidelik wanneer die leerder toenemend leesbaar skryf:
Assesseringstandaard 4.7: Dit is duidelik wanneer die leerder gepaste grammatikale strukture en skryfkonvensies gebruik en skryf sodat ander kan verstaan:
4.7.1 skryframe vir verskillende soorte sinne en teksstrukture gebruik;
Assesseringstandaard 4.8: Dit is duidelik wanneer die leerder woorde, sinne en stories illustreer om begrip te toon.
Leeruitkomste 5: DINK EN REDENEER : Die leerder is in staat om taal vir dink en redeneer te gebruik en inligting vir leer te verkry, verwerk en gebruik.
Assesseringstandaard 5.4: Dit is duidelik wanneer die leerder inligting verwerk:
5.4.1 spesifieke inligting uit 'n teks kies en dit verwerk.