Seeing that 3x and ÷ have just been done, it is easy to introduce thirds now. Give the learners loose paper shapes and allow them to fold and measure on their own, so that they can discover how it can be done. Some of the learners will know how to find sixths without any help. (Only enrichment)
The idea with the recipe is to make the learners understand that certain standard units and containers must be used, otherwise there is no chance of success with a recipe.
Let the learners mention more examples of the use of standard units in practice, e.g. petrol, milk, mixing medicines, prescriptions for administering medication, etc.
It is essential that all the different standard measuring containers and scales, as well as sand, water and objects used in measuring volume and mass , should be available in the classroom. Learners should be able to experiment every day with measuring and weighing, using standard units: litres and millilitres and grams and milligrams .
A bathroom scale is required to determine the mass of the learners.
Different methods are used for the multiplication and division calculations, but should you prefer another method and you find that the learners understand it better, it is their right to use the preferred method.
It is essential that many similar examples of the relevant number sentences be done orally before the learners are expected to complete this worksheet.
The regrouping of a hundred when adding or subtracting is now formally taught. Sufficient concrete work must be done beforehand. More advanced work where a ten and a hundred are regrouped simultaneously, should not be done at the same time. It will depend on the abilities of the group whether it should be done immediately hereafter or at a much later stage.
Whether the learners will be allowed to make use of carried numbers, remains the decision of the educator. e.g.
Learners will need a blank sheet of paper in order to calculate the shortest route. Some learners may find it difficult and may want to give up, but with a little help they should be able to do it.
A discussion on what they will see as they approach the farmstead by road is necessary before the learners will be able to draw it.
Leaner section
Content
Activity: to read time [lo 4.1, lo 4.2]
Bonny and Tommy each got a watch for their birthday. Take a paper plate or cut a circle from cardboard and design your own clock (watch) from which you can tell the time.
Remember: :
1 day = 24 hours
1 hour = 60 minutes
1 minute = 60 seconds

What is the time?
Draw the long and the short hands on the clocks

Bonny and Tommy went to play at a friend's house at two o' clock, and they returned home at five o' clock. How many hours had they been away from home?
They had been away for _______________________________________ hours.
An hour can be divided into 2 half-hours
1 hour = 60 minutes
half-hour = 30 minutes


Draw the long and the short hands on the clocks:

Bonny and Tommy each does 8 sums in half an hour. How many sums will they do altogether in 1 hour?
They will do _________________________________________________________
Mother drives 50 km in half an hour. How far will she drive in 2½ hours?
She will drive _________________________________________________________
How many half-hours are there in 4 hours? 4 hours = __________ half-hours
An hour can be divided into 4 quarters . Then you have 4 quarters of an hour .
1 hour = 60 minutes
half-hour = 30 minutes
quarter-hour = 15 minute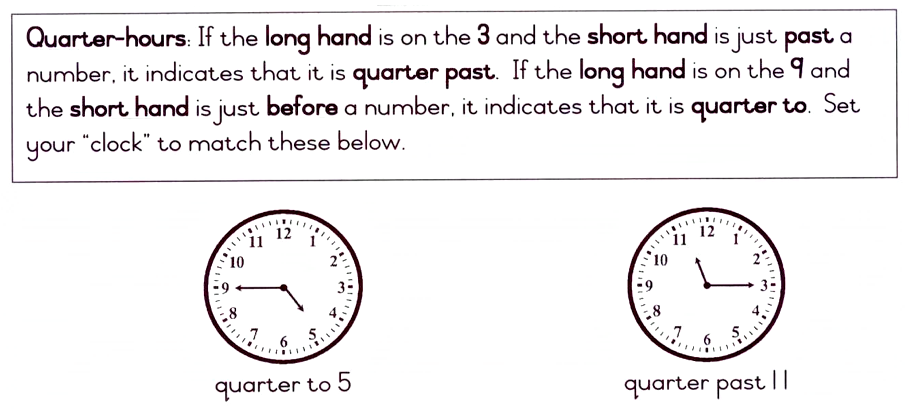 Draw the long and the short hands on these clocks::

| | | | | | | | | |
| --- | --- | --- | --- | --- | --- | --- | --- | --- |
| quarter-hours | 1 | 2 | 3 | 4 | 5 | 6 | 7 | 8 |
| minutes | 15 | 30 | | | | | | |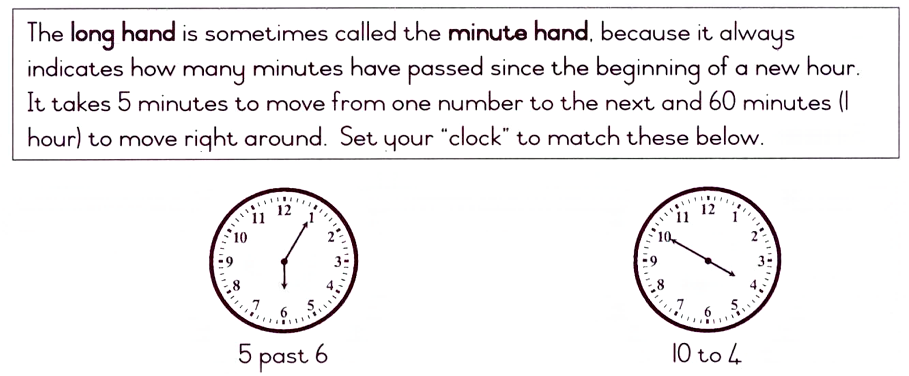 Draw the long and the short hands on the clocks::

Mother went to the shop at 3 o'clock and returned home by 20 past 4. For how long had she been away?
She had been away for __________________________________________________
It takes Bonny 5 minutes to read 3 pages of her book. How many pages can she read in 1 hour?
She can read _________________________________________________________
Father entered the bank at 5 past 2 and came out 45 minutes later. At what time did he come out?
It was ______________________________________________________________
Assessment
Learning Outcome 4: The learner will be able to use appropriate measuring units, instruments and formulae in a variety of contexts.
Assessment Standard 4.1: We know this when the learner reads and writes analogue and digital clock time in terms of hours, half-hours, quarters of an hour and minutes;
Assessment Standard 4.2: We know this when the learner solves problems involving calculations with and conversions.