English first additional language
Bobtail part 3
Educator section
Memorandum
In Grade 2 the learners will build new experiences in the additional language on those learnt in Grade 1 as well as those learnt in their Home Language. They will continue to need many listening and speaking opportunities so as to develop their reading and writing skills in Grade 2.
A wide vocabulary is very important. The ICS modules for Grade 2 provide opportunities for the revision of Grade 1 vocabulary and they gradually introduce and consolidate new vocabulary by means of poems, rhymes, stories, riddles and jokes and games to play.
Learners are encouraged to answer questions, and to take part in discussions and conversations on familiar topics.
The attention is drawn to the sounds of letters in the additional language and learners discover that some letters sound the same as in their home language whereas others differ.
Although the educator will attend to correct pronunciation at this stage, learners should always be encouraged to speak the additional language without feeling incompetent and self-conscious.
By keeping the dictionary pages at the end of each module in a file, learners can revise the vocabulary and use these lists as a personal dictionary to which they can refer when completing or writing sentences and stories.
Time scheduled for the modules 1 to 8
It is suggested that the average learners complete all eight modules during the year, completing ± two modules per term.
The slower learners will proceed at their own pace while the quick learners can be given more tasks if necessary.
All learners in Grade 2 should be exposed to all the listening, speaking and reading activities in these eight modules to ensure that progression occurs throughout.
A discussion of the different seasons leading up to the reading and discussion of winter (poem) can follow,
With Bobtail, learners learn and memorise well-known nursery rhymes, then illustrate and dramatise them.
At last Bobtail learns his lesson and vows never to be disobedient again.
Vocabulary from the Learning Area: Mathematics is used and illustrated; phonics activities continue and riddles are included to promote conversation and discussion.
Integration of themes
Seasons are discussed and the necessity of water discussed.
Bobtail learns the hard way that dishonesty does not pay.
Leaner section
Content
Listen to the story.
Read the story.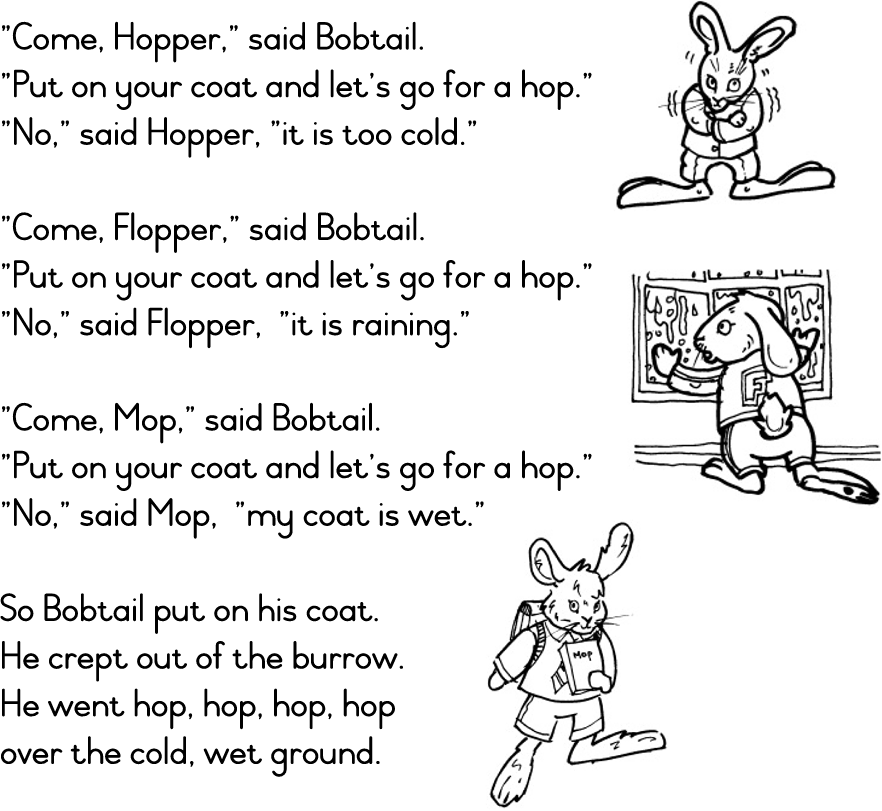 Tell a friend what happened.
Why does Bobtail want to go out?
Find these words in the story and read them.
raining
burrow
wet
coat
Bobtail
ground
Bobtail stopped.
He sniffed the air.
Cabbages? No!
Carrots? No!
Strawberries? No!
Watermelons? No!
What can it be?
He turned his head to the left.
Sniff! Sniff!
He turned his head to the right.
Sniff! Sniff!
What can it be?
"Yes!" he said.
"It must be . . . . . . . . . . . . . pancakes!"
What do you think is going to happen?
| | | | | | | | |
| --- | --- | --- | --- | --- | --- | --- | --- |
| LO 3.2.1 | | LO 3.2.2 | | LO 3.4.8 | | LO 6.1 | |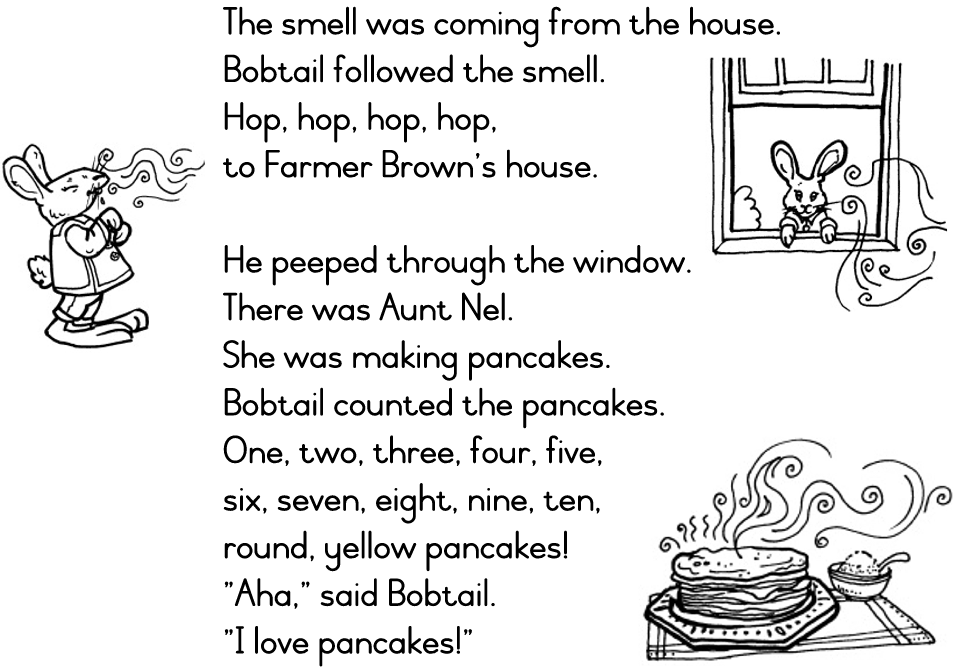 Draw ten, round, yellow pancakes.

| | | | | | | | |
| --- | --- | --- | --- | --- | --- | --- | --- |
| LO 2.9 | | LO 3.1.5 | | LO 3.4.8 | | LO 5.1.2 | |