English home language
Animals in the wild
Educator section
Memorandum
To the educator:
Using progress reports and profiles of the learners in Grade 1, the Grade 2 educator can assess the ability of each learner in the class.
The Grade 2 educator also needs to know which work has been covered in Grade 1 so that she can revise, consolidate and re-teach where necessary, before proceeding to the Grade 2 phonics, writing, reading etc. Make sure the learners understand the written instructions on each page. The learners furthermore need to know where and when to go for help when doing written work e.g. finding out how to spell a word etc.
The slower learners need continual support whereas the fast learners can be given additional work based on the activities for further stimulation.
TIME SCHEDULE FOR THE MODULES 1 – 7
All learners should complete all seven modules during the year. Allow them to progress at their own speed covering ± one and a half modules per term.
Learners learn about adaptation of animals in the wild. They discuss their differences and similarities e.g. eating habits, camouflage, and environments.
The advantages and disadvantages of animals in Zoo's are discussed.
Phonics: st, ee, oo
Writing: Cc, Gg, Oo, Qq
Integration of themes
A healthy environment
Discuss keeping nature reserves and Zoo's clean. Become sensitive to animals' needs when discussing food cycles and the animals' environment. How does this affect humans?
The following story has a conservation theme about finding wild animals. Reinforce the fact that animals belong in their own environment. Discuss this issue with the class so that they have some ideas and opinions of their own when it comes to the true and false questions at the end of the story.
There are a number of words that can be broken into syllables, for example por-cu-pine, in-jec-tion. Teach the children this strategy for long words. Check for other sight words which may be difficult – strength, explore, rustle, etc.
Explain Dad's joke about the porcupine being a prickly problem. Ask if they know any other jokes like this.
Leaner section
Content
Read the following story and discuss together with your teacher.
The porcupine
Tracy and Steven lived on a farm. They liked to explore the wild parts of the farm where there were no crops. Steven liked to pretend that he was a hunter. Tracy had to carry his guns.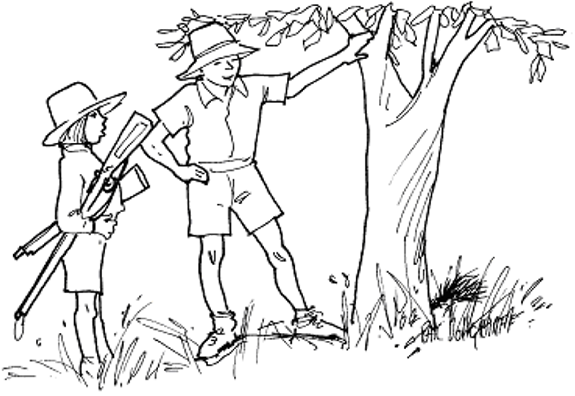 One day they went along a new path. Steven was looking for wild flowers for school. Tracy wanted to help. Suddenly they heard a rustle in the bushes. Tracy was scared. Maybe it was a snake! They stopped and stood dead still. Then, just in front of them, a porcupine walked slowly across their path.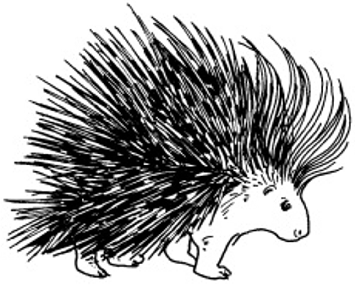 It was strange. He didn't run away. He just walked slowly into the path and very slowly lay down.
"I think he is hurt!" said Steven. "Quick, Tracy. Let's run and get Dad."
"Well, this is a prickly problem!" said Dad.
"This is no time for jokes, Dad," said Tracy. "I think he's badly hurt. We must take him to the vet."
"That will be difficult. He is very hard to carry. I'll ask Uncle Richard to come and look at him."