Leaf form
Leaves may be simple or compound ( [link] ). In a simple leaf , the blade is either completely undivided—as in the banana leaf—or it has lobes, but the separation does not reach the midrib, as in the maple leaf. In a compound leaf , the leaf blade is completely divided, forming leaflets, as in the locust tree. Each leaflet may have its own stalk, but is attached to the rachis. A palmately compound leaf resembles the palm of a hand, with leaflets radiating outwards from one point Examples include the leaves of poison ivy, the buckeye tree, or the familiar houseplant Schefflera sp. (common name "umbrella plant"). Pinnately compound leaves take their name from their feather-like appearance; the leaflets are arranged along the midrib, as in rose leaves ( Rosa sp.), or the leaves of hickory, pecan, ash, or walnut trees.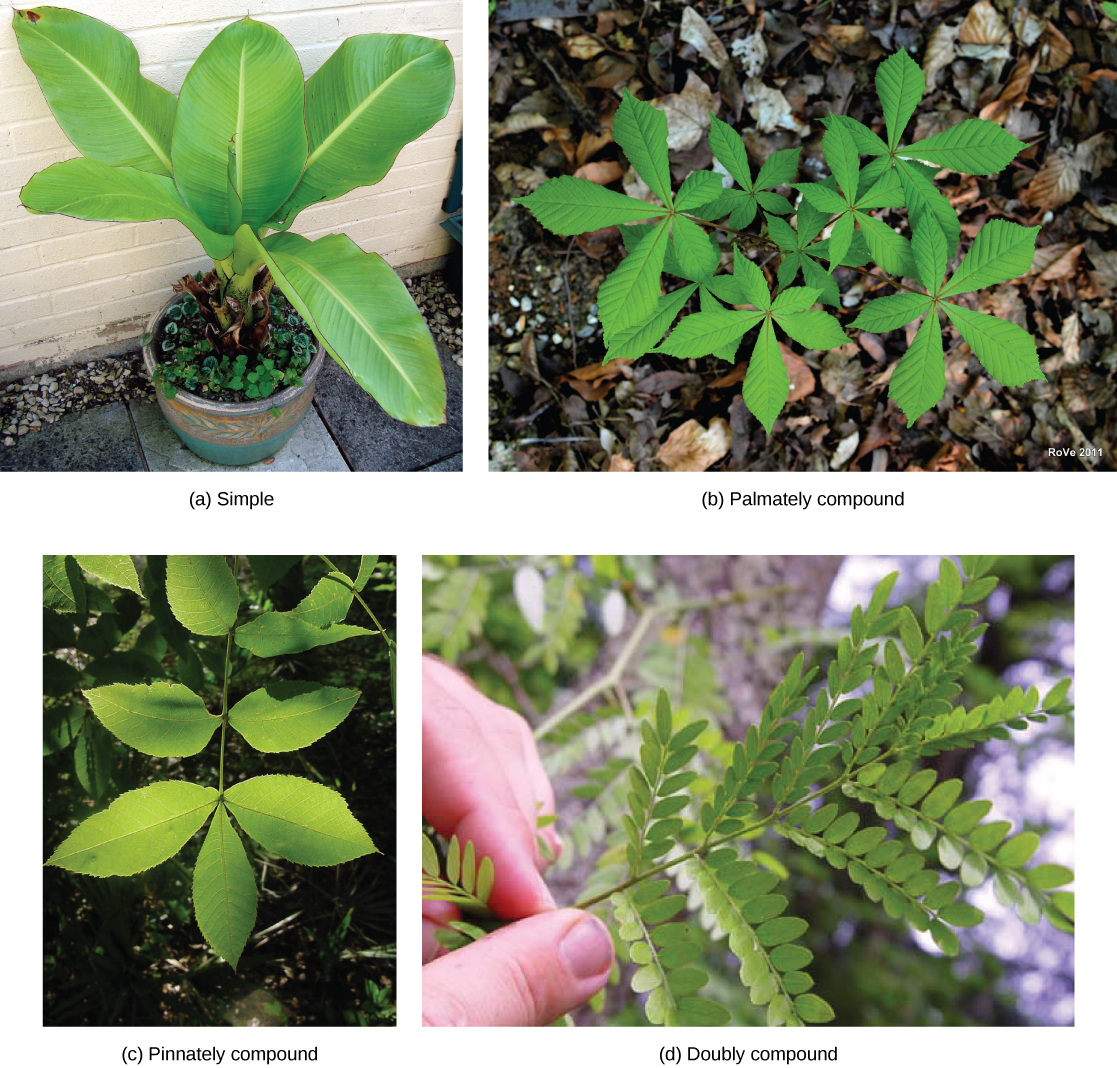 Leaf structure and function
The outermost layer of the leaf is the epidermis; it is present on both sides of the leaf and is called the upper and lower epidermis, respectively. Botanists call the upper side the adaxial surface (or adaxis) and the lower side the abaxial surface (or abaxis). The epidermis helps in the regulation of gas exchange. It contains stomata ( [link] ): openings through which the exchange of gases takes place. Two guard cells surround each stoma, regulating its opening and closing.

The epidermis is usually one cell layer thick; however, in plants that grow in very hot or very cold conditions, the epidermis may be several layers thick to protect against excessive water loss from transpiration. A waxy layer known as the cuticle covers the leaves of all plant species. The cuticle reduces the rate of water loss from the leaf surface. Other leaves may have small hairs (trichomes) on the leaf surface. Trichomes help to deter herbivory by restricting insect movements, or by storing toxic or bad-tasting compounds; they can also reduce the rate of transpiration by blocking air flow across the leaf surface ( [link] ).