Conclusions:
In the investigation you will notice that the holes in the paper need to be in a straight line. This shows that light travels in a straight line. We cannot see around corners. This also proves that light does not bend around a corner, but travels straight.
Investigation : light travels in straight lines
On a sunny day, stand outside and look at something in the distance, for example a tree, a flower or a car. From what we have learnt, we can see the tree, flower or car because light from the object is entering our eye. Now take a sheet of paper and hold it about 20 cm in front of your face. Can you still see the tree, flower or car? Why not?
[link] shows that a sheet of paper in front of your eye prevents light rays from reaching your eye.

Shadows
Objects cast shadows when light shines on them. This is more evidence that light travels in straight lines. The picture below shows how shadows are formed.

Ray diagrams
A ray diagram is a drawing that shows the path of light rays. Light rays are drawn using straight lines and arrow heads. The figure below shows some examples of ray diagrams.


Light rays
Give evidence to support the statement: "Light travels in straight lines". Draw a ray diagram to prove this.

Reflection
When you smile into a mirror, you see your own face smiling back at you. This is caused by the reflection of light rays on the mirror. Reflection occurs when a light ray bounces off a surface.
Terminology
In Transverse Pulses and Transverse Waves we saw that when a pulse or wave strikes a surface it is reflected . This means that waves bounce off things. Sound waves bounce off walls, light waves bounce off mirrors, radar waves bounce off aeroplanes and it can explain how bats can fly at night and avoid things as thin as telephone wires. The phenomenon of reflection is a very important and useful one.
We will use the following terminology. The incoming light ray is called the incident ray . The light ray moving away from the surface is the reflected ray . The most important characteristic of these rays is their angles in relation to the reflecting surface. These angles are measured with respect to the normal of the surface. The normal is an imaginary line perpendicular to the surface. The angle of incidence, is measured between the incident ray and the surface normal. The angle of reflection, is measured between the reflected ray and the surface normal. This is shown in [link] .
When a ray of light is reflected, the reflected ray lies in the same plane as the incident ray and the normal. This plane is called the plane of incidence and is shown in [link] .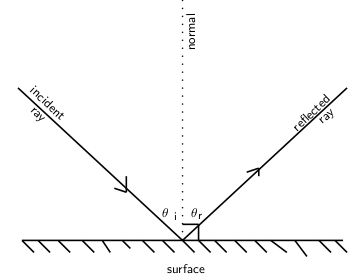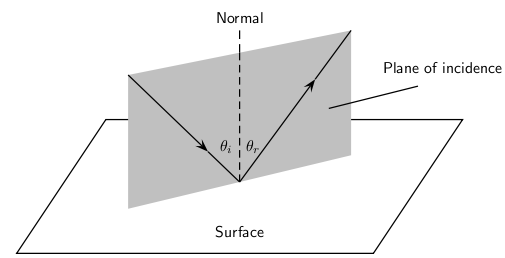 Law of reflection
The Law of Reflection states that the angles of incidence and reflection are always equal and that the reflected ray always lies in the plane of incidence.