Inleiding
In die wêreld rondom ons word inligting dikwels in die vorm van syfers, grafieke en tabelle gegee. Ons sien dit op die televisie, op die radio en in die koerante. Ons word blootgestel aan misdaadsyfers, sportuitslae, reënval, die uitgawes van die regering, die tempo van HIV/VIGS infeksie, bevolkingsgroei en ekonomiese groei.
Hierdie hoofstuk demonstreer hoe Wiskunde gebruik kan word om data te manipuleer, om data en tendense voor te stel of wan voor te stel en om oplossings te bied wat direk betrekking het op die wêreld rondom ons.
Vaardighede wat in vorige grade verwerf is en verband hou met die versameling, organisering, uitbeelding, analise en interpretasie van inligting, word hier verder ontwikkel.
Hersiening van vorige werk
Dataversameling is in vorige grade bekendgestel as 'n manier om antwoorde te kry vir vrae wat te make het met die wêreld rondom ons.
Data en datainsameling
Data
Data

Data verwys na inligting wat waargeneem of opgeneem is as deel van 'n eksperiment of 'n meningspeiling. Daar is twee tipes data: primêre en sekondêre data. Die woord "data" is die meervoud van die woord "datum".
Data kan geklassifiseer word as primêr of sekondêr , en primêre en sekondêre data kan verder geklassifiseer word as kwalitatief of kwantitatief . [link] som die klassifikasie van data op.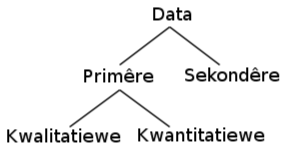 beskryf die oorspronklike data wat versamel is. Hierdie tipe data staan ook bekend as rou data. Dikwels is die primêre datastel baie groot en moet dit opgesom of verwerk word om betekenisvolle inligting uit te lig.
is inligting wat nie met getalle beskryf kan word nie, byvoorbeeld as jy data insamel oor hoe mense voel of wat hul gunstelingkleur is.
is inligting wat geskryf kan word as getalle, byvoorbeeld as jy data insamel oor mense se lengte of massa.
is primêre data wat opgesom of verwerk is. Die stel kleure wat mense as hul gunstelingkleure aangedui het, is 'n voorbeeld van sekondêre data omdat dit 'n opsomming is van mense se antwoorde.
Die proses om primêre data om te skakel na sekondêre data deur analise, groepering of organisering is die proses waardeur informasie geskep word.
Doelwit van die insameling van primêre data
Data word versamel om antwoorde te kry wat help om 'n sekere situasie beter te verstaan. Hier is 'n paar voorbeelde van dataversameling uit die regte wêreld wat kwalitatiewe en kwantitatiewe data illustreer.
Kwalitatiewe data
Die plaaslike regering sal wil weet hoeveel inwoners elektrisiteit het en mag dan aan hulle vra: "Het jou huis 'n veilige, ononderbroke toevoer van elektrisiteit vanaf die nasionale kragvoorsiener (Eskom)?"
'n Maatskappy wat medisyne vervaardig mag vra: "Hoe effektief verlig ons pil hoofpyn?" Daar kan dan aan mense wat die pil gebruik om hoofpyn te verlig, gevra word: "Hoe baie help ons pil om jou hoofpyn weg te neem?" Die maatskappy kan dan op grond van mense se antwoorde bepaal hoe effektief hul produk is.
'n Motormaatskappy wil hulle kliëntediens verbeter en kan dan aan kliënte vra: "Hoe kan ons ons kliëntediens verbeter?"
'n Supermarkbestuurder mag vra: "Watter tipes gaskoeldrank moet ek in my supermark in voorraad hê?" Daar mag dan miskien aan klante gevra word: "Wat is jou gunsteling gaskoeldrank?" Die klante se keuse of voorkeur is 'n voorbeeld van kwalitatiewe data.