Kuns en kultuur
Graad 9
Skepping, interpretasie en aanbieding
Module 16
Enkrlvoudige en reëlmatige maatslag
MUSIEK
V oorbeelde van enkelvoudige en reëlmatige maatslag: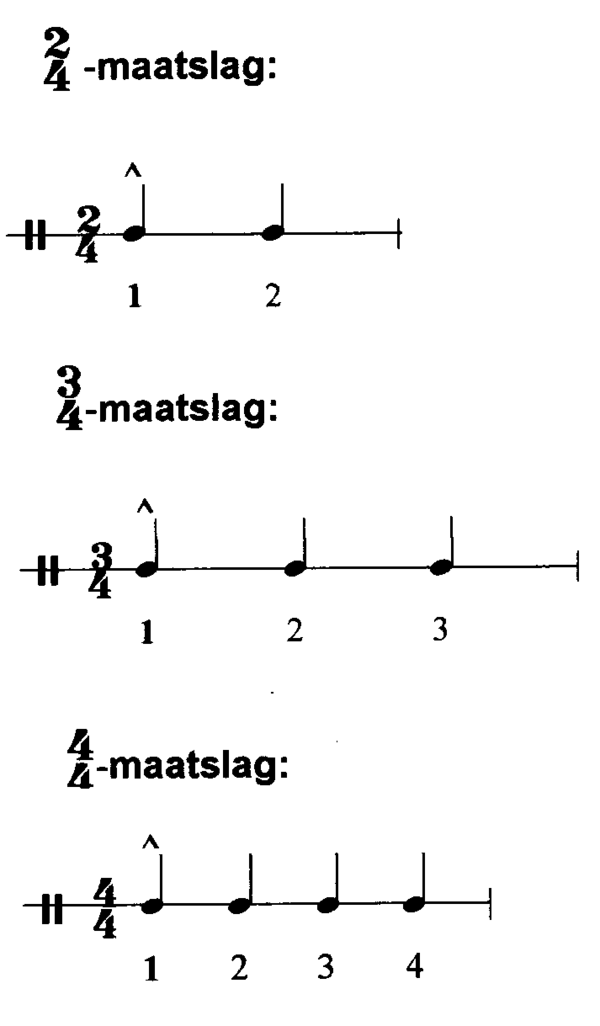 V oorbeelde van onreëlmatige maatslag:


V oorbeelde van saamgestelde maatslag:
In saamgestelde tyd word elke polsslag in 3 verdeel, in teenstelling met enkelvoudige maatslag waar elke polsslag in 2 verdeel word.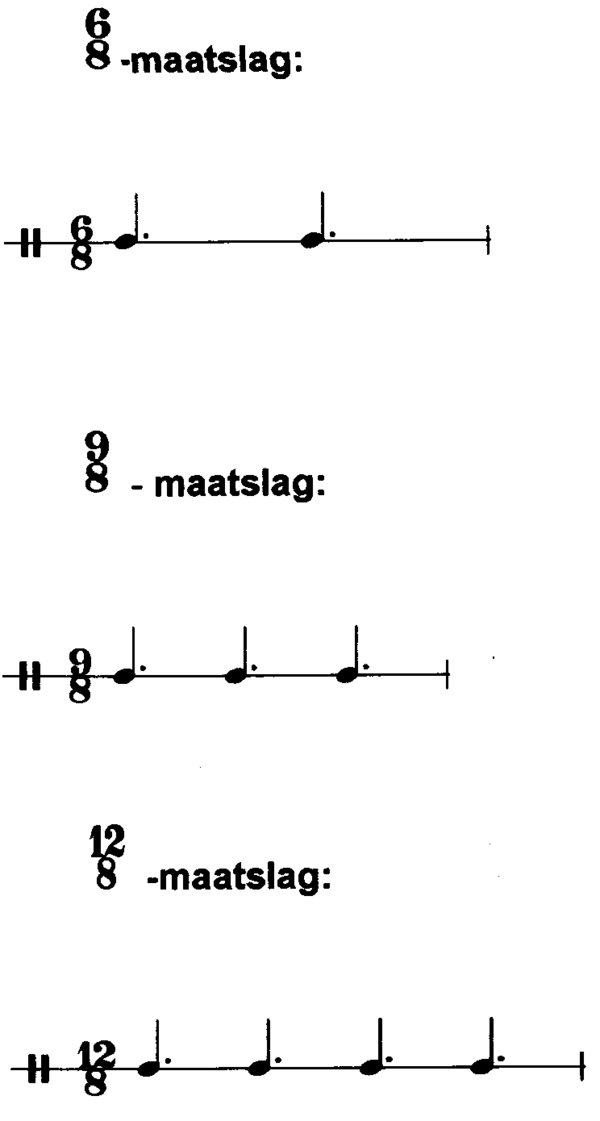 Soos reeds genoem, word elke polsslag in saamgestelde tyd in 3 verdeel. In hierdie geval is daar 4 maatslae, m.a.w. saamgestelde 4-maatslag.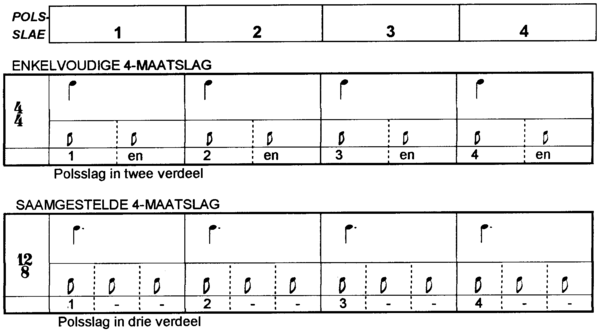 STAP 2: Uitvoer van verskillende maatsoorte
Sodra jy vertroud is met die onderskeie maatsoorte kan dit as volg uitgevoer word:
- Liggaamsperkussie:
kombinasies van klap, vuiste op mekaar kap, klap op bobene
- Tromme:
kombinasies van verskillende tromtegnieke ( slap, tone, bass )
STAP 3: T oepassing
Die volgende aanhaling kom uit 'n toespraak tydens die onthulling van 'n monument op Erfenisdagviering (1996). Lees die aanhaling en beantwoord dan die vrae.
"Today it forms part of our national anthem; and along with Die Stem , it embellishes various strands of our past in a unison of inclusiveness, of the oneness of South Africa's people."
1.
Wie vermoed jy het hierdie toespraak gelewer?
2.
Na watter lied ("it") word hier verwys?
3.
Ter ere van wie is die monument opgerig?
4.
5.
Wie het die Die Stem gekomponeer?
6.
Wie was verantwoordelik vir die woorde van Die Stem ?
7.
Noem nog voorbeelde van musiekerfenis uit jou eie kultuur.
Volg die opvoeder se instruksies in die uitvoering van die lied.
STAP 4: Toepassing
Voorbeelde van musiek uit my eie kultuur:
Om uit te vind wat erfenis vir bekendes beteken, kan jy gaan kyk op die volgende webtuiste: (External Link)
Aktiwiteit 1:
Om 'n produksie/musiekuitvoering te organiseer en te bemark
[lu 1.10]
Het julle al ooit gewonder wie verantwoordelik is vir alles wat julle sien en hoor in 'n uitvoering? Waarom word die uitvoering gehou? Wie reël die programme? Waar kry hulle die geld vir al die mooi uitrustings wat gebruik word? Hoe weet die deelnemers wanneer hulle op die verhoog moet gaan? Wie is verantwoordelik vir al die byklanke?
Teen die einde van hierdie aktiwiteit behoort julle antwoorde op al hierdie vrae te hê.
STAP 1: Groep
Konsepbepaling
"Maak 'n geleentheid van....................!"
Neem almal deel aan 'n klasbespreking om 'n besluit te neem t.o.v. 'n geleentheid in die vorm van 'n musiekuitvoering wat julle kan beplan, organiseer en bemark.
Gebruik die volgende riglyne in julle besluitneming. Voltooi die tabel sodra julle finaliteit ten opsigte van die tipe uitvoering en tema bereik het om probleemareas uit te lig en die nodige aantekeninge te maak.
Teikengroep
Doel
Tipe uitvoering
Fasiliteite
Toerusting
Talent
Tyd
Datum:
Finansies
Ander
FINALE BESLUIT :
STAP 2: Indiwidueel
Soos jy kan aflei uit die bespreking en besluitneming, is dit nie net 'n orkes en sangers wat nodig is vir 'n musiekuitvoering nie!
Daar is heelwat ander aspekte wat ook kreatiwiteit, beplanning en organisasie vereis om 'n suksesvolle produk op die planke te bring:
- administratief (bv. finansiële aspekte, fondsinsameling, kaartjies)