Hung gongs are usually played with soft mallets to give loud, resonant sounds with a gentle timbre . Kettle-gongs are usually played with wooden sticks, giving a hollowed, ringing sound. Large gongs are often imported from Java, which has a tradition of making very high-quality gongs, rather than being part of the set of instruments created and tuned to be played together.
Keyed percussion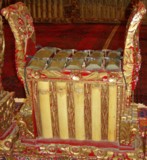 The characteristic sound of many popular kinds of gamelan is provided by metallophones. A metallophone is a percussion instrument consisting of a row of metal bars ( keys , like the keys of a piano); each key gives a specific pitch when struck. The number of keys depends on the type of instrument and the scale used by the ensemble. Some have as few as four keys; others may have a dozen or more.
The keys of some metallophones are typically struck with small wooden hammer-like mallets, and the gamelan that feature these instruments tend to have a very bright, very loud sound. Others (particularly the lower-pitched metallophones in an ensemble) are usually struck with a softer, padded mallet. The playing technique for both usually involves striking the keys with the mallet held in one hand, while the other hand is used to stop keys from ringing too long (by touching them firmly, which stops their vibrations). See below for more detailed descriptions of a few specific metallophones.
Some gamelan instruments are in the xylophone family; these are similar to metallophones, but their keys are made of wood or bamboo. These quieter instruments were not part of the court-music tradition, so they have strong associations with relaxed, informal music-making.
Balinese keyed percussion fall into two broad categories, gender and saron . In gender instruments, each key is suspended (by cords) over its own bamboo-tube resonator , which is carefully tuned to resonate at the pitch of that key. In saron instruments, all of the keys are suspended over a single trough-shaped resonator.
Saron -family instruments are much less common on Bali than on Java.
There are many different Balinese keyed percussion instruments, particularly in the gender family. They are named according to the type of gamelan they play in, their mallet type, and their register (pitch range). See Ensembles for an idea of the variety of keyed percussion that can be present even in a single gamelan .
Drums