This means our returns would be between $400 and $800.
To solve absolute value inequalities, just as with absolute value equations, we write two inequalities and then solve them independently.
Absolute value inequalities
For an algebraic expression X, and an absolute value inequality is an inequality of the form
These statements also apply to and
Determining a number within a prescribed distance
Describe all values within a distance of 4 from the number 5.
We want the distance between and 5 to be less than or equal to 4. We can draw a number line, such as in [link] , to represent the condition to be satisfied.

The distance from to 5 can be represented using an absolute value symbol, Write the values of that satisfy the condition as an absolute value inequality.
We need to write two inequalities as there are always two solutions to an absolute value equation.
If the solution set is and then the solution set is an interval including all real numbers between and including 1 and 9.
So is equivalent to in interval notation.
Got questions? Get instant answers now!
Got questions? Get instant answers now!
Using a graphical approach to solve absolute value inequalities
Given the equation determine the x -values for which the y -values are negative.
We are trying to determine where which is when We begin by isolating the absolute value.
Next, we solve for the equality
Now, we can examine the graph to observe where the y- values are negative. We observe where the branches are below the x- axis. Notice that it is not important exactly what the graph looks like, as long as we know that it crosses the horizontal axis at and and that the graph opens downward. See [link] .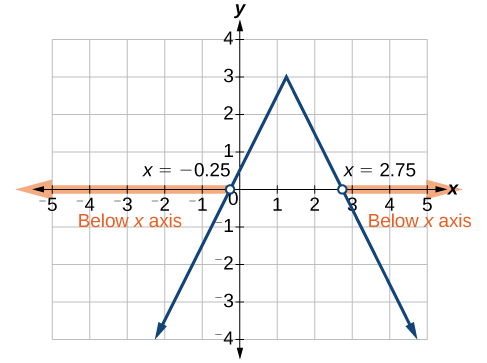 Got questions? Get instant answers now!
Got questions? Get instant answers now!
or in interval notation, this would be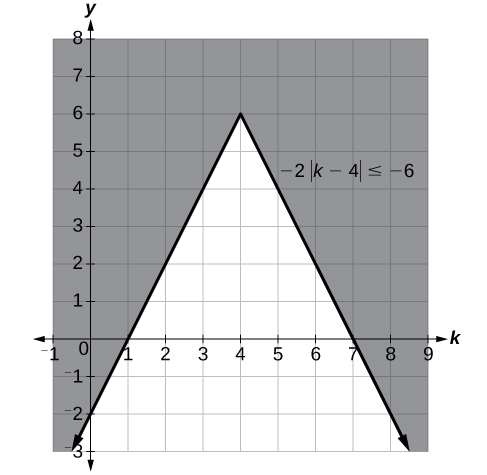 Got questions? Get instant answers now!
Key concepts
Questions & Answers
Receive real-time job alerts and never miss the right job again
Source:  OpenStax, College algebra. OpenStax CNX. Feb 06, 2015 Download for free at https://legacy.cnx.org/content/col11759/1.3
Google Play and the Google Play logo are trademarks of Google Inc.
Notification Switch
Would you like to follow the 'College algebra' conversation and receive update notifications?