Dink 'n bietjie hieroor:
As jy 'n bottel met 'n vloeistof gehad het waarvan jou lewe afhang en waarsonder jy sou doodgaan, sou jy hierdie vloeistof besoedel met rioolvullis, afval en giftige stowwe? Dit is wat die mensdom met ons watervoorraad doen oor die hele wêreld heen.
Byvoeglike naamwoorde
Byvoeglike naamwoorde is woorde wat mense, dinge en plekke beskryf.
Maak sinne: Slaan die betekenis van 'besoedel' en 'besmet' na in die woordeboek.
| | | | | | | |
| --- | --- | --- | --- | --- | --- | --- |
| Die | waterstratestrande | is | besmet.vuil.besoedel. | Dis | besmettevuilbesoedelde | water.strate.strande. |
Skryf ses sinne neer deur die beskrywende woord wat die beste pas by die naamwoord te gebruik. Nommer jou sinne (i) tot (vi).
Partykeer verander dié woorde as hulle voor die naamwoorde staan.
Die stad is lelik . Dis 'n lelike stad.
Die woonbuurt is netjies . Dis 'n netjiese woonbuurt.
Die vullisdrom is lig . Dis 'n ligte vullisdrom.
Die gras is lank . Dis lang gras.
Die riviere is droog . Dis droë riviere
Die sakkie is leeg . Dis 'n leë sakkie.
Die gebou is oud . Dis 'n ou gebou.
Die diens is goed . Dis goeie diens.
Skryf die sinne in kolom 2 oor, maar gebruik die regte vorm van die woord indien dit verander.
Die stad is skoon . Dis 'n _ stad.
Die woonbuurt is slordig . Dis 'n _ woonbuurt.
Die water is sleg . Dis _ water.
Die morsjors is jonk . Dis 'n _ morsjors.
Die vullishoop is hoog . Dis 'n _ vullishoop.
Die blikkie is leeg . Dis 'n _ blikkie.
Die wind is koud . Dis 'n _ wind.
Die werk is goed . Dis _ werk.
Assessering onder leiding van die opvoeder.
Kontrolelys vir verboë vorms van die byvoeglike naamwoorde
Reëls
Hoe hetek onthou?
Woord + e bv. netjies e
woord eindig op –g + te bv. lig te
woord eindig op –nk; verander na –ng bv. la ng
woord eindig op –ig of – ik + e (geen verdubbeling) bv. billik e
deelteken (ë) bv. dro ë , le ë
woord verander bv. oud - ou
[LU 6.2.7]
Kettingwoord
Bou woorde!
Verdeel in groepe van ses.
Leerder 1 kyk na die eerste woord in die ketting, byvoorbeeld skoon . Op watter letter eindig die woord? Op 'n n . Hy/sy dink aan 'n woord wat met n begin, byvoorbeeld neus .
Leerder 2 bou nou weer 'n woord wat met die laaste letter, 'n s , begin, byvoorbeeld sag .
Leerder 3 bou 'n woord wat met 'n g begin, ens.
Bou sulke kettings.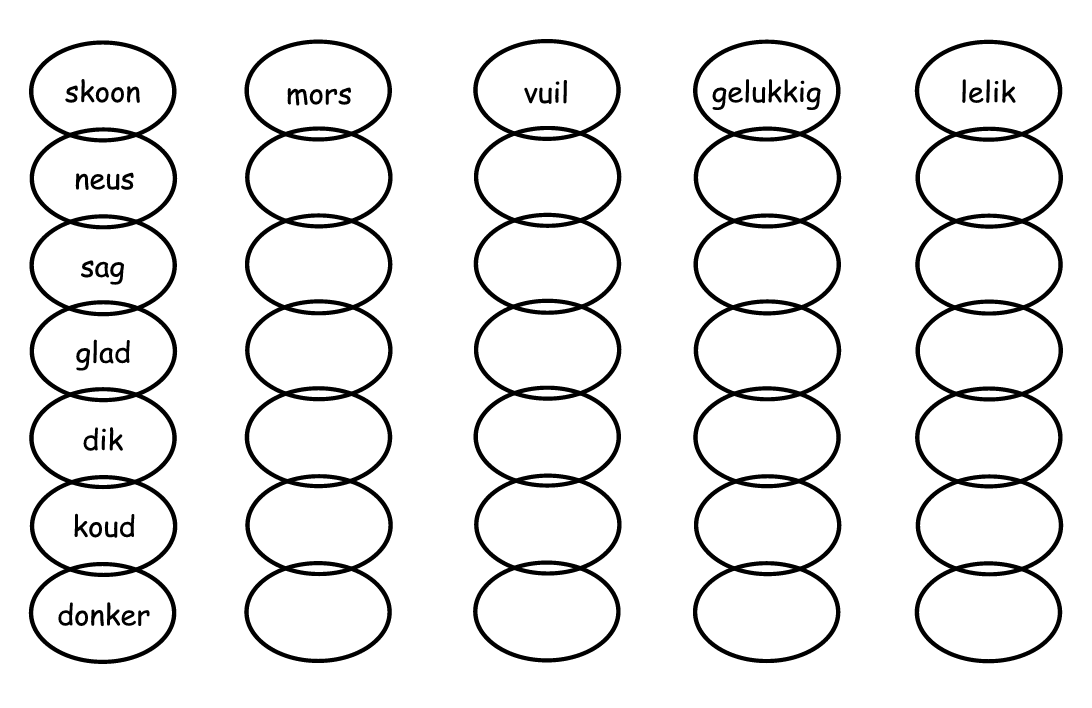 [lu 6.1.2]
4. begripstoets
Luister terwyl die opvoeder die volgende leesstuk hardop voorlees. Lees dit dan hardop vir jou maat en luister terwyl hy/sy dit voorlees. Help mekaar met die korrekte uitspraak van die woorde.
NUWE WOORDE
myne
:
mines
fabrieke
:
factories
rioolvullis
:
sewerage
chemikalieë
:
chemicals
noodsaaklik
essential
plaagdoders
pesticides
industriële afval
:
industrial waste
stort
:
dump
seewier en seegras
:
algae and seaweed
koraalrif
:
coral reef
Waterbesoedeling
Vuil, besoedelde water maak jaarliks 1,2 biljoen mense in die wêreld siek en veroorsaak dat 15 miljoen kinders doodgaan. In Asië het een uit elke drie mense nie eers skoon water om te drink nie!
Myne en fabrieke besoedel riviere met chemikalieë en die gifstowwe en plaagdoders wat boere gebruik, beland ook in riviere.
In baie dele van die wêreld gebruik mense riviere om in te bad, wasgoed te was, om hulle vullis in te gooi en selfs as toilette.