Interesting fact
Normally, healthy kidneys remove waste products from the blood. When a person has renal failure, their kidneys cannot do this any more, and this can be life-threatening. Using dialysis, the blood of the patient flows on one side of a semi-permeable membrane. On the other side there will be a fluid that has no waste products but lots of other important substances such as potassium ions ( ) that the person will need. Waste products from the blood diffuse from where their concentration is high (i.e. in the person's blood) into the 'clean' fluid on the other side of the membrane. The potassium ions will move in the opposite direction from the fluid into the blood. Through this process, waste products are taken out of the blood so that the person stays healthy.
Investigation : the separation of a salt solution
Aim:

To demonstrate that a homogeneous salt solution can be separated using physical methods.
Apparatus:

glass beaker, salt, water, retort stand, bunsen burner.
Method:
Pour a small amount of water (about 20 ml) into a beaker.
Measure a teaspoon of salt and pour this into the water.
Stir until the salt dissolves completely. This is now called a salt solution . This salt solution is a homogeneous mixture.
Place the beaker on a retort stand over a bunsen burner and heat gently. You should increase the heat until the water almost boils.
Watch the beaker until all the water has evaporated. What do you see in the beaker?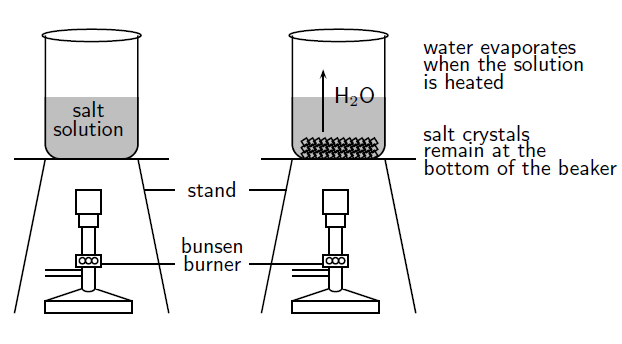 Results:

The water evaporates from the beaker and tiny grains of salt remain at the bottom. (You may also observe grains of salt on the walls of the beaker.)
Conclusion:

The salt solution, which is a homogeneous mixture of salt and water, has been separated using heating and evaporation.
Discussion : separating mixtures
Work in groups of 3-4
Imagine that you have been given a container which holds a mixture of sand, iron filings (small pieces of iron metal), salt and small stones of different sizes. Is this a homogeneous or a heterogeneous mixture? In your group, discuss how you would go about separating this mixture into the four materials that it contains.
The following presentation provides a summary of the classification of matter.
Summary
All the objects and substances that we see in the world are made of matter .
This matter can be classified according to whether it is a mixture or a pure substance .
A mixture is a combination of one or more substances that are not chemically bonded to each other. Examples of mixtures are air (a mixture of different gases) and blood (a mixture of cells, platelets and plasma).
The main characteristics of mixtures are that the substances that make them up are not in a fixed ratio, they keep their individual properties and they can be separated from each other using mechanical means.
A heterogeneous mixture is non-uniform and the different parts of the mixture can be seen. An example would be a mixture of sand and water.
A homogeneous mixture is uniform, and the different components of the mixture can't be seen. An example would be a salt solution. A salt solution is a mixture of salt and water. The salt dissolves in the water, meaning that you can't see the individual salt particles. They are interspersed between the water molecules. Another example is a metal alloy such as steel.
Mixtures can be separated using a number of methods such as filtration, heating, evaporation, centrifugation and dialysis.
Pure substances can be further divided into elements and compounds .
An element is a substance that can't be broken down into simpler substances through chemical means.
All the elements are recorded in the Periodic Table of the Elements . Each element has its own chemical symbol. Examples are iron ( ), sulphur ( ), calcium ( ), magnesium ( ) and fluorine ( ).
A compound is a substance that is made up of two or more elements that are chemically bonded to each other in a fixed ratio. Examples of compounds are sodium chloride ( ), iron sulphide ( ), calcium carbonate ( ) and water ( ).
When naming compounds and writing their chemical formula , it is important to know the elements that are in the compound, how many atoms of each of these elements will combine in the compound and where the elements are in the Periodic Table. A number of rules can then be followed to name the compound.
Another way of classifying matter is into metals (e.g. iron, gold, copper), semi-metals (e.g. silicon and germanium) and non-metals (e.g. sulphur, phosphorus and nitrogen).
Metals are good electrical and thermal conductors, they have a shiny lustre, they are malleable and ductile, and they have a high melting point. These properties make metals very useful in electrical wires, cooking utensils, jewellery and many other applications.
A further way of classifying matter is into electrical conductors , semi-conductors and insulators .
An electrical conductor allows an electrical current to pass through it. Most metals are good electrical conductors.
An electrical insulator is not able to carry an electrical current. Examples are plastic, wood, cotton material and ceramic.
Materials may also be classified as thermal conductors or thermal insulators depending on whether or not they are able to conduct heat.
Materials may also be either magnetic or non-magnetic .
Summary
For each of the following multiple choice questions, choose one correct answer from the list provided.

Which of the following can be classified as a mixture:

sugar
table salt
air
iron

An element can be defined as:

A substance that cannot be separated into two or more substances by ordinary chemical (or physical) means
A substance with constant composition
A substance that contains two or more substances, in definite proportion by weight
A uniform substance

Classify each of the following substances as an element , a compound , a solution (homogeneous mixture), or a heterogeneous mixture : salt, pure water, soil, salt water, pure air, carbon dioxide, gold and bronze.

Look at the table below. In the first column (A) is a list of substances. In the second column (B) is a description of the group that each of these substances belongs in. Match up the substance in Column A with the description in Column B.

| | |
| --- | --- |
| Column A | Column B |
| iron | a compound containing 2 elements |
| H 2 S | a heterogeneous mixture |
| sugar solution | a metal alloy |
| sand and stones | an element |
| steel | a homogeneous mixture |

You are given a test tube that contains a mixture of iron filings and sulphur. You are asked to weigh the amount of iron in the sample.

Suggest one method that you could use to separate the iron filings from the sulphur.
What property of metals allows you to do this?

Given the following descriptions, write the chemical formula for each of the following substances:

silver metal
a compound that contains only potassium and bromine
a gas that contains the elements carbon and oxygen in a ratio of 1:2

Give the names of each of the following compounds:

For each of the following materials, say what properties of the material make it important in carrying out its particular function.

tar on roads
iron burglar bars
plastic furniture
metal jewellery
clay for building
cotton clothing