Life skills
Grade 2
Trees
Module 5
Trees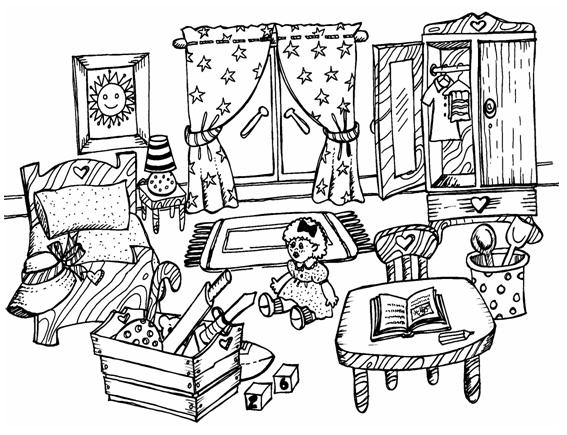 Trees
Trees form a very important part of our environment. We even have a day to remember their special role, Arbour Day. Most organisations try to plant a tree or a number of trees to mark this occasion. Why do we have a special day to remember trees?
Trees have many uses for mankind. Look at the diagram and discuss the many ways in which we use trees.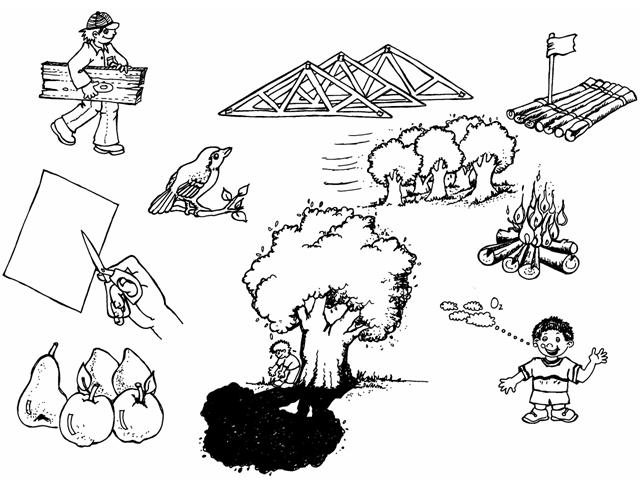 Not only are they useful but they also improve the beauty of our world.
From wood to paper
The products made from trees are usually made from wood. In your groups read about the process of how we use wood to make the very paper you write on.
1. When the trees have grown to a certain size,
they are marked to make sure that they are not all sawed off at the same time.
2. The trees are cut and taken to the sawmill.
3. Here they are stripped of their bark and cut into planks or smaller sizes.
4. The wood for paper is chopped and mashed until it is pulp.
5. It is dried and rolled into huge rolls of paper.
Hundreds of trees go into the making of paper. Every time a tree is cut to be made into paper, another tree must be planted, but it will take seven years for that tree to grow big enough. Trees are a precious resource and we must look after them.
Now answer these questions in your groups.
1. Why should we look after trees?
How can we look after trees?
Make drawings of what you can do to take care of your trees.
We have said that we get wood from trees, but wood is not only used to make paper. Wood has many uses. In the past it was essential just to keep warm, many houses were built of wood and most furniture was made of it Nowadays we use other materials to make furniture.
What materials are these? Find out and list them.
Do you think they are better?
Investigate a chair
What do we want when we sit in a chair?
It must be comfortable.
It must not break.
What else is important?
Try out the chairs in your home.
What are they made of?
What are their good points?
What are their weak points?
Fill in your findings in the table below.
| | | | |
| --- | --- | --- | --- |
| Type of Chair | Material | Good points | Bad points |
| | | | |
Assessment
Learning Outcomes(LO's)
LIFE ORIENTATIONLO 3
PERSONAL DEVELOPMENTThe learner will be able to use acquired life skills to achieve and extend personal potential to respond effectively to challenges in his or her world.
Assessment Standards(ASs)
We know this when the learner:
3.5 demonstrates appropriate classroom behaviour, including groupwork skills.
EMSLO 2
THE ECONOMIC CYCLE The learner will be able to demonstrate knowledge and understanding of the economic cycle within the context of 'the economic problem'.
Assessment Standards(ASs)
We know this when the learner:
1.2 explains that wants can be unlimited , always changing and influenced by friends, the media and the development of new products and services by businesses;1.3 reads and identifies prices from different price tags and labels;1.4 calculates change after buying simple goods and services;1.5 expresses the importance and ways of saving and not wasting money and other resources (e.g. paper).
SOCIAL SCIENCESGEOGRAPHYLO 1
GEOGRAPHICAL ENQUIRY The learner will be able to use enquiry skills to investigate geographical and environmental concepts and processes.
Assessment Standards(ASs)
We know this when the learner:
1.2 identifies and describes significant features of places in the local context [answers the question].
TECHNOLOGYLO 1
TECHNOLOGICAL PROCESSES AND SKILLST he learner will be able to apply technological processes and skills ethically and responsibly using appropriate information and communication technologies.
Assessment Standards(ASs)
We know this when the learner:
1.3 ( designs ) – chooses suitable materials or substances to make products, and suggests some ways they can be used to satisfy a problem, need or opportunity;1.4 ( makes ) – expresses how products are going to be made.
ARTS AND CULTURELO 1
CREATING, INTERPRETING AND PRESENTING The learner will be able to create, interpret and present work in each of the art forms.
Assessment Standards(ASs)
We know this when the learner:
1.9 ( Visual Arts ) – identifies and uses patterns found in the immediate environment, using various materials in organised sequences and in combination.
Memorandum
Observe the trees all around us. Look at the different size and shapes, look at the texture of the bark and leaves. Allow the children to discover and create patterns with the leaves or textures they observe in the trees (A&C 1.8; 1.9).
Enact the tree growing from seed. Encourage the children to move slowly to show how the tree pushes out each tiny shoot or root. Then try to emulate movements in the wind.
Contrast the movements made by nature with a noisy timber factory, as the children become the machinery that will chop and cut and saw the wood as they
will read on the page about a timber factory ('From wood to paper').
(expressing and communicating: a&C 4.4).
First explain to the learners what the difference between a plantation and a forest is, and then let them draw a picture of a plantation on the cover page of the module.
Valentine's Day is a good example of this. The business world just cashed in on people's unlimited wants. Naturally these will continue to change. End the questionnaire by asking what they think their children might want (EMS LO 1.