Sex differences in many non-reproductive behaviors have been described in rodents. This chapter will focus on sex-differences in the learning and information retention of certain kinds of mazes in rats (Rattus norvegicus). The majority of the work has been done on laboratory rats, and suggests that males have a higher ability for contextual fear learning and spatial learning while females performed better in location memory tasks and exhibited a lack of learned helplessness. Gonadal hormones are thought to be partially responsible for these differences and it is likely that these sex-differences arise early in development because altering the sex-hormone levels after puberty doesn't alter the sex differences. It has also been suggested that learning differences are evolutionarily beneficial for species in which males and females differ in their need to navigate or travel.
Author: Vanessa Lippay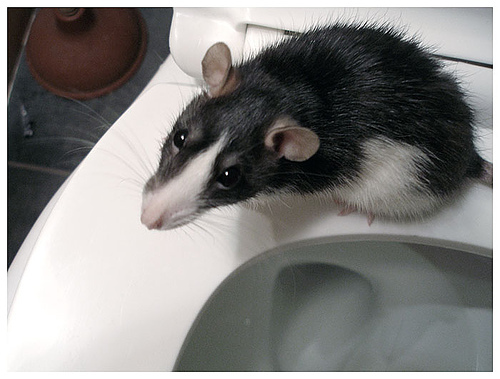 Introduction
Rodents share many features at the anatomical, cellular, biochemical, and molecular level with humans. The rat ( Rattus norvegicus ) is a particularly useful as a neurological model and source of primary cell cultures because of their relatively large organs and suborganellar structures. Also, the rat shares similar brain functions to humans, such as anxiety, hunger, circadian rhythm, aggression, memory, sexual behavior and other emotional responses (Beatty, 1979). Therefore many studies use rodent models to approximate human behavioral responses under physiological and pathological conditions.
Differences between male and female non-reproductive behaviors in rodents have been frequently observed in laboratory studies. Among the behaviors that are sexually dimorphic in the rat are activity, aggression, pain, taste sensitivity, food intake and body weight regulation, avoidance responses, taste aversion, performance on certain schedules of reinforcement, and the learning and retention of information relevant to certain kinds of mazes (Beatty, 1979).
The standard for measuring spatial learning and memory ability in mammals is the Morris water maze (MWM) . This maze requires subjects to use the spatial arrangement of objects or cues outside of a circular pool to find a submerged goal platform located in a fixed location in the pool. It is presumed that with repetition rats learn to find the platform by remembering the visual cues surrounding the pool (Perrot-Sinal, 1996). Created 20 years ago, the MWM is currently one of the most frequently used laboratory tools in behavioral neuroscience.
Learning in spatial tasks takes place via two strategies, denominated taxon and local strategies . In denominated taxon, the animals always begin in the same location and learn to reach the end location by repeating the same set of movements each trial. When using local strategies, the animal moves directly to the target location from any starting position guided by distant cues outside of the maze (Cimadevilla, 1999). Memory and spatial learning can also be divided in rodent models into working versus reference memory. Reference memory is similar to local strategies, and depends on the recall of a set of static objects that can then be referred to. Working memory occurs when objects are mobile or exhaustible, this type of memory requires the ability to update and retrieve information (Puts, 2007).