Introduction
Worldwide concern over the effects of "greenhouse" gases on climate change became increasingly evident in the late eighties and early nineties. International efforts to curb emissions of these gases culminated in the Kyoto Protocol Treaty negotiated in 1997 in the City of Kyoto, Japan. The Treaty initially applied only to industrialized countries, not emerging nations. Although several industrial nations declined to sign the Treaty, it came into effect in February 2005. Perhaps the most notable refusal to agree to the Protocol and Treaty was the United States. There the Senate delivered a near unanimous vote against, this accord, citing the lack of commitment of China, India, and other large emerging nations to reduce emissions.
Signatories to the Kyoto Treaty agreed to reduce the collective emissions of greenhouse gases of industrialized nations by 5.2% compared to 1990. It was expected at the time that this target would actually result in a 29% cut in emissions by the year 2010. The Treaty applied to overall emissions of six greenhouse gases: carbon dioxide (CO 2 ), methane (CH 4 ), nitrous oxide (N 20 ), hydrofluorocarbons (HFCs), perfluorocarbons (PFCs) and sulfur hexafluoride (SF 6 ). However, in public discussions and in the press, the prime focus has been upon reducing emissions of CO 2 over time, even though the impact of the greenhouse gas methane, pound for pound, has more potent warming effects than CO 2 . However methane is far less abundant in the atmosphere than is CO 2 . Still, this molecule may be responsible for as much as one-quarter of global warming. It is to be noted that some atmospheric methane arises from natural sources, such as gas seeps or wetlands.
If CO 2 emissions only are considered, it is apparent that this source of greenhouse gas has climbed precipitously since 1950, from about 10 billion tons per year to about 35 billion tons in 2012, per year a 3½ fold increase (see Table 18-1). Emissions of CO 2 continued to climb after 1997, as well as after 2005, when the Treaty came into force.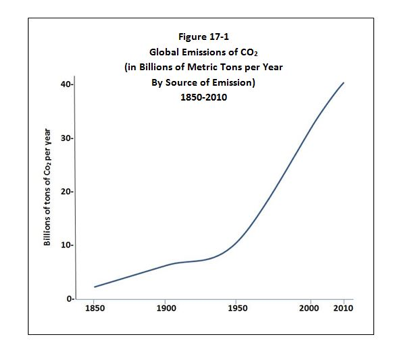 As indicated in Figure 17-1 , the Treaty has not been effective in reducing CO2 emissions.
The European Union moved early on after 2005 to curb global warming. In 2007, the EU agreed to a 20% reduction in greenhouse gas emissions. This was intended to set the stage for a very sharp reduction of 80% by 2050. The 2007 EU agreement resulted in little concrete progress, leading the EU nations to agree in 2014 among themselves (not by treaty) to take further measures intended to cut greenhouse gases emissions by 40% from levels obtained in 1990.
Shortly after the latest EU action, recognition of the inefficacy of the Kyoto Agreement led to a November 2014 groundbreaking agreement to reduce emissions by the two most important sources of CO 2 in the atmosphere: the United States and China. Together, these two nations accounted for 44% of global carbon emissions in 2013. This agreement calls for the U.S. to reduce emissions by 26% by 2025, and for China to begin to take steps to curb emissions by 2030, the first time China has agreed to any limits on emissions.