Relatively few publishers offer an online version exclusively. Exceptions include journals that have discontinued print while converting to an open-access model, or the approximately 3,300 open-access journals that have never published a print edition in the first place.
If a journal's print subscriber base were to decline substantially, the journal's variable cost structure would change—possibly affecting a journal's pricing—as overall printing costs decline while per-unit costs increase. At the same time, the advent of high-quality print-on-demand technologies makes it possible for publishers—even for image-intensive journals requiring high production values—to continue offering print editions even as the number of print subscribers approaches zero.
Institutional subscription pricing
As noted in Chapter Four, a lack of discipline-specific data will make it difficult for most societies to estimate institutional subscriber preferences by delivery medium with any precision. To mitigate the risk caused by this uncertainty, a society can design a journal's pricing to yield approximately the same revenue contribution irrespective of format, thus minimizing the net revenue effect of the market's uptake of one purchase option over another. This approach renders the society indifferent, from a financial perspective, to the delivery format an institutional subscriber selects. In this way, the society can manage the migration of journal revenue from print to online and project revenue with confidence, regardless of the pace of change in market preference for one format over another.
The same approach described for member dues options can be applied to institutional pricing. First, the society needs to determine its revenue objective—for example, whether to maintain current net income levels or to increase revenue slightly to offset the incremental costs of online publication. The society can then use its existing print price, along with its variable cost of goods sold for delivering print, to establish pricing that render it more or less indifferent to institutional subscription uptake by medium.
The table below illustrates how a society could price its print and online options to remain more or less revenue-neutral. (Given the complexity of uptake assumptions for each of the format options, we simply show revenue contribution on an individual subscription basis.)
Example: Net Revenue Effects of Various Subscription Options, on a Unit Basis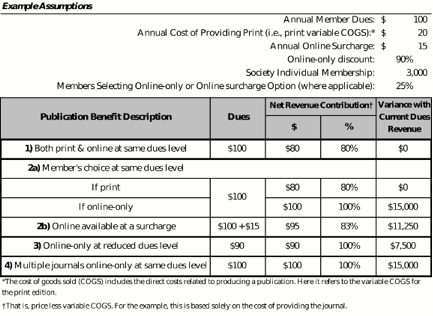 As the table indicates, the online-only and dual media options will yield higher returns (roughly equivalent to the variable print cost of goods sold) than will the print-only option.
Comparative price analysis
How much latitude a society will have to adjust its pricing—for example, to cover new costs associated with online distribution—will depend in part on the journal's current price. As a society considers its online pricing options, it should also evaluate how the journal's current print price compares with other journals in the same or related fields. There are some specialized pricing studies available, although these tend to be one-time studies that age quickly. One of the more useful recurring analyses is that published each April in Library Journal . The Library Journal price index provides four-year pricing information for journals, including breakdowns by the following Library of Congress subject areas: