The table below illustrates the net revenue effects per unit that might be achieved, based on the various member publication benefit options outlined above.
Example: Net Revenue Effects of Various Dues Options, on a Unit Basis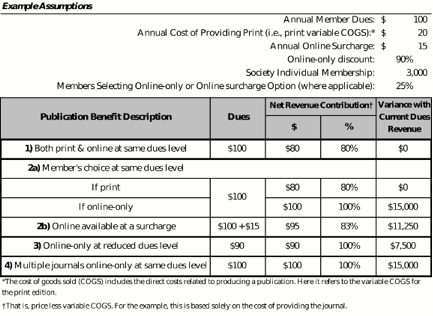 Neither the list on pages tk-tk nor the examples in the table above exhaust all the possible member publication benefit pricing approaches available to a society. However, the table provides a model that a society could modify—applying its own data and assumptions—to assess the potential revenue effect of various common approaches.
While the leadership of a society often has a good intuitive sense of whether it can increase its member dues, predicting member preferences for various publication benefit options—especially when the options have many variables—will often prove more difficult. In such instances, a survey of member preferences for various publication benefit offerings would typically be useful.
Institutional subscription format options
Societies also have several options for structuring how they price a journal's online and print editions for institutional subscribers, although this pricing typically has fewer variables than is the case with member dues.
Early pricing models for online journals were conservative and did not give libraries the option of cancelling print. To help maintain their existing revenue streams, publishers offered print-only and print-plus-online options. With the increasing demand for online editions, pricing models have evolved, and more publishers now offer an online-only option along with print-only and bundled dual-media options. Indeed, for some publishers, the pricing model has flipped completely, with print sold as an add-on to the online edition.
According to a 2008 scholarly publisher survey, the most common pricing options were print and online for one price (over 50% of small publishers), with a discounted price for online-only access (about 25% of small publishers). The table below summarizes common institutional pricing options for journals available in both print and online:
Common Institutional Journal Price Format Options
| | |
| --- | --- |
| Format Option | Description&Pricing |
| Print-only or online-only | Either format available independently, either at the same price or at different prices (typically with online-only at a lower price). |
| Print-and-online | Both formats bundled for one price. Sometimes the bundle is priced at the former print-only price; sometimes at a slightly higher price. |
| Print-plus-online | Online available for a surcharge on top of the print-only price. |
| Online-plus-print | Print available for a surcharge on top of the online-only price. |