The invention of the integrated circuit came about as the result of his being left nearly alone at Texas Instruments not long after he was hired in 1958. The plant he was working at shut down for a summer holiday, but as a new hire, he didn't have any vacation time coming. As a result, he was able to spend some time pondering how to further shrink the size of the transistor. From Kilby's recollection of the invention of the integrated circuit:
"Further thought led me to the conclusion that semiconductors were all that were really required - that resistors and capacitors, in particular, could be made from the same material as the active devices.
"I also realized that, since all of the components could be made of a single material, they could also be made in situ, interconnected to form a complete circuit. I then quickly sketched a proposed design for a flip-flop using these components. Resistors were provided by bulk effect in the silicon, and capacitors by p-n junctions."
Texas Instruments made the invention public in March 1959, and received the first patent for the device. Robert Noyce, who eventually cofounded Intel with Gordon Moore, was also working on the integrated circuit around the same time at Fairfield Semiconductor and is credited with making mass production of the integrated circuit feasible.
In addition to also receiving over 60 patents, Kilby was a 2000 Nobel Prize in Physics recipient for his invention of the integrated circuit.
'humble giant' hailed for inventing integrated circuit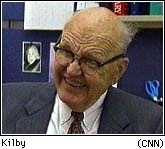 Computer maker launches observance of 1958 development
September 9, 1997Web posted at: 9:12 p.m. EDT (0112 GMT)
DALLAS (CNN) -- He's a tall, non-assuming man who speaks in a modest voice that resounds with a gentle Texas twang. It would be hard to pick him out as one of the most important men of this century. But Jack Kilby is.
Almost 40 years ago this week, Kilby came into work on a day off and put together an invention that came to be called the integrated circuit. It was one of the most significant developments of the 20th century.
CNN's Charles Zewe reports 2 min., 30 sec. VXtreme streaming video
"It looked like a useful idea and one that was worth pursuing," the Dallas engineer said in a recent CNN interview.
It certainly was.
Kilby's integrated circuit became to the information age what the internal combustion engine was to the automobile.
Almost no aspect of modern life has been untouched by the integrated circuit. It runs everything from fax machines and computers to telephones and televisions.
"It affects you every day of your life .. probably 10 times every hour," said Thomas Engibous, Texas Instruments president.
Texas Instruments in Dallas has launched a year-long observance of Kilby's September 12, 1958, discovery.
The company has named a new $154 million digital chip research center after him and given his foundation $1 million to honor scientists and inventors.
Known as the "humble giant" around Texas Instruments' headquarters for his height and soft-spoken modesty, Kilby claims to be computer illiterate.