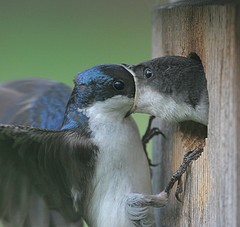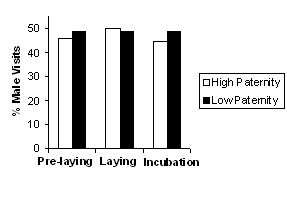 How yellow-headed blackbirds attract mates
In the yellow-headed blackbird ( Xanthocephalus xanthocephalus ), males attract mates by adopting broods of others' offspring. In this species, females choose where to nest based on the number of females living on the territory and the number of active nests. The more females with active nests on a territory, the more resources the territory must have and the safer it must be from predators. These factors will lead females to nest in the same area. Replacement males, thus, may be able to attract new females ready to settle if they accept the presence of unrelated offspring in nests made by previous territorial males. In this case, adoption and not infanticide is the behavior that yellow-headed blackbirds choose as a tool to actually increase eventual fitness (Gori et al . 1996).
Female infanticide in the house sparrow
Due to gamete dimorphism, sperm is cheaper to produce than eggs. Males can, thus, copulate with many more females and father more children than females can produce. Females, however, will devote more resources into the care for the young to compensate for the fewer number (Queller 1997). This allows for males to be more mobile. This, and the fact that because of the internal fertilization of eggs males can never be sure about their expected paternity in a brood, usually leads to males being the sex typically faced with the decision to adopt or kill a brood. However, females are presented with this dilemma too. In the house sparrow ( Passer domesticus ), females have to compete with each other for limited nesting space (Veiga 1990). This competition leads to the selection of behaviors that will increase the chances of a female taking over a nest and her raising her offspring up to fledge. Many times when a new female takes over a previously used nesting site, the other females' young are still there. This new female now has to decide whether she should raise these offspring or if she should kill them. As expected, infanticide is not rare. In one study, female house sparrows committed infanticide over 20% of the time when females replaced other females (Veiga 2004). Moreover, because this nest is visited by the male that was helping to raise the other young, the female will kill off the other young in order to focus more of the male's time and resources on the caring of her own young. She will mate with this male and lay a clutch of eggs where he expects high paternity.
Female infanticide can also occur without a female's taking over a used nest site. In house sparrows, because the females are mated with a polygynous male, they are more likely to kill their rival's offspring in order to get more of the male's energy and time devoted to her and her offspring. When a polygynous male had other nests full of fledglings that needed care, female behavior that would give more, needed attention to her own offspring would be favored. Nearly 90% of these females committed infanticide (Veiga 2004).