The indirect mechanism of GH action is mediated by insulin-like growth factors (IGFs) or somatomedins, which are a family of growth-promoting proteins produced by the liver, which stimulates tissue growth. IGFs stimulate the uptake of amino acids from the blood, allowing the formation of new proteins, particularly in skeletal muscle cells, cartilage cells, and other target cells, as shown in [link] . This is especially important after a meal, when glucose and amino acid concentration levels are high in the blood. GH levels are regulated by two hormones produced by the hypothalamus. GH release is stimulated by growth hormone-releasing hormone (GHRH) and is inhibited by growth hormone-inhibiting hormone (GHIH) , also called somatostatin.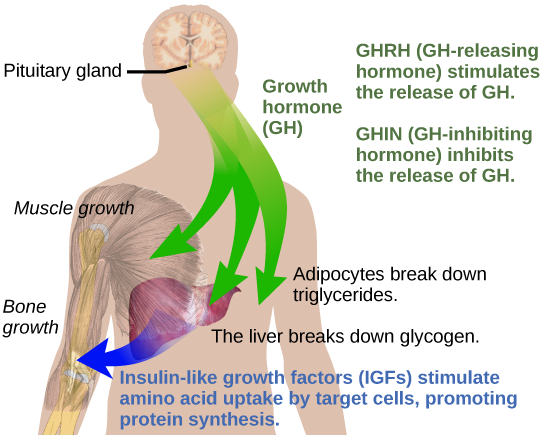 A balanced production of growth hormone is critical for proper development. Underproduction of GH in adults does not appear to cause any abnormalities, but in children it can result in pituitary dwarfism , in which growth is reduced. Pituitary dwarfism is characterized by symmetric body formation. In some cases, individuals are under 30 inches in height. Oversecretion of growth hormone can lead to gigantism in children, causing excessive growth. In some documented cases, individuals can reach heights of over eight feet. In adults, excessive GH can lead to acromegaly , a condition in which there is enlargement of bones in the face, hands, and feet that are still capable of growth.
Hormonal regulation of stress
When a threat or danger is perceived, the body responds by releasing hormones that will ready it for the "fight-or-flight" response. The effects of this response are familiar to anyone who has been in a stressful situation: increased heart rate, dry mouth, and hair standing up.
Evolution connection
Fight-or-flight response
Interactions of the endocrine hormones have evolved to ensure the body's internal environment remains stable. Stressors are stimuli that disrupt homeostasis. The sympathetic division of the vertebrate autonomic nervous system has evolved the fight-or-flight response to counter stress-induced disruptions of homeostasis. In the initial alarm phase, the sympathetic nervous system stimulates an increase in energy levels through increased blood glucose levels. This prepares the body for physical activity that may be required to respond to stress: to either fight for survival or to flee from danger.
However, some stresses, such as illness or injury, can last for a long time. Glycogen reserves, which provide energy in the short-term response to stress, are exhausted after several hours and cannot meet long-term energy needs. If glycogen reserves were the only energy source available, neural functioning could not be maintained once the reserves became depleted due to the nervous system's high requirement for glucose. In this situation, the body has evolved a response to counter long-term stress through the actions of the glucocorticoids, which ensure that long-term energy requirements can be met. The glucocorticoids mobilize lipid and protein reserves, stimulate gluconeogenesis, conserve glucose for use by neural tissue, and stimulate the conservation of salts and water. The mechanisms to maintain homeostasis that are described here are those observed in the human body. However, the fight-or-flight response exists in some form in all vertebrates.