The energy from ATP drives all bodily functions, such as contracting muscles, maintaining the electrical potential of nerve cells, and absorbing food in the gastrointestinal tract. The metabolic reactions that produce ATP come from various sources ( [link] ).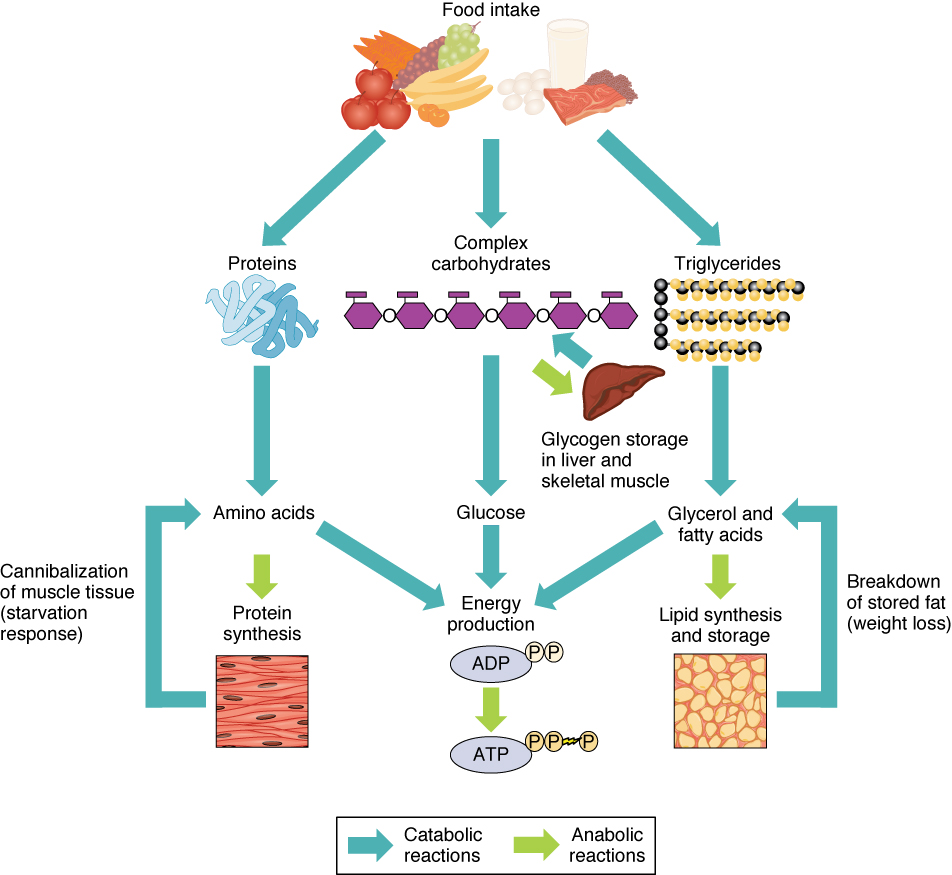 Of the four major macromolecular groups (carbohydrates, lipids, proteins, and nucleic acids) that are processed by digestion, carbohydrates are considered the most common source of energy to fuel the body. They take the form of either complex carbohydrates, polysaccharides like starch and glycogen, or simple sugars (monosaccharides) like glucose and fructose. Sugar catabolism breaks polysaccharides down into their individual monosaccharides. Among the monosaccharides, glucose is the most common fuel for ATP production in cells, and as such, there are a number of endocrine control mechanisms to regulate glucose concentration in the bloodstream. Excess glucose is either stored as an energy reserve in the liver and skeletal muscles as the complex polymer glycogen, or it is converted into fat (triglyceride) in adipose cells (adipocytes).
Among the lipids (fats), triglycerides are most often used for energy via a metabolic process called β-oxidation. About one-half of excess fat is stored in adipocytes that accumulate in the subcutaneous tissue under the skin, whereas the rest is stored in adipocytes in other tissues and organs.
Proteins, which are polymers, can be broken down into their monomers, individual amino acids. Amino acids can be used as building blocks of new proteins or broken down further for the production of ATP. When one is chronically starving, this use of amino acids for energy production can lead to a wasting away of the body, as more and more proteins are broken down.
Nucleic acids are present in most of the foods you eat. During digestion, nucleic acids including DNA and various RNAs are broken down into their constituent nucleotides. These nucleotides are readily absorbed and transported throughout the body to be used by individual cells during nucleic acid metabolism.
Anabolic reactions
In contrast to catabolic reactions, anabolic reactions involve the joining of smaller molecules into larger ones. Anabolic reactions combine monosaccharides to form polysaccharides, fatty acids to form triglycerides, amino acids to form proteins, and nucleotides to form nucleic acids. These processes require energy in the form of ATP molecules generated by catabolic reactions. Anabolic reactions, also called biosynthesis reactions , create new molecules that form new cells and tissues, and revitalize organs.
Catabolic and anabolic hormones in the body help regulate metabolic processes. Catabolic hormones stimulate the breakdown of molecules and the production of energy. These include cortisol, glucagon, adrenaline/epinephrine, and cytokines. All of these hormones are mobilized at specific times to meet the needs of the body. Anabolic hormones are required for the synthesis of molecules and include growth hormone, insulin-like growth factor, insulin, testosterone, and estrogen. [link] summarizes the function of each of the catabolic hormones and [link] summarizes the functions of the anabolic hormones.