Aardrykskunde
Graad 4
Hulpbronne en dienste in 'n nedersetting
Module 19
Vullisverwydering en herwinning
Vullisverwydering
Die vullis in jou omgewing sluit nie net vaste afvalstowwe in jul vuilgoeddromme in nie, maar ook riool. Rioolwater bevat gevaarlike kieme en dit kan nie in riviere, mere of die see beland sonder dat dit gesuiwer is nie. Dit sal 'n baie nadelige uitwerking op die dier- en plantlewe hê. Daarom word rioolwater by waterwerke gesuiwer.
Vaste vullis kan 'n groot probleem raak as dit nie op 'n gereelde basis verwyder word nie.
Hoe gereeld kom die vulliswa by jou huis verby?
Waarheen word hierdie vaste afval geneem en wat word daarmee gedoen?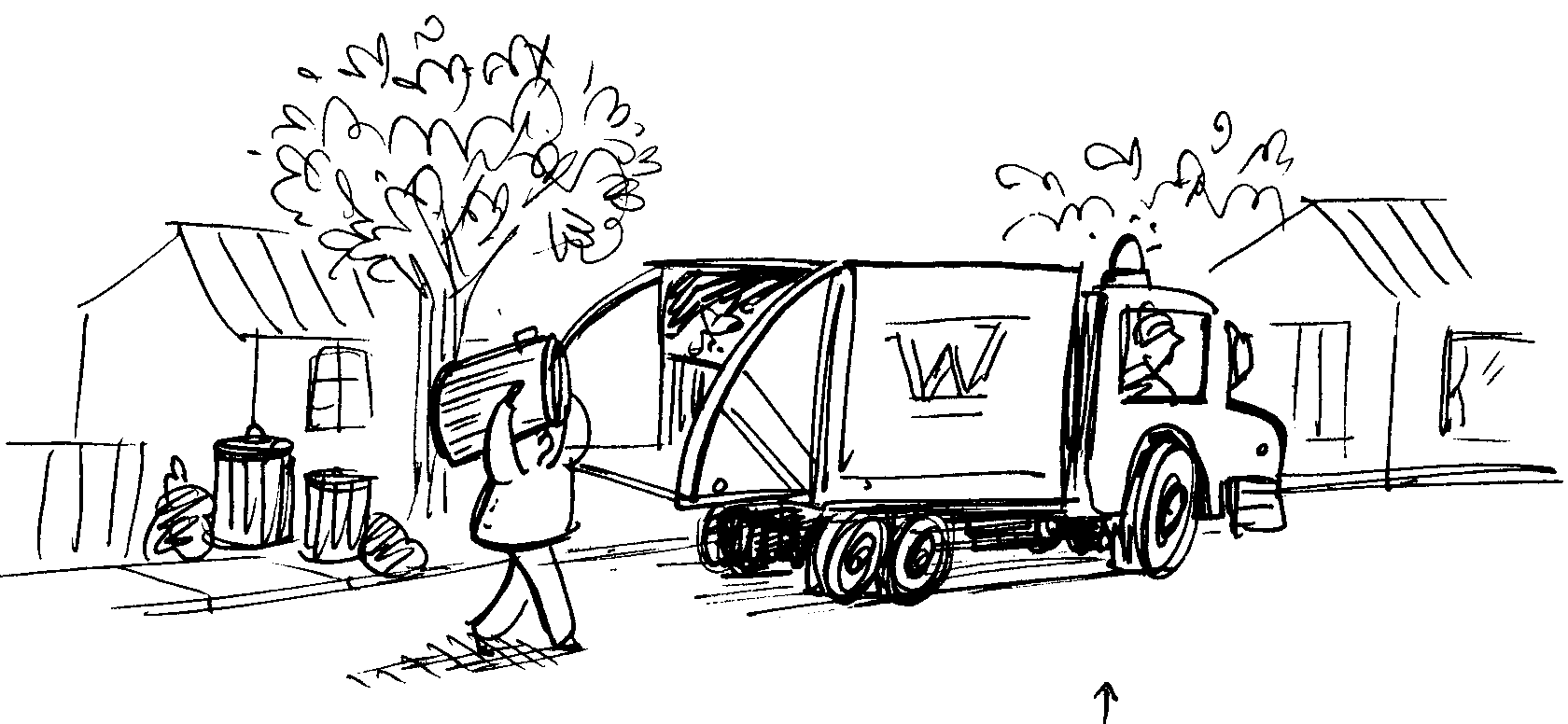 Aktiwiteit 1
Om uit te vind hoe vaste afval verwerk word [lu 3.1]
Kyk of julle met voorstelle kan kom hoe om suksesvol van vaste afval ontslae te raak sonder om die omgewing te besoedel. Onthou, die afval sluit plastiek (wat nie verrot nie) in.
Hoewel die meeste vaste afval na vullishope geneem word waar dit verbrand of begrawe word, is dit nie altyd die beste uitweg nie.
Herwinning
Aktiwiteit 2
Om na aanleiding van die sketse die voorbeelde van vullis in die meegaande tabel te sorteer [lu 1.2]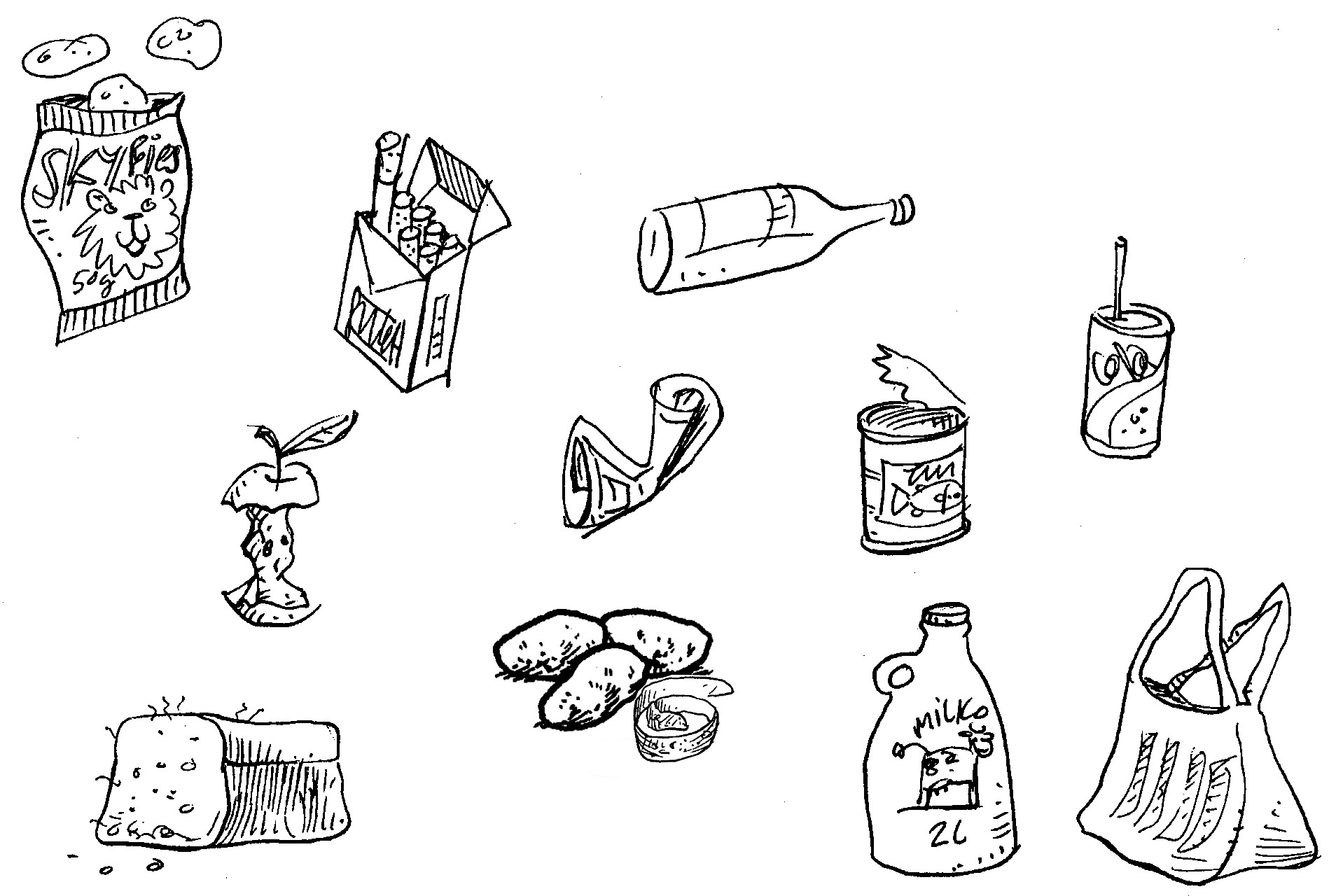 Sorteer die artikels hierbo onder die volgende hofies.
| | |
| --- | --- |
| Herwinbaar | Nie-herwinbaar |
| | |
| | |
| | |
| | |
| | |
Kan jy dalk nou met 'n voorstel kom oor hoe vaste afval in ons huise hanteer behoort te word?
Interessante feite oor die omvang van die vullisverwyderingsdienste van stad Kaapstad.
Die Stad Kaapstad se taak ten opsigte van vullisverwydering .
Die Stad Kaapstad bestuur die gebied van Bloubergstrand af tot by Gordonsbaai . Die 3,2 miljoen inwoners tesame met die fabrieke en sakeondernemings se afval word van 660 000 dienspunte na ses groot stortingsterreine geneem – 1,5 miljoen ton vullis jaarliks ! Dié hoeveelheid groei jaarliks met 6 % . Die stedelike bevolking het egter die afgelope paar jaar met 3,5 % gegroei , wat beteken dat die mense jaarliks meer vullis per huishouding oplewer .
Navorsing het getoon dat gegoede mense weekliks 25 kg vullis per huis genereer, arm mense 15 kg per huis, en die heel armstes in plakkersgemeenskappe 8 kg per huis.
In Suid-Afrika word ongelukkig baie min huisafval herwin . Huishoudings in Europa en die VSA genereer meer huisafval per gesin, maar herwin gelukkig ook baie daarvan.
Onthou: hoe meer herwin word, hoe minder vullis is daar waarvan ontslae geraak moet word.
Assessering
LEERUITKOMS 1: AARDRYKSKUNDIGE ONDERSOEK
Die leerder is in staat om ondersoekvaardighede te gebruik om aardrykskundige en omgewingsbegrippe en -prosesse te ondersoek.
Assesseringstandaard
Dis duidelik wanneer die leerder
1.2 inligting uit bronne onder hofies organiseer.
LEERUITKOMS 3: VERKENNING VAN VRAAGSTUKKE
Die leerder is in staat om ingeligte besluite oor sosiale en omgewingsvraagstukke en –probleme te neem.
Assesseringstandaard
Dis duidelik wanneer die leerder
3.1 vraagstukke kan identifiseer wat met hulpbronne en dienste in spesifieke kontekste gepaardgaan.
Memorandum
V ullisverwydering
Vullisgate (hersirkulering – ontbinding)