_____________________________________________________________________
13. Maak 'n tekening van die insek soos van die kant gesien.
Liggaamsbou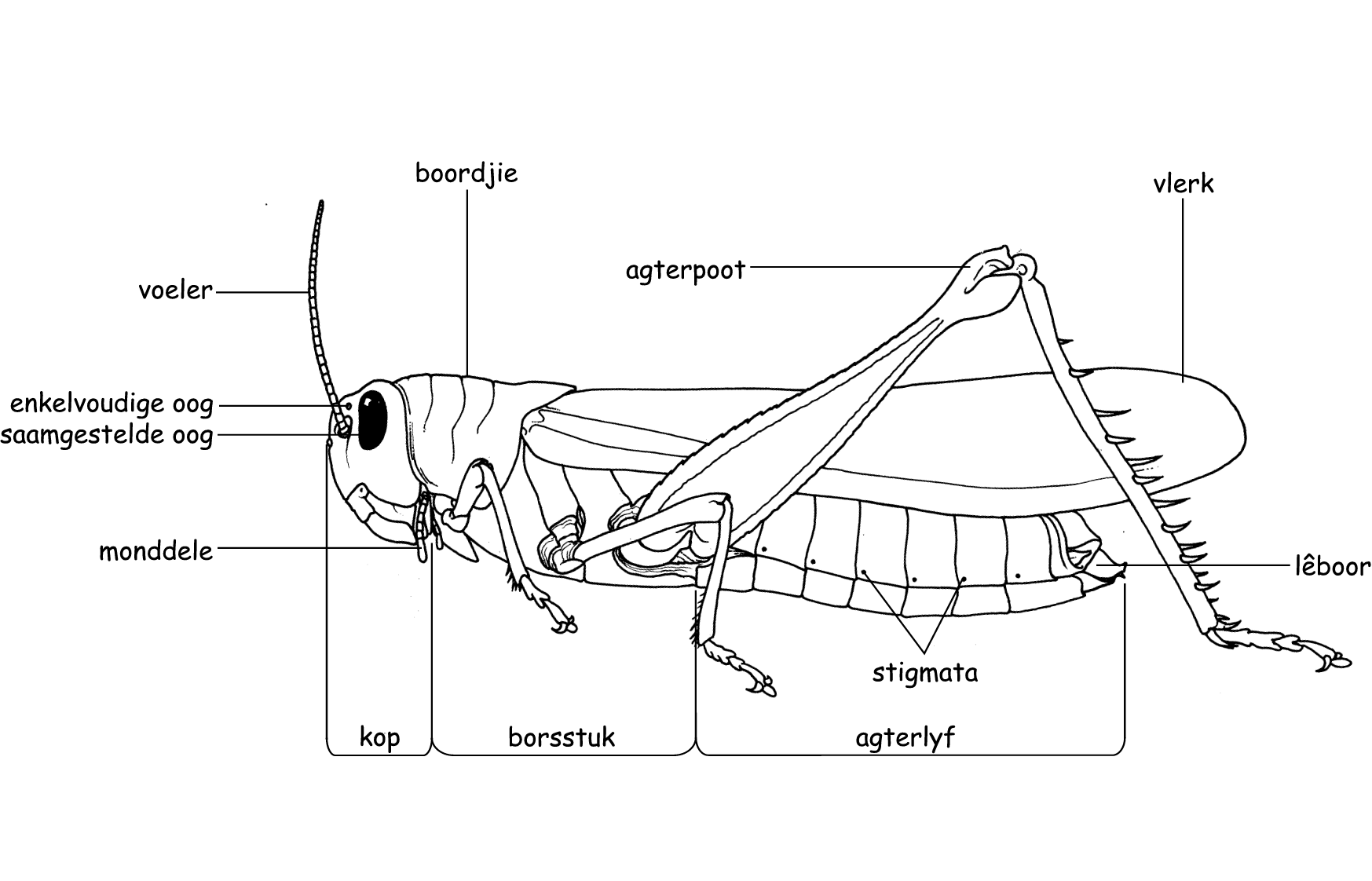 Die liggaam bestaan uit drie hoofdele: die kop, bors en agterlyf.
Die insek het 'n eksoskelet wat uit 'n sterk leeragtige stof bestaan wat ons chitien noem.
Die drie pare gelede pote is aan die bors vasgeheg.
Twee pare vlerke word ook op die bors gedra: die voorstes is leeragtig en lê plat teen die liggaam; die agterstes is sag en vou soos waaiers onder die voorstes in.
Die kop dra:
- twee antennes (voelhorings) waarmee die insek kan voel;
- drie klein oë wat ons enkelvoudige oë noem;
- twee groot of saamgestelde oë; en monddele.
Die agterlyf dra geen aanhangsels nie, behalwe klein geslagsorgane op die punt wat by die mannetjie en wyfie verskil.
Op elke segment van die agterlyf is daar 'n asemhalingsopening.
Beweging
Insekte is baie beweeglik. Dink maar aan die ratsheid van 'n vlieg en die afstande wat sprinkaanswerms kan vlieg.
Die pote is gelit. By die sprinkaan is die agterpote sterker ontwikkel sodat hy kan spring.
Die voorste vlerke vou dwars oop en balanseer die insek tydens vlug (soos die vlerke van 'n vliegtuig), terwyl die sagte agterste vlerke soos waaiers oopvou en die eintlike vliegwerk doen.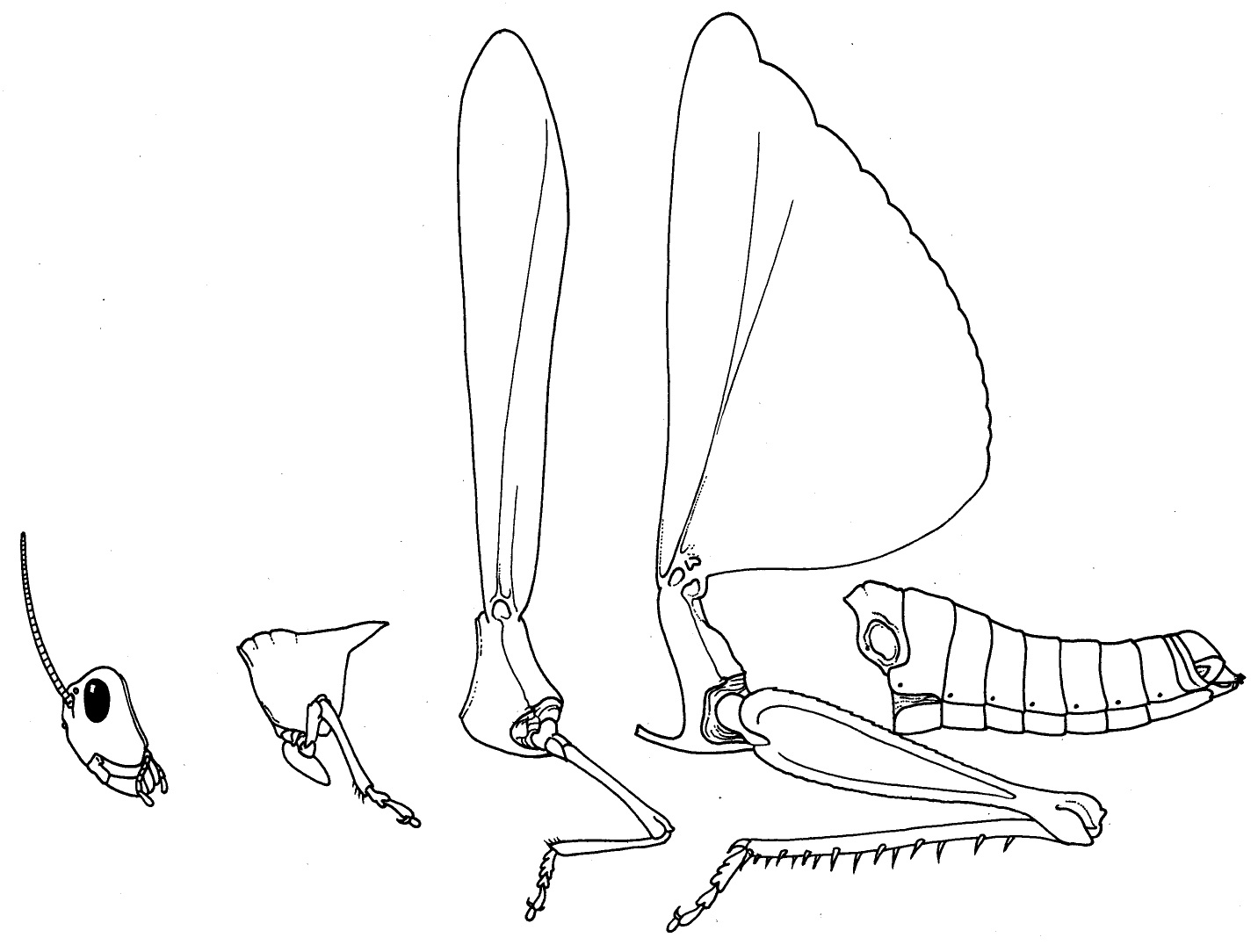 Voeding
Die sprinkaan is 'n plantvreter met monddele wat baie goed vir dié doel aangepas is. Daar is onder meer twee voelertjies waarmee hy die voedsel kan voel sodat hy dit in die mond kan instoot. Daar is ook twee kake met snyvlakke wat die plantmateriaal fynkerf. Die sprinkaan het dus bytende monddele.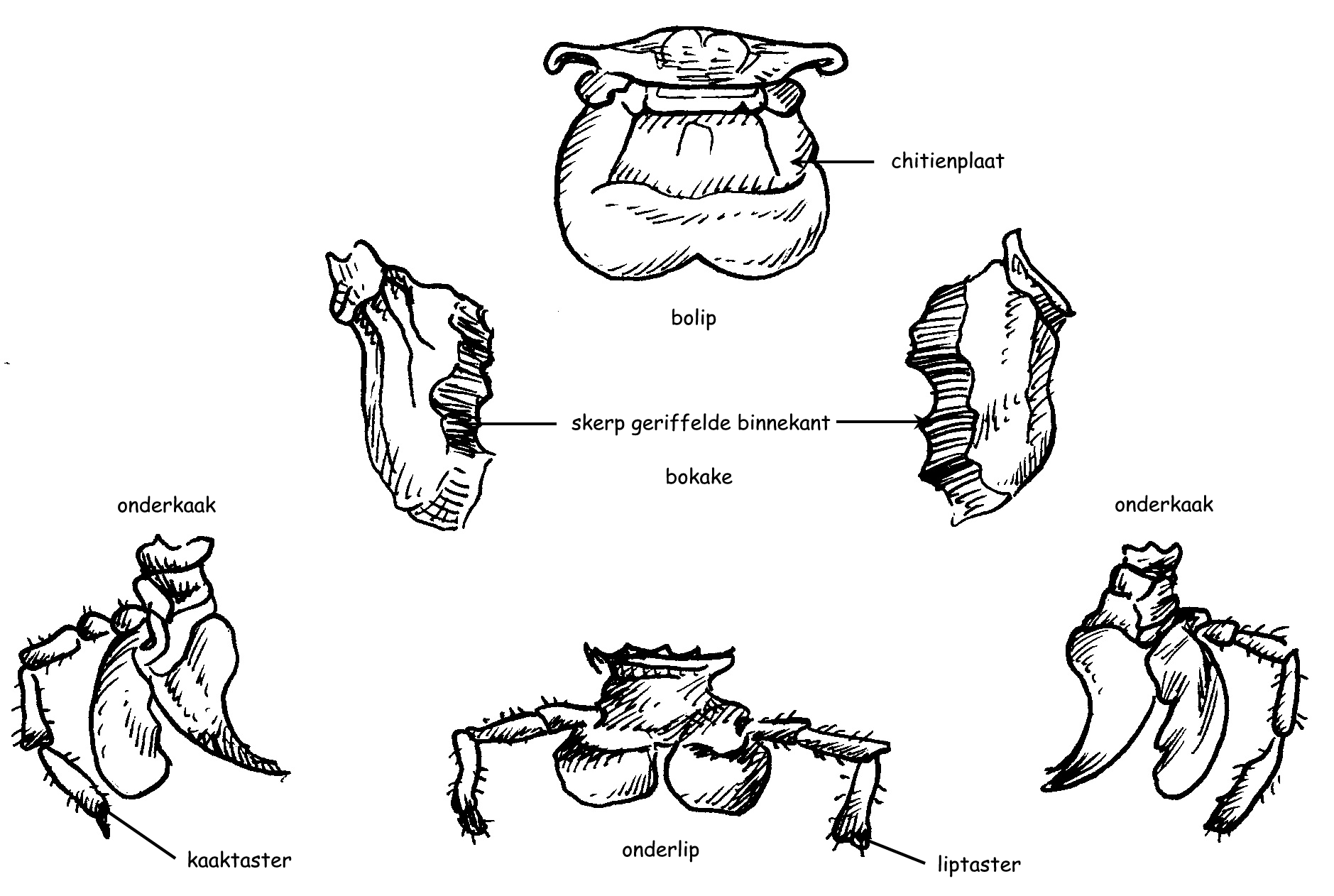 Ander insekte het dieselfde monddele as die sprinkaan, maar die vorm kan baie verskil om by ander voedingswyses aan te pas. Hulle kan byvoorbeeld lekkend wees (die vlieg), suigend (sommige motte) of stekend (die muskiet).
Asemhaling
Op elk van die eerste agt agterlyfsegmente is daar aan weerskante 'n asemhalingsopening. Hierdie openinge lei na 'n netwerk van buisies (trageas) wat deur die hele liggaam vertak en lug vervoer.
Handhawing van waterbalans
Die eksoskelet van die sprinkaan vorm 'n waterdigte huidbedekking. Dit beteken dat die liggaam nie vog verloor nie en dus in droë toestande kan oorleef. Die plantmateriaal wat die sprinkaan vreet, bevat voldoende water.
Voortplanting
Jy het in graad 6 geleer dat 'n vlieg 'n volledige gedaanteverwisseling of metamorfose ondergaan vandat die eier uitbroei totdat daar 'n volwasse vlieg ontwikkel het. Kan jy die stadiums nog onthou? Vul hulle op die onderstaande illustrasie in.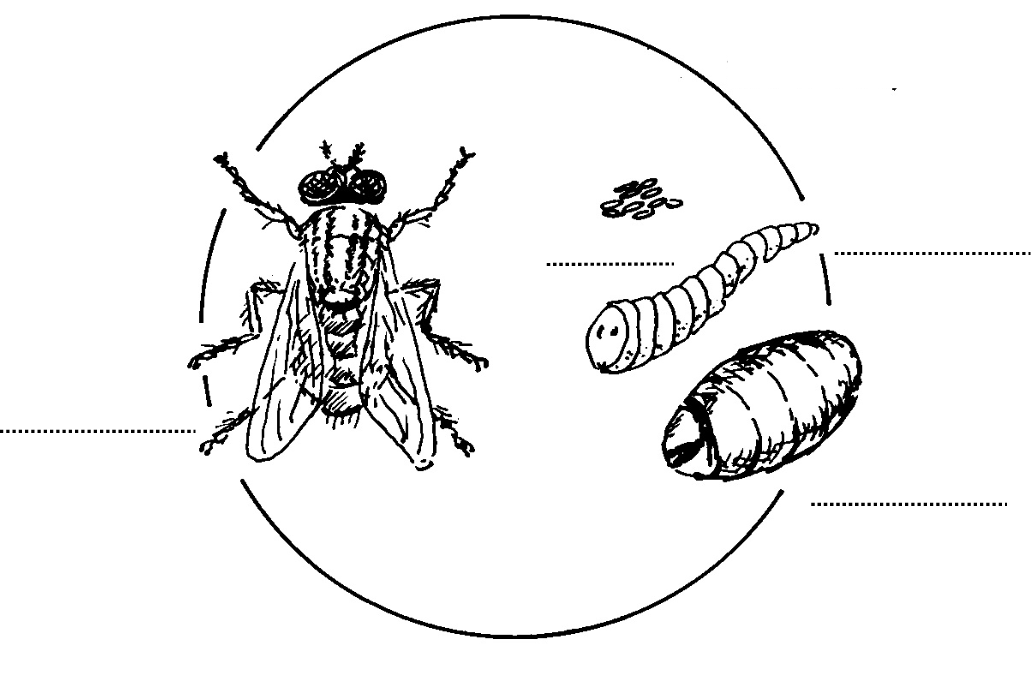 Die sprinkaan ondergaan nie 'n volledige metamorfose nie. Nadat die mannetjie en wyfie gepaar het, lê die wyfie eiertjies met haar lêboor in die grond. Klein sprinkaantjies broei uit wat lyk soos die volwassene. Soos wat hulle groter word, vervel hulle 'n paar keer. Ons praat dus van 'n onvolledige metamorfose.
Die sprinkaan en ander insekte in die ekosisteem
Opdrag 3:
Verduidelik hoekom die sprinkaan en ander insekte besonder goed by hulle omgewing aangepas is.
Afhanklikheid van water:
_____________________________________________________________________