Social sciences: geography
Grade 7
Natural hazards
Module 3
Tropical cyclones
1. Tropical Cyclones
The occurrence and cause of tropical cyclones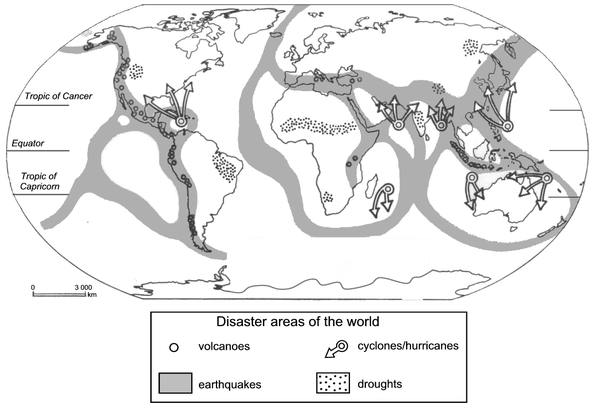 No weather phenomenon is more terrifying and destructive than a tropical storm. In America such storms are called hurricanes, in Asia typhoons, in South Africa tropical cyclones and in Australia Willie-willies.
Features of tropical cyclones
They develop over the warm, tropical oceans near the equator. The warm, tropical seawater heats the air that rests upon it up to temperatures of ± 27°C. The high degree of evaporation makes the air very humid. That is why the tropical easterly winds are chiefly characterized by the fact that they are hot and humid. This causes the air above the oceans to rise swiftly, resulting in extremely low pressure. The convection currents start spiralling at an ever increasing speed. The air rises more and more, and condensation and cumulus and cumulonimbus clouds are formed. The rotation of the earth on its own axis causes the cloud masses to circle, which creates a gigantic, swirling storm.
In the centre of this cyclone there is an eye of moist, cloudless weather that can be about 35-50 km wide. Here atmospheric pressure readings are less than 1 000 hPa. Directly around it storm winds rage at 120-280 km/h. Stormy weather can occur up to 200 km from the eye, and these storms can continue for a few hours or even for a number of days. They move forward slowly (15-20 km/h) and start to subside as soon as they reach the land surface or cooler water. Great destruction, heavy downpours and tidal waves occur for a number of days along the coastal areas of the affected countries.
Traditionally cyclones were named after women because of their capricious nature. Nowadays they are sometimes also named after men. The relentless tropical cyclone "Hugo" that hit the east coast of America in 1989 is one such example.
Such a storm would be indicated on a weather chart by round isobars that are closely positioned around the eye.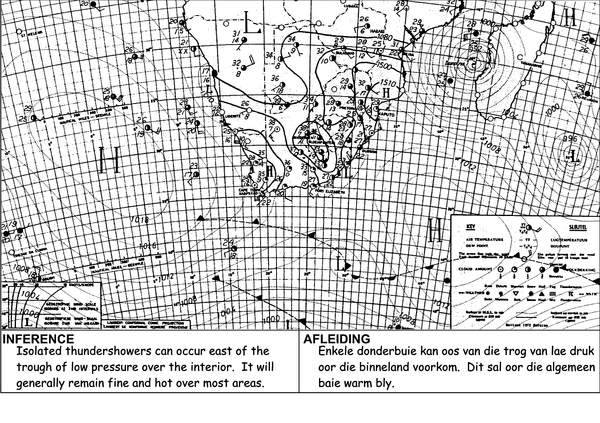 Synoptic weather chart
2. The effect (consequences) of tropical cyclones on peoples' lives and their socio-economic activities
South Africa does not often experience the utter ferocity of a tropical storm. However, when it does occur, it causes just as much destruction as in other parts of the world.
The worst cyclone that has ever been recorded along the South African coast was the tropical cyclone Demoina. On 25 January 1984 Demoina veered inland from a position near Maputo. The following two days it caused violent storms, high winds and a great deal of rain over parts of South Africa. At some places as much as 540 mm was recorded in a period of 24 hours. In Northern Natal rivers burst their banks. Villages near rivers were totally destroyed, bridges were washed away and crops on the banks of the rivers were destroyed. Damage to sugar plantations was estimated at R150 000 000. At least 200 people lost their lives. It was difficult to carry out rescue operations because most of the bridges and roads in the affected areas had been washed away. The gale force winds made conditions extremely hazardous for helicopters. Bodies of victims, and even crocodiles, were washed into the sea. The death toll rose even higher as a result of waterborne diseases and famine.