English first additional language
Grade 6
Module 10
To label a diagram
Activity 1:
To label a diagram
To recognise words that sound the same but are spelled differently
To recognise words which are often confused
[lo 5.3.2, 6.4.2, 6.4.3]
This exercise is designed to check whether or not you have learned some new vocabulary, and whether or not you are able to use your new vocabulary to label the following picture. Each number points to a different part of the bicycle. Write the correct label next to the corresponding number.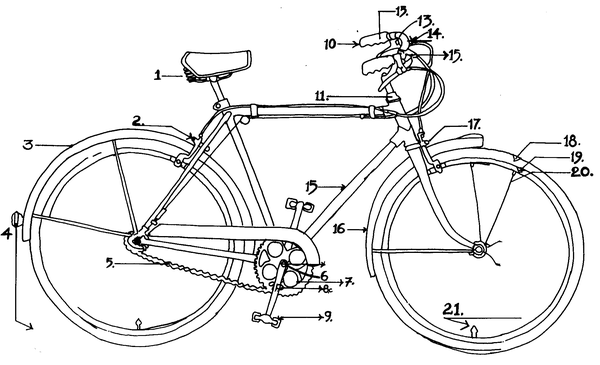 Another mode of transport that needs a saddle:
Dictionary meaning of VALVE
Write down another word ending in –al.
TUBE is also the name of the ______in London.
Add a letter to this word to make a new word.
Complete the saying: Get a GRIP on
A word that rhymes with REAR is
What is another meaning of the word CABLE?
Opposite of the word REAR
Another place where a RIM is found
Another word that ends in –or
Another word that sounds the same as BRAKE, but is spelt differently
Another word that ends in –le
Is this a noun or a verb when referring to a "bicycle spoke"?
Think of another word containing the word HEAD
What is the meaning of MUDGUARD?
Assessment
LO 5
THINKING AND REASONING The learner will able to use language to think and reason, and access, process and use information for learning.
We know this when the learner:
5.2 uses language for thinking;
5.2.1 answers and asks some more complex questions;
5.2.3 analyses the features of things in order to classify them;
5.2.8 evaluates, makes choices and judgements, and gives reasons for them;
5.3 collects and records information in different ways:
5.3.2 designs, draws and labels maps, plans, charts, graphs and diagrams.
LO 6
LANGUAGE STRUCTURE AND USE The learner will know and be able to use the sounds, words and grammar of the language to create and interpret texts.
We know this when the learner:
6.4 develops own vocabulary.
6.4.2 recognises words which sound the same but are spelled differently;
6.4.3 recognises words which are often confused;
6.4.4 understands between 4 000 and 5 500 common spoken words in context by the end of grade 6.
Memorandum
Learners must label a bicycle in this activity. It may be interesting to allow them to complete it on their own with no help from you.
The answers are as follows:
seat or saddle.
rear brake
rear mudguard
rear reflector
chain
crank axle
chain wheel
crank
pedal
handlebar grip
headset
handlebars
brake lever
brake cable
down tube
front mudguard
front brake
tyre
rim
spoke
tyre valve