Technology
Grade 6
3-d dreams
Module 4
Introduction to three-dimensional objects
You have already been introduced to a variety of two-dimensional shapes: a square, a rectangle and a circle.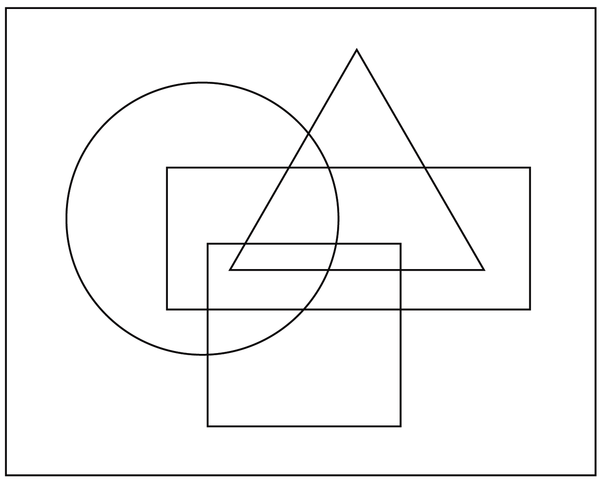 Assignment 1:
Look at the sketch below. can you possibly identify three more two-dimensional shapes except those mentioned above? use your colouring-pencils and copy the three shapes in three different colours.
[lo 1.12]
These shapes are , and .
Let's have a look at the characteristics of these shapes to see if there is a similarity between these figures and the figures above.
Assignment 2:
Write the name/names only of the figure/figures that has/have the characteristic listed below.
[lo 1.12]
All four sides are equal in length
Has / have four rectangles
Has / have two obtuse angles and two acute angles
Has / have two long sides and two short sides
One pair of opposite sides are parallel
Both pairs of opposite sides are parallel
The circumference cannot be measured with a ruler
Assignment 3a:
Let's try to draw parallelograms and rhombuses. for this you need a 30°/ 60° grid (annexure 1)
[lo 1.12]
Place the grid under the page, turn the page sideways and draw a parallelogram of 50 mm by 30 mm. Can you draw the parallelogram in at least two different ways?
Assignment 3b:
Using the 30°/ 60° grid, draw a rhombus of which each of the sides is 40 mm. try to do it in two different ways.
[lo 1.12]
Background:
When we connect lines, flat planes or shapes are formed. When we connect four or more flat planes, we have a three-dimensional object.
If you put six squares together, you will find a kind of box, which we call a CUBE. A cube has three dimensions, namely length, breadth and height . A cube has six planes.
Please Note:
The sides of the cube that we cannot see are indicated by a broken line (dotted line). Remember that the broken lines must always meet at the angles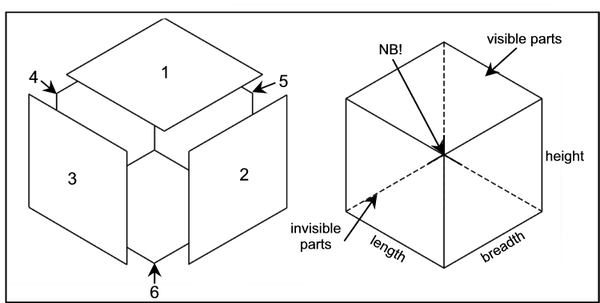 ASSIGNMENT 4A:
Try to draw your own cube, using the 30°/ 60° grid. Indicate the broken lines. Let your friends help you if you find it difficult.
[LO 1.12]
Suggestion:
Each side covers five squares.)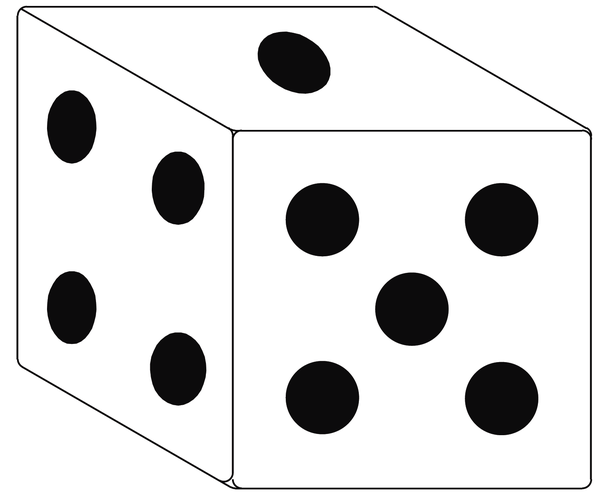 Which popular object that we use when we play board games has the shape of a cube?
Complete the word: A d e.
Can you think of more examples?
Background:
If we put four rectangles of the same size and two rectangles of a smaller size together, we will find a shape that looks like a brick or a shoebox. This shape also has three dimensions, namely length, breadth and height. The shape also has six planes.

Assignment 4b:
Try to draw your own brick by using the 30°/ 60° grid. also indicate the broken lines. suggestion: length: 60 mm, breadth: 40 mm, height: 30 mm.
[lo 1.12]
Suggestion:
Length: 60 mm, breadth: 40 mm, height: 30 mm.
Background:
Other three-dimensional shapes are a cylinder, for example the cardboard tube of a toilet roll; a sphere, for example a soccer ball; a pyramid, for example the roof of a simple square-shaped house; and a cone, for example the ice-cream cone you get when you buy yourself a soft-serve ice-cream.

ASSIGNMENT 5:
Make free-hand drawings of examples of each of the above-mentioned three-dimensional shapes.
[LO 1.12]
Assessment
Learning Outcomes(LOs)
LO 1
TECHNOLOGICAL PROCESSES AND SKILLS
The learner will be able to apply technological processes and skills ethically and responsibly using appropriate information and communication technologies
Assessment Standards(ASs)
We know this when the learner:
1.12 draws appropriate sketches (e.g. labelled two-dimensional drawings of ideas, enhanced drawings of final solutions and drawings showing measurements) to communicate different information appropriately and effectively.
Memorandum
Assignment 1
Learners could recall knowledge already gained in MLMMS and apply it here.
Assignment 2
Learners may discuss answers in groups and fill them in. The teacher could then check. NB All sketching to be done in pencil.
Assignment 3A and B
This is a practical exercise. Learners may help each other. One line on the 30-60 grid represents 1cm/10mm. The teacher could make a transparency of the grid and explain it to the learners that way.
Assignment 4A and 4B
Let learners help each other and explain to each other.
Assignment 5
Bring examples or get learners to bring examples of a cylinder, a sphere, a pyramid and a cone to school so that it will be easier to draw