Geography
Grade 5
Climate and vegetation regions of south africa
Module 13
The climate of south africa: rainfall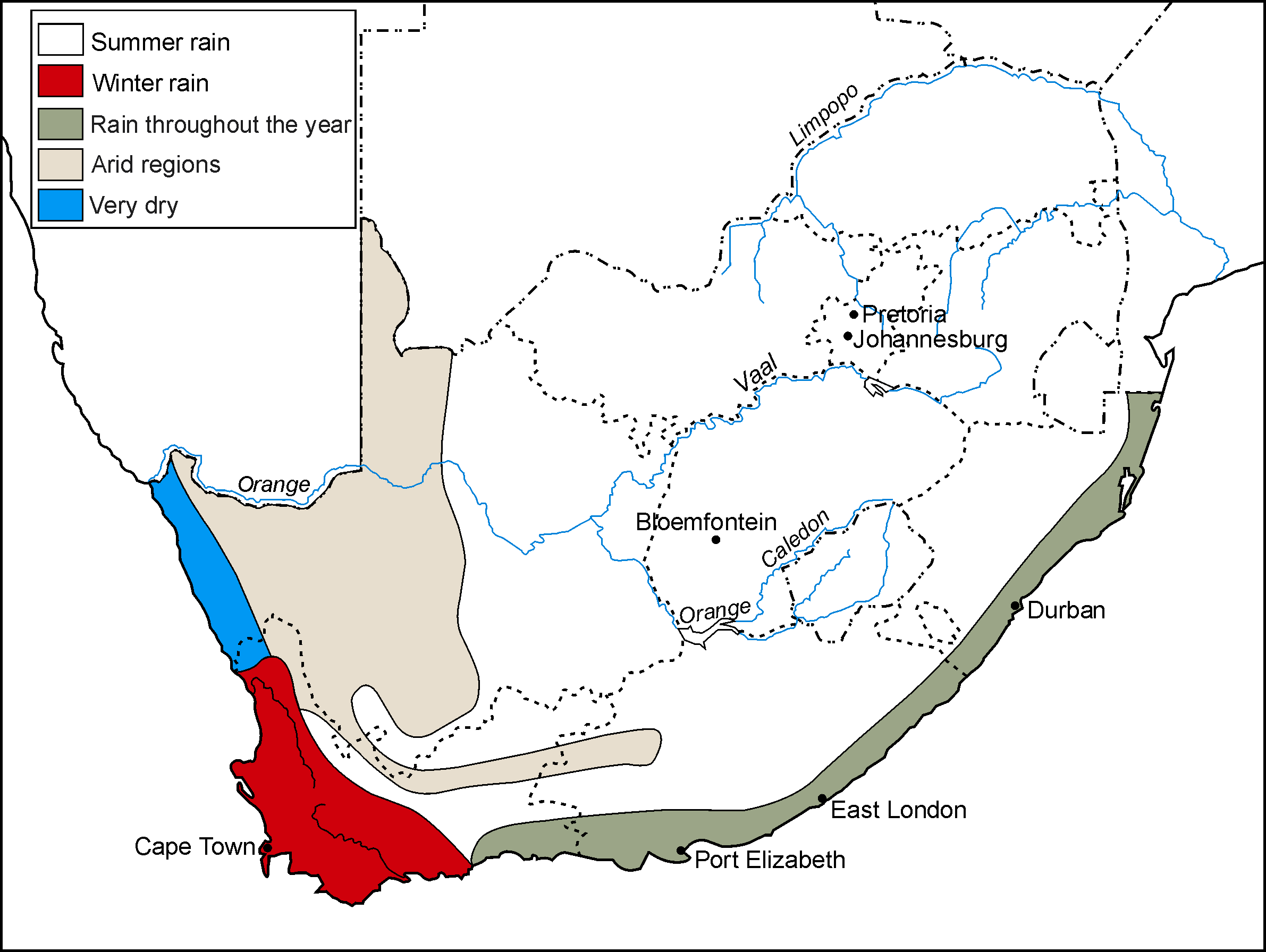 Rainfall regions in South Africa
South Africa's rainfall is seasonal and very erratic. It therefore rains mainly just in summer or just in winter. A small part along the southeast and northeast coasts receives rain throughout the year.
We already know that the relief or topography of the country and the occurrence of the warm Mozambique and cold Benguela currents have a great effect on the temperatures in the country.
When studying the map above, you will notice that the rainfall regions of the country are divided into:
winter rainfall regions
summer rainfall regions
rain throughout the year
dry regions
Each of them is discussed briefly below.
The winter rainfall region
This occurs only in the southwestern part of the RSA, particularly in the Cape Peninsula. It stretches more or less from the mouth of the Olifants River (northwest) to the mouth of the Breede River (south). The cyclonic rain falls softly and persistently from May to August and the rain therefore gets a chance to drain into the soil. Little erosion occurs.
The average rainfall is between 500 and 1 000 mm per year. The rain-bringing winds are the northwest winds that cause the well-known cold fronts.
The vegetation in the winter rainfall regions consists of indeciduous (evergreen) shrubs and the well-known Cape fynbos like the protea and various types of heath. These plants are very well adapted to survive the dry summers. Types of root systems or bulbs with small, waxy leaves with fine hairs ensure that the plants lose the minimum water in the summer.
Graphic representation of the rainfall in Cape Town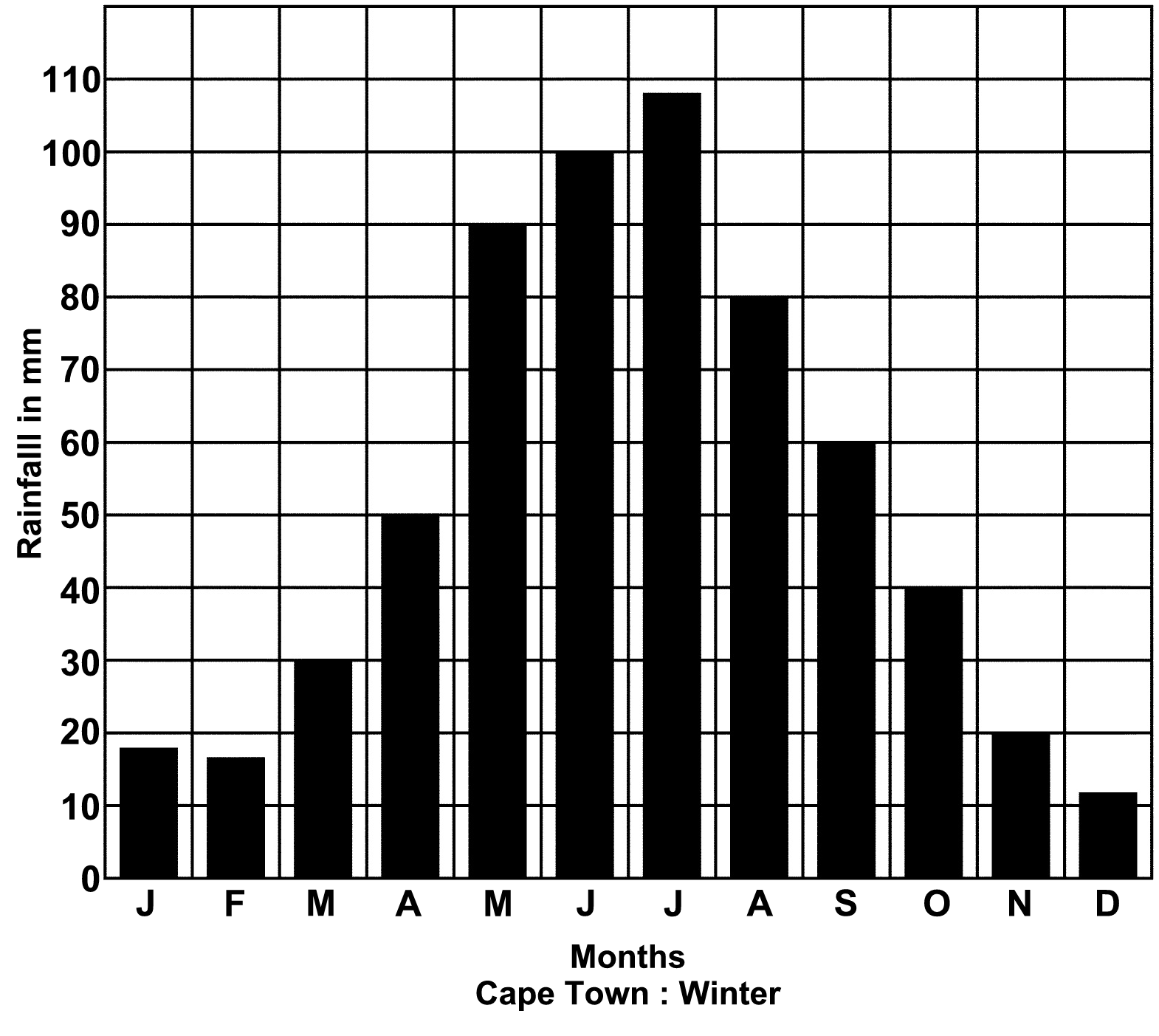 Summer rainfall region
The biggest part of our country gets rain in summer, particularly from October to February, in the form of thunderstorms. During these warm months the earth's surface is heated intensely and upwards or convection air currents develop. The southeast winds bring moisture-laden air in, and after condensation has occurred, large cumulonimbus clouds are formed. Such a thunderstorm is accompanied by a short, hard shower of rain, thunder and lightning. Because the rain falls so hard and quickly, erosion is a serious problem in these regions. Hail also occurs regularly during thunderstorms, which can cause great damage to crops.
Because the region is so big, all the parts do not get an equal amount of rain. The east is much wetter (300 - 500 mm), because the air that is blown across the escarpment still contains a lot of moisture. Further to the west the air loses virtually all this moisture and that is why it also becomes increasingly dry to the west (50 - 300 mm).
The vegetation in the summer rainfall regions consists of grass plains with sparse trees. In the east of the country the grass plains are higher, with more trees, reducing to the west.
Activity 1:
To record the rainfall figures of pretoria graphically by means of a bar graph
[lo 1.4; 1.7]
| | | | | | | | | | | | | |
| --- | --- | --- | --- | --- | --- | --- | --- | --- | --- | --- | --- | --- |
| Months | Jan | Feb | Mar | Apr | May | Jun | Jul | Aug | Sept | Oct | Nov | Dec |
| Rainfall in mm | 138 | 120 | 102 | 50 | 25 | 5 | 10 | 10 | 18 | 70 | 110 | 130 |