ENGLISH HOME LANGUAGE
Grade 4
Children like me
Module 14
About children in some other countries
Children all over the world are similar and yet very different too .
Activity 1
To read about children in other countries [lo 3.1.2]
Let us take a look at some children from different countries and find out if this is true.
When you have finished reading about the children, you will need to complete a table to help you remember the information.
THAILAND
Traditionally, young men in Thailand spend some time studying to become Buddhist monks. They are called novices and some spend only a few weeks at the temple, while others choose to be monks for the rest of their lives.
In the temple, the novices spend time meditating on the teaching of Buddha.
Thai Buddhist monks wear flowing, saffron-coloured robes. The robes are made of two pieces of cloth, worn with a sash around the waist. The novices have their heads and eyebrows shaved once a month. Their hair may not grow more than 2cm long.
One young novice says that he likes being barefoot as it is necessary to take off your shoes for eating and praying and he never remembers where he has put his sandals. He has no toys, but likes to play soccer with the other novices and may watch television once a week, but does not really like TV. There are many cats at the temple, but he prefers dogs.

ISRAEL
If you are a Jew, you believe in one God and live your life according to rules laid down in the Jewish holy book, which is called the Torah. It contains 613 commandments, which include which kinds of food Jews should eat.
Jewish children learn Hebrew even though they might speak English. On Friday evenings the boys and men go to the synagogue (meeting place) to worship and study religious texts. The girls and women prepare the special Shabbat meal at home. On the Shabbat, they must not do any work or switch on electrical equipment. They may bath, but must not wash their hair.
Their religion teaches that boys must keep their hair short. The boys and men wear a small cap called a kippah on the back of their heads, kept on with clips.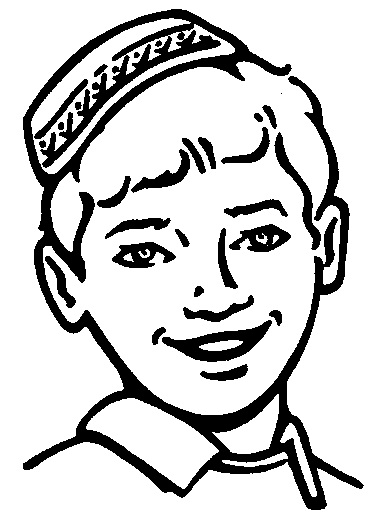 One typical Jewish boy in Israel says he likes to wear running shoes except when it is really cold and then he wears boots. He loves playing on the computer and his favourite lessons are gymnastics and religion. When he grows up he would like to be a computer engineer.
INDIA
The religion followed by many Indians, is Hinduism. Hindus believe that the spirit of God is in everything in the world – animals, plants and humans. It is wrong to hurt any living thing. When a person dies, their soul returns inside the body of another person or animal. This is called reincarnation.
Indian women wear saris, which are a long piece of cloth wound round the body and draped over the shoulder. It is worn over a short blouse.
One young Indian girl has a pet goat. She doesn't like dogs as she thinks they will bite her. She walks to school and enjoys her lessons, especially the ones about Mahatma Ghandi as she considers him to have been a great man.