Life skills
Grade 1
Healthy living
Module 5
My enviroment
Circle everything that is wrong.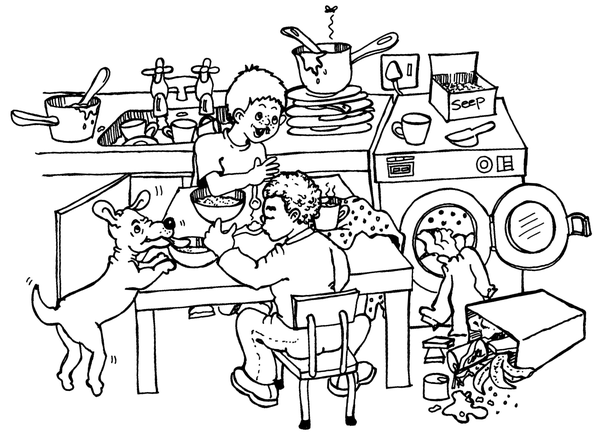 Which of the following do you need to stay fit and healthy?
Colour the correct pictures.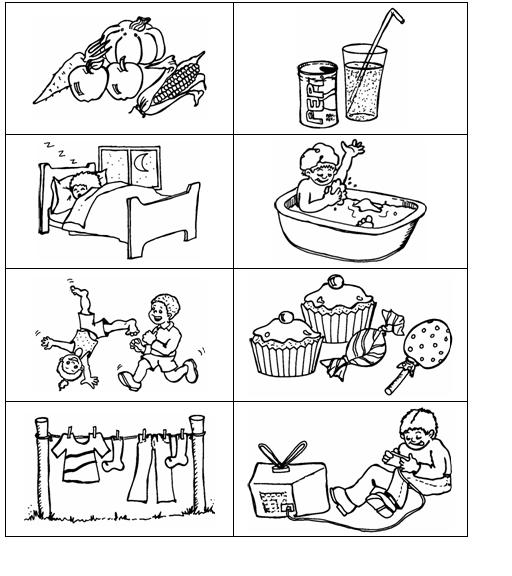 Mary has a cold.
Look at the pictures. Write a sentence for each picture in which you say what she does wrong.
1.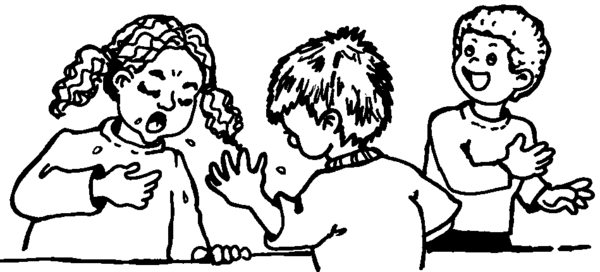 2.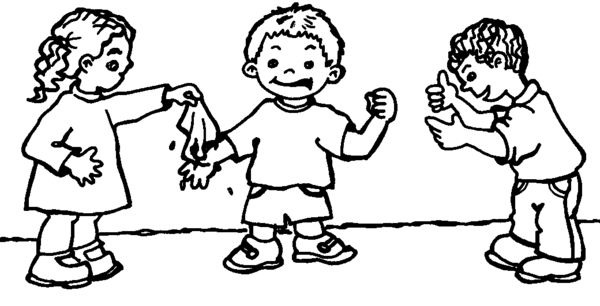 3.
I look after my body and my environment.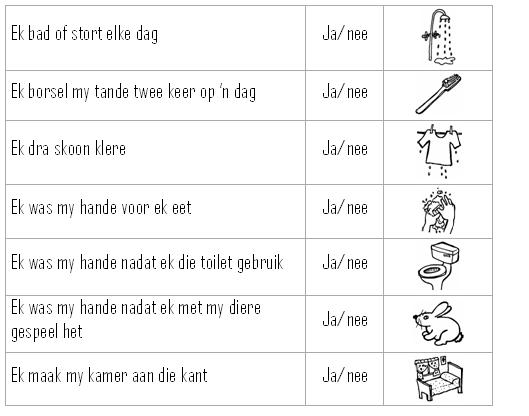 What can we do at school with all the waste material?
Draw a picture to illustrate what is necessary.
Make a drawing of the product you want to make out of waste material.
How are you going to decorate it?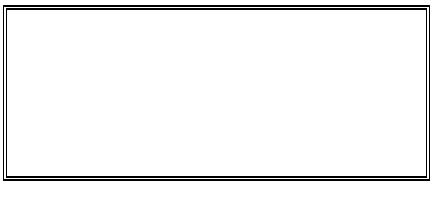 What waste materials are you going to use?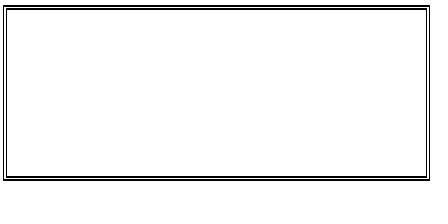 Assessment
Learning Outcomes (LO's)
LIFE ORIENTATIONLO 1
HEALTH PROMOTION The learner is able to make informed decisions regarding personal, community and environmental health.
We know this when the learner:
1.2 explains steps to ensure personal hygiene and links these steps to environmental health;1.3 distinguishes between situations that are safe and those that require precautions against communicable diseases.
GEOGRAPHYLO 3
EXPLORING ISSUESThe learner is able to make informed decisions about social and environmental issues and problems.
We know this when the learner:
3.1 identifies and describes issues affecting personal health or safety in the school and / or home environment;3.2 identifies the factors which make certain places harmful or unsafe in the school and /or home environment;3.3 suggests ways to improve personal health or safety by proposing solutions or alternatives that will reduce the risk to personal health or safety.
ARTS AND CULTURELO 1
CREATING, INTERPRETING AND PRESENTING The learner is able to create, interpret and present work in each of the art forms.
We know this when the learner:
1.9 visual arts – engages in creative art processes.
EMSLO 2
SUSTAINABLE GROWTH AND DEVELOPMENT The learner is able to demonstrate an understanding of reconstruction, sustainable growth and development, and to reflect critically on its related processes.
We know this when the learner:
2.3 names ways and the importance of using limited classroom materials without waste.
TECHNOLOGYLO 1
TECHNOLOGICAL PROCESSES AND SKILLS The learner is able to apply technological processes and skills ethically and responsibly using appropriate information and communication technologies.
We know this when the learner:
1.2 design – chooses suitable material or substances to make simple products to satisfy a given need 1.3 make – makes simple products from different materials;1.4 evaluate – expresses and explains own feelings about the product made.
Memorandum:
Discuss the different ways in which they can ensure a safe work environment by acting responsibly in the art class (listening to instructions; handling brushes, containers with paint and especially sharp objects like sharp pencils; not shouting or running around; not leaving loose objects lying around on the floor. Assess the learners' performance in the art class to see if they meet the requirements of this objective. Learners paint a picture of themselves. You may use A3 size paper for this purpose, if you wish.
Waste management
Waste management is a big problem in South Africa. People do not always use resources sparingly and too much goes to waste. We need to get rid of waste in an efficient way. If we do not deal with this problem it may lead to environmental health problems, which in turn could have a negative impact on the population's health and well-being. Nowadays there is a big emphasis on recycling.
Discuss ways in which we can use classroom materials sparingly without creating too much waste. If you do not have a recycling system in class, this may be a good time to start one. Test the learners to see if they take up the challenge to use materials sparingly, to keep the environment clean and to recycle used materials. This assessment can take place over a period of time.
Ask the learners to design and make something from products that will normally go to waste, e.g. empty boxes, old newspapers and magazines, sweet wrappings and empty toilet rolls. (Waste can be collected in advance).
Allow learners who feel uncertain to work with a friend. You should supply them with enough examples, e.g. a "tin" for their pencils, a toothbrush holder (not a metal one), a container for rubbish to use in the bedroom, etc. They must draw and assess their design (Tech. 1.2 – 1.4), and for enrichment they could design a label for their product.
Our immediate environment
Have a class discussion on places on / near the school premises that may be unsafe or may affect personal health. Ask learners to identify such places and give reasons for their decisions. This can be a filthy playground / picnic area or a place where one can easily get hurt. They must also suggest ways in which this can be improved. These suggestions can be taken to the headmaster for further actions. Each child must choose one of the places that were discussed and draw a picture of the place.