Julle gaan nou elkeen so 'n pamflet ontwerp. Julle kan 'n A4- of A5-grootte vel papier gebruik. Die pamflet moet al die nodige inligting bevat van die selekant, sowel as foto's, sketse of afdrukke van dié vis. Onthou om ook die beloning aan te bied, sowel as om die telefoonnommer of adres te verskaf.
Gebruik die leesstuk vir die nodige inligting. Jy kan ander bronne ook raadpleeg, byvoorbeeld 'n ensiklopedie of die rekenaar.
Lidwoorde
Lidwoorde is kort woordjies wat jy voor naamwoorde gebruik. Die lidwoord 'n word vir een ding gebruik, bv. 'n vis, 'n vin. Die lidwoord die word vir een ding én meer as een ding gebruik: die vis, die visse, die vin, die vinne. Wanneer ons die gebruik, is dit 'n spesifieke ding of dinge waarvan gepraat word.
Onthou 'n word nooit met 'n hoofletter geskryf nie. As jy 'n sin met 'n begin, word die tweede woord met 'n hoofletter geskryf: 'n V is swem met sy vinne.
Vul 'n of die op die regte plek in die volgende storie in.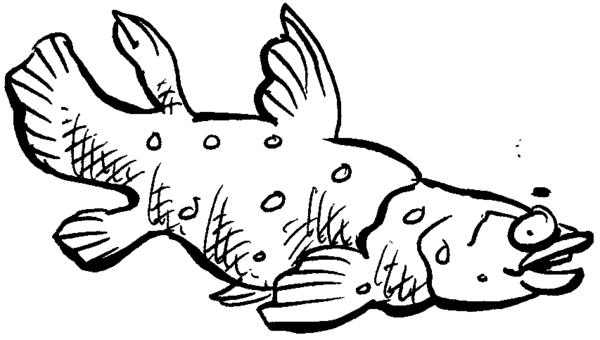 SELIE DIE SELEKANT
Selie is baie honger. Hy het lus vir lekker, vet vis. Vis soos
rifvis sal veral lekker smaak. Selie is eintlik jagter en hy spoor
rooivis op deur elektriese seine op te vang wat hy uitstuur. Selie jag in nag
en skuil bedags in grot. Selekant se grootste vyand is haai.
Mondeling
Maak 'n radio-advertensie.
Buiten die gebruik van pamflette, kon prof. Smith ook van die radio gebruik gemaak het om te adverteer dat hy op soek is na die selekant. In 1938 was daar nog nie televisie in Suid-Afrika óf Afrika nie. Die mense het baie na die radio geluister in daardie dae. Jy kan saam met 'n maat werk, of alleen, om hierdie advertensie te maak.
Dink aan die volgende wanneer jy/julle die advertensie maak:
Gaan julle musiek, 'n liedjie, 'n klingel of agtergrondgeluide gebruik vir julle advertensie?
Sal die advertensie ernstig of snaaks wees?
Wie gaan praat of wie gaan die karakter wees?
Is die taalgebruik goed en verstaanbaar?
Word die beloning genoem, sowel as die kontakpersoon en sy telefoonnommer en/of adres?
Gedig
Luister terwyl julle opvoeder die gedig hardop voorlees.
Verdeel in groepe van vier. Elke groeplid kan 'n strofe (stanza) voorlees. Lees die gedig vier maal deur sodat elkeen elke keer 'n volgende strofe lees.
Elke groeplid kry dus 'n kans om elke strofe te lees.
Die selekant
Jy leef daar diep, diep onder in 'n grot,
Vir sovele jare reeds al tevrede met jou lot.
Jou stert lyk koddig en is eintlik dubbel,
En met so baie tande kan jy nie juis knibbel!
Jou kleur is diepblou met vlekke van wit,
En jou vinne lyk baie soos bene wat aan jou lyf vassit,
Jou lengte is nes dié van groot mense–mans,
Jy lyk so lomp – hoe hou jy jou balans?
Hulle sê jy het 300 miljoen jaar gelede op land geloop,
Is dit moontlik dat jy nog op jou vryheid hoop?
Jou liggaam is nou so groot en swaar,
Dis moeilik om te dink jy kon loop, sowaar!
Hoe het jy oorleef? - dit is die vraag,
Ons kennis van jou verlede bly steeds vaag.
Hoe min weet ons tog van die diep oseaan,
Is daar nóg "monsters" wat hul weg daar onder baan?
G.S.
Beantwoord die volgende vrae, steeds in groepsverband: