Culture shock may appear because people aren't always expecting cultural differences. Anthropologist Ken Barger (1971) discovered this when he conducted a participatory observation in an Inuit community in the Canadian Arctic. Originally from Indiana, Barger hesitated when invited to join a local snowshoe race. He knew he'd never hold his own against these experts. Sure enough, he finished last, to his mortification. But the tribal members congratulated him, saying, "You really tried!" In Barger's own culture, he had learned to value victory. To the Inuit people, winning was enjoyable, but their culture valued survival skills essential to their environment: how hard someone tried could mean the difference between life and death. Over the course of his stay, Barger participated in caribou hunts, learned how to take shelter in winter storms, and sometimes went days with little or no food to share among tribal members. Trying hard and working together, two nonmaterial values, were indeed much more important than winning.
During his time with the Inuit tribe, Barger learned to engage in cultural relativism. Cultural relativism is the practice of assessing a culture by its own standards rather than viewing it through the lens of one's own culture. Practicing cultural relativism requires an open mind and a willingness to consider, and even adapt to, new values and norms. However, indiscriminately embracing everything about a new culture is not always possible. Even the most culturally relativist people from egalitarian societies—ones in which women have political rights and control over their own bodies—would question whether the widespread practice of female genital mutilation in countries such as Ethiopia and Sudan should be accepted as a part of cultural tradition. Sociologists attempting to engage in cultural relativism, then, may struggle to reconcile aspects of their own culture with aspects of a culture that they are studying.
Sometimes when people attempt to rectify feelings of ethnocentrism and develop cultural relativism, they swing too far to the other end of the spectrum. Xenocentrism is the opposite of ethnocentrism, and refers to the belief that another culture is superior to one's own. (The Greek root word xeno , pronounced "ZEE-no," means "stranger" or "foreign guest.") An exchange student who goes home after a semester abroad or a sociologist who returns from the field may find it difficult to associate with the values of their own culture after having experienced what they deem a more upright or nobler way of living.
Perhaps the greatest challenge for sociologists studying different cultures is the matter of keeping a perspective. It is impossible for anyone to keep all cultural biases at bay; the best we can do is strive to be aware of them. Pride in one's own culture doesn't have to lead to imposing its values on others. And an appreciation for another culture shouldn't preclude individuals from studying it with a critical eye.
Overcoming culture shock
During her summer vacation, Caitlin flew from Chicago to Madrid to visit Maria, the exchange student she'd befriended the previous semester. In the airport, she heard rapid, musical Spanish being spoken all around her. Exciting as it was, she felt isolated and disconnected. Maria's mother kissed Caitlin on both cheeks when she greeted her. Her imposing father kept his distance. Caitlin was half asleep by the time supper was served—at 10 p.m.! Maria's family sat at the table for hours, speaking loudly, gesturing, and arguing about politics, a taboo dinner subject in Caitlin's house. They served wine and toasted their honored guest. Caitlin had trouble interpreting her hosts' facial expressions, and didn't realize she should make the next toast. That night, Caitlin crawled into a strange bed, wishing she hadn't come. She missed her home and felt overwhelmed by the new customs, language, and surroundings. She'd studied Spanish in school for years—why hadn't it prepared her for this?
What Caitlin hadn't realized was that people depend not only on spoken words but also on subtle cues like gestures and facial expressions, to communicate. Cultural norms accompany even the smallest nonverbal signals (DuBois 1951). They help people know when to shake hands, where to sit, how to converse, and even when to laugh. We relate to others through a shared set of cultural norms, and ordinarily, we take them for granted.
For this reason, culture shock is often associated with traveling abroad, although it can happen in one's own country, state, or even hometown. Anthropologist Kalervo Oberg (1960) is credited with first coining the term "culture shock." In his studies, Oberg found that most people found encountering a new culture to be exciting at first. But bit by bit, they became stressed by interacting with people from a different culture who spoke another language and used different regional expressions. There was new food to digest, new daily schedules to follow, and new rules of etiquette to learn. Living with this constant stress can make people feel incompetent and insecure. People react to frustration in a new culture, Oberg found, by initially rejecting it and glorifying one's own culture. An American visiting Italy might long for a "real" pizza or complain about the unsafe driving habits of Italians compared to people in the United States.
It helps to remember that culture is learned. Everyone is ethnocentric to an extent, and identifying with one's own country is natural.
Caitlin's shock was minor compared to that of her friends Dayar and Mahlika, a Turkish couple living in married student housing on campus. And it was nothing like that of her classmate Sanai. Sanai had been forced to flee war-torn Bosnia with her family when she was fifteen. After two weeks in Spain, Caitlin had developed a bit more compassion and understanding for what those people had gone through. She understood that adjusting to a new culture takes time. It can take weeks or months to recover from culture shock, and it can take years to fully adjust to living in a new culture.
By the end of Caitlin's trip, she'd made new lifelong friends. She'd stepped out of her comfort zone. She'd learned a lot about Spain, but she'd also discovered a lot about herself and her own culture.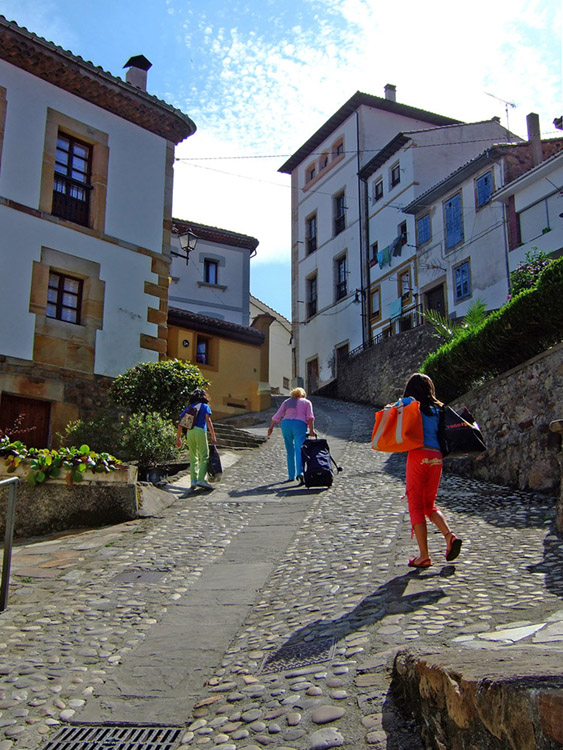 Summary
Though "society" and "culture" are often used interchangeably, they have different meanings. A society is a group of people sharing a community and culture. Culture generally describes the shared behaviors and beliefs of these people, and includes material and nonmaterial elements.. Our experience of cultural difference is influenced by our ethnocentrism and xenocentrism. Sociologists try to practice cultural relativism.
Short answer
Examine the difference between material and nonmaterial culture in your world. Identify ten objects that are part of your regular cultural experience. For each, then identify what aspects of nonmaterial culture (values and beliefs) that these objects represent. What has this exercise revealed to you about your culture?
Got questions? Get instant answers now!
Do you feel that feelings of ethnocentricity or xenocentricity are more prevalent in U.S. culture? Why do you believe this? What issues or events might inform this?
Got questions? Get instant answers now!
Further research
In January 2011, a study published in the Proceedings of the National Academy of Sciences of the United States of America presented evidence indicating that the hormone oxytocin could regulate and manage instances of ethnocentrism. Read the full article here: (External Link)
References
Barger, Ken. 2008. "Ethnocentrism." Indiana University, July 1. Retrieved May 2, 2011 ( (External Link) ).
Darwin, Charles R. 1871. The Descent of Man, and Selection in Relation to Sex . London: John Murray.
DuBois, Cora. 1951. "Culture Shock." Presentation to Panel Discussion at the First Midwest Regional Meeting of the Institute of International Education." November 28. Also presented to the Women's Club of Rio de Janeiro, Brazil, August 3, 1954.
Fritz, Thomas, Sebastian Jentschke, Nathalie Gosselin, et al. 2009. "Universal Recognition of Three Basic Emotions in Music." Current Biology 19(7).
Murdock, George P. 1949. Social Structure . New York: Macmillan.
Oberg, Kalervo. 1960. "Cultural Shock: Adjustment to New Cultural Environments." Practical Anthropology 7:177–182.
Sumner, William G. 1906. Folkways: A Study of the Sociological Importance of Usages, Manners, Customs, Mores, and Morals. New York: Ginn and Co.
Swoyer, Chris. 2003. "The Linguistic Relativity Hypothesis." In The Stanford Encyclopedia of Philosophy, edited by E. N. Zalta, Winter. Retrieved May 5, 2011 ( (External Link) ).