Fungi are mostly saprobes, organisms that derive nutrients from decaying organic matter. They obtain their nutrients from dead or decomposing organic matter, mainly plant material. Fungal exoenzymes are able to break down insoluble polysaccharides, such as the cellulose and lignin of dead wood, into readily absorbable glucose molecules. Decomposers are important components of ecosystems, because they return nutrients locked in dead bodies to a form that is usable for other organisms. This role is discussed in more detail later. Because of their varied metabolic pathways, fungi fulfill an important ecological role and are being investigated as potential tools in bioremediation. For example, some species of fungi can be used to break down diesel oil and polycyclic aromatic hydrocarbons. Other species take up heavy metals such as cadmium and lead.
Fungal diversity
The kingdom Fungi contains four major divisions that were established according to their mode of sexual reproduction. Polyphyletic, unrelated fungi that reproduce without a sexual cycle, are placed for convenience in a fifth division, and a sixth major fungal group that does not fit well with any of the previous five has recently been described. Not all mycologists agree with this scheme. Rapid advances in molecular biology and the sequencing of 18S rRNA (a component of ribosomes) continue to reveal new and different relationships between the various categories of fungi.
The traditional divisions of Fungi are the Chytridiomycota (chytrids), the Zygomycota (conjugated fungi), the Ascomycota (sac fungi), and the Basidiomycota (club fungi). An older classification scheme grouped fungi that strictly use asexual reproduction into Deuteromycota, a group that is no longer in use. The Glomeromycota belong to a newly described group ( [link] ).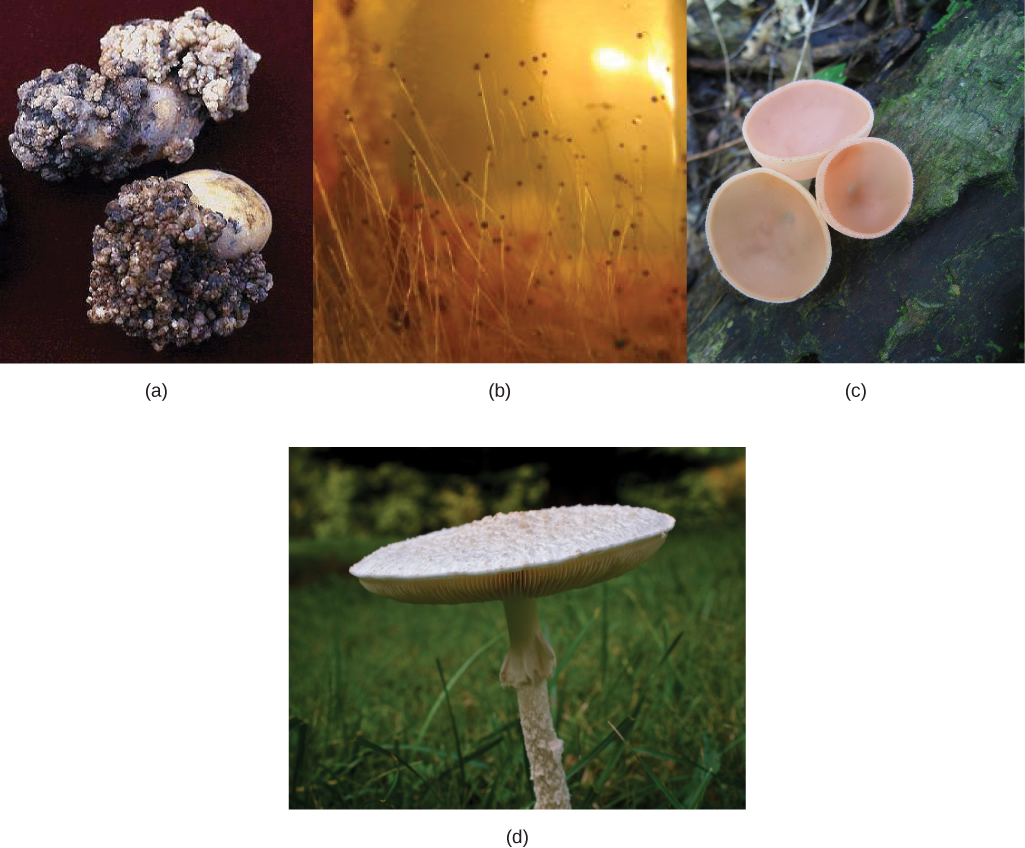 Pathogenic fungi
Many fungi have negative impacts on other species, including humans and the organisms they depend on for food. Fungi may be parasites, pathogens, and, in a very few cases, predators.
Plant parasites and pathogens
The production of enough good-quality crops is essential to our existence. Plant diseases have ruined crops, bringing widespread famine. Most plant pathogens are fungi that cause tissue decay and eventual death of the host ( [link] ). In addition to destroying plant tissue directly, some plant pathogens spoil crops by producing potent toxins. Fungi are also responsible for food spoilage and the rotting of stored crops. For example, the fungus Claviceps purpurea causes ergot, a disease of cereal crops (especially of rye). Although the fungus reduces the yield of cereals, the effects of the ergot's alkaloid toxins on humans and animals are of much greater significance: In animals, the disease is referred to as ergotism. The most common signs and symptoms are convulsions, hallucination, gangrene, and loss of milk in cattle. The active ingredient of ergot is lysergic acid, which is a precursor of the drug LSD. Smuts, rusts, and powdery or downy mildew are other examples of common fungal pathogens that affect crops.