English home language
Grade 7
Module 8
Fun and games
Toys and games have been around as long as people have. Archaeologists are no longer surprised when they find paintings of ancient Egyptians bowling or the remains of 3 000 year old Norwegian ice skates. They've come to expect surprises.
HOW GOLF BEGAN (OR SO THEY SAY)
Read the story below and fill in the missing words as you go along.
Golf is one of the most popular games in the ________. It is played in almost
__________ countries. It is said to have _______________ in Scotland and that
___________ golfer was a shepherd. He was watching his _______________
in a field near St Andrews. After a while he became bored. To pass the _______
he struck at pebbles with his shepherd's__________. He held the staff at the
bottom and hit the stones with the ___________ . After a little practice, he
could hit the stones quite a ___________ way. One stone flew high in the air and
____________in a rabbit hole. The man tried to repeat this shot, but
____________it very difficult.
His friend, who had been , challenged him.
So started the first golf ever as each player tried
to sink his pebble down the hole.
Now how about YOU inventing a new BALL GAME! Work as a group and think of some fun way you could play with a ball (small/big/rubber/knitted/round or not) and some other equipment. Keep it simple and fun. Remember to write a short explanation of how the game works and how many players there are, the rules, scoring, etc. Give your game a name too. ORIGINALITY is what you need to strive for.
Find out from your parents and grandparents about simple games they played as children. Take a deeper look into history and find out what children did to entertain themselves without TV and PLAYSTATION!! Report back to class and maybe you could demonstrate the game(s) or get Gran or Granddad to come and demonstrate.
PLAYING WITH PAPER
Japanese children enjoy folding paper to make attractive shapes and objects. The art of paper-folding is called origami . Children in Japan can learn how to make over a hundred figures including a frog, a mouse, and a rabbit.
I am quite sure that each of you knows how to make an origami paper game. You have probably even been reprimanded at school for not putting the game away until playtime!
Read the instructions carefully and try to make a magic beak and a paper cup of your own. Once you have finished, make up a game to play with your magic beak.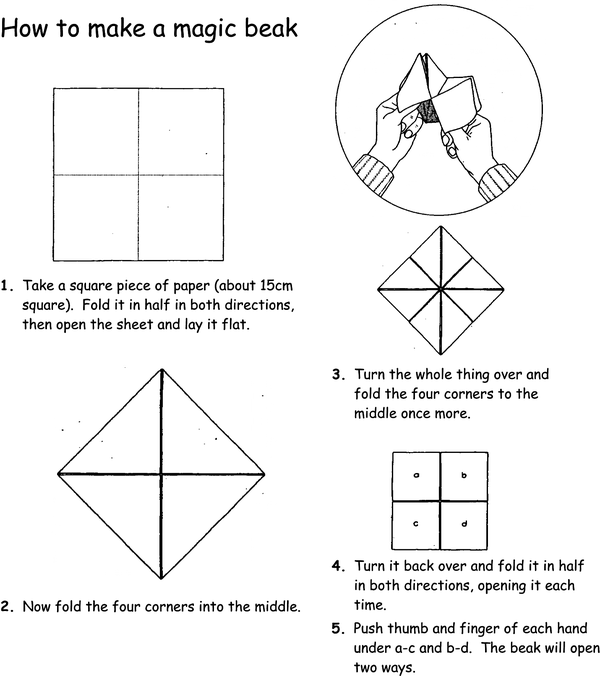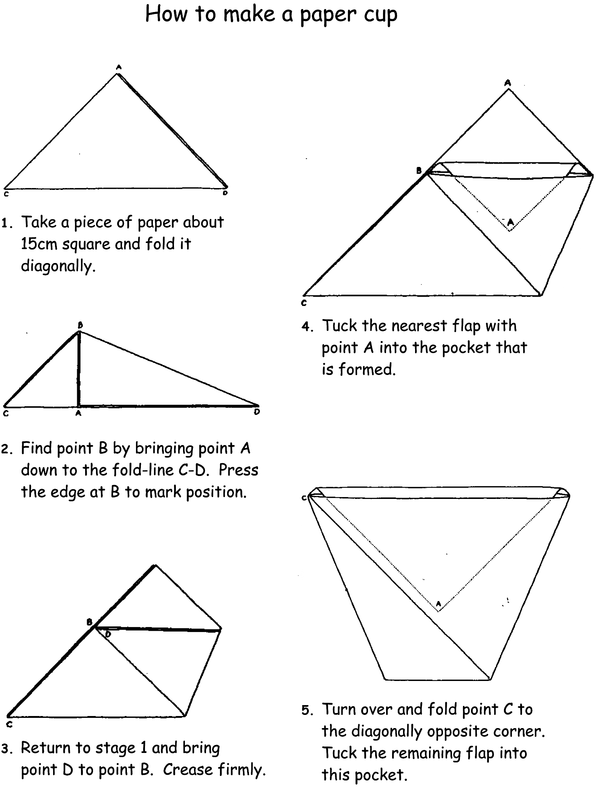 Now fold some 'magic' of your own. Try a water lily (the magic beak is a beginning) or paper hat. Or be brave and try some REAL origami.
NOW FOR SOME POETRY! Read each poem and then answer the questions that follow.
TELEPHONES
Grownups
Never stop complaining about the telephone.
'It's been ringing all day'
they say,
but never leave it alone.
They moan all the time
'I can't get any work done'
'Wouldn't it be fun
without one?' So why
don't they try?
'I'll just call Mother'
'Better give George a ring'
Can't they call another
day? No wonder they're too busy
to do anything.