Tegnologie
Graad 9
Hidrouliese en pneumatiese stelsels
Module 13
Om 'n hidrouliese stelsel te bou
Fokustaak1:
Om 'n hidrouliese stelsel te bou
[lu 2.3 – 1.13]
Gebruik die werkstekening en bou 'n model van 'n hidrouliese stelsel wat aan 'n hefboom gekoppel is.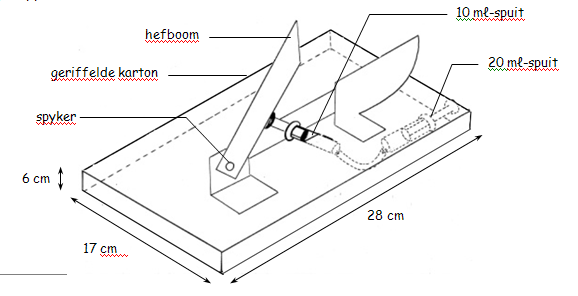 1 x 10 mℓ-plastiekspuit
1 x 20 mℓ-plastiekspuit
plastiekbuisie (lengte soos benodig)
lang spyker
geriffelde karton (onthou al die beginsels van versterking)
skêr, gom, maskeerband, kleeflint
PROJEK:
DIE TEGNOLOGIESE PROSES
[LU 1.1, 3.2]
Gebruik jou kennis van strukture en/of elektronika en/of meganismes en integreer dit met jou kennis en ondervinding van hidrouliese of pneumatiese stelsels om EEN van die volgende situasies op te los. Die probleem moet in terme van 'n TEGNOLOGIESE PROSES opgelos word en in 'n PORTEFEULJE voorgestel word.
Vir die PRAKTIESE WERK moet 'n prototipe, so goedkoop as moontlik, gebou word. Hierdie prototipe moet kan funksioneer.
Gebruik die assesseringsskale/matrikse om seker te maak of jy aan die vereistes van die proses voldoen.
Situasie I
Jou woonbuurt word geteister deur 'n brommerplaag. In verskeie koerantberigte is die mense van die omgewing gevra om die probleem hok te slaan deur die asblikke toe te hou. Dit is nie so maklik nie. Rondloperkatte wat gedurig die asblikke oopmaak, is een van die groot frustrasies. Die ander groot probleem is die verspreiding van kieme wat hand aan hand met die plaag gaan.
'n Inwoner het tot die slotsom gekom dat hy iets moet ontwerp wat hom in staat stel om die asblik oor 'n afstand oop te maak en wat hom waarsku wanneer die blik oop is.
Situasie II
In die kleedkamers vir gestremdes is die oopmaak van die deur altyd 'n groot probleem. Die gestremdes kan net 'n druk-aksie met hul hand, kierie of rolstoel se wiel uitvoer. Hierdie aksie moet hulle dan in staat stel om die deur oop te maak.
Situasie III
Die plak van posseëls kan baie tydrowend en vermoeiend wees wanneer dit op groot skaal gedoen word. 'n Toestel wat die posseël plak deur die druk van 'n knoppie en aandui dat dit suksesvol voltooi is, kan die probleem oplos.
Stappe van die Tegnologiese Proses wat gevolg moet word:
1. ONDERSOEK
1.1 ANALISE VAN ONTWERPVOORSTEL
Kern van die probleem
WAT sal ek doen?
WIE gaan dit gebruik?
WANNEER sal dit gebruik word?
WAAR sal dit gebruik word?
WAAROM sal dit gebruik word? [LU 1.1]
1.2 ONTWERPVOORSTEL
Ontwerp en maak……..wat, vir wie, waar, waarom en wanneer.
1.3 BEPERKINGS EN SPESIFIKASIES
Beperkings: Vereistes wat die keuse van die oplossing beperk.
Spesifikasies: Sluit beperkings in en word deur leerder self bepaal. Dit is 'n lys van faktore wat bepaal hoe die eindproduk gaan lyk en funksioneer.
2. ONTWIKKELING VAN IDEES
2.1 NAVORSING
Navorsing gaan oor die vaardigheid om data te versamel, data te noteer, data te analiseer en besluite volgens verwerkte data te neem.
Maak 'n lys van alle inligting wat jy benodig om jou idees te ontwikkel.
Hier is 'n paar voorstelle om jou te help.
STRUKTURE:
Materiale wat beskikbaar is.
Hoe kan die materiale versterk word?
Hoe word verskillende materiale gebruik?