Second year's minutes of the New York Etching Club, founded in 1877 to promote and advance the art of etching.
1878 events
The American Society of Painters in Water Colors held its Eleventh Annual Exhibition during February and early March at the National Academy of Design. The "North-West Room" featured some 120 "Works in Black and White." Listed in the show catalogue were etchings exhibited by New York Etching Club members Henry Farrer, R. Swain Gifford, Charles H. Miller, and Dr. Leroy M. Yale. Additional etchings were shown by Seymour Haden, Emily Moran, Peter Moran, R. E. Piquet, James McNeil Whistler, and others. Works of graphic art in graphite pencil, India ink, charcoal, crayon and lithography were shown alongside these etchings.
The Tile Club was founded in New York. New York Etching Club members among the group included E.A. Abbey, William Merritt Chase, Frederick Dielman, R. Swain Gifford, and C.S. Reinhart.
Third regular monthly meeting held in the studio of jas. d. smillie 337 fourth ave. monday eveng jany 21st, '78.
The President, Leroy M. Yale in the chair. At 8.30 a quorum being present the meeting was called to order. The Secty pro tem called
the roll. Present, Messrs Yale, Nicoll, Abbey, Bellows, Reinhart, Baldwin, Sabin, Farrer, Johnson, Eno and Wood,&later, Jas. D. Smillie, 12.
The minutes of the last meeting were read and approved. Mr. Henry Farrer presented a note from Mr. T. C. Farrer of London, England, addressed "to members of the New York Etching Club" together with pfs. Of four etchings by Mr. T. C. F_ the note&proofs were accepted with thanks and the Secretary was directed to make a fitting response.
Mr. C. S. Reinhart presented 2 pfs of etchings
" Fred Deilman " 1 " '
" Jos. F. Sabin " 1 " '
Dr. L. M. Yale " 3 " "
8pf'. Dr. Hy C. Eno presented 1 proof of etching.
Dr. Laurence Johnson proposed for membership M. J. Burns&H. P. Share.
At 10.30, it being duly moved&recorded, the Pres'_ declared the meeting adjourned.
James D. Smillie Secty
Approved April 8", 1878.
Fourth regular meeting n.y. etching club. jas. d. smillie's studio monday eveng. feby 11th ., 1878.
A quorum not being present and there being no business to transact, the evening, until about 10 o'clk. was passed in general conversation
The Pres.' and the Secty were not present.
(It is due to the record of the Secty here to inscribe that during this season he was a member of the Council of the National Academy of Design, the meetings of which were held upon the same evenings as the Etching Club had selected for its meetings.)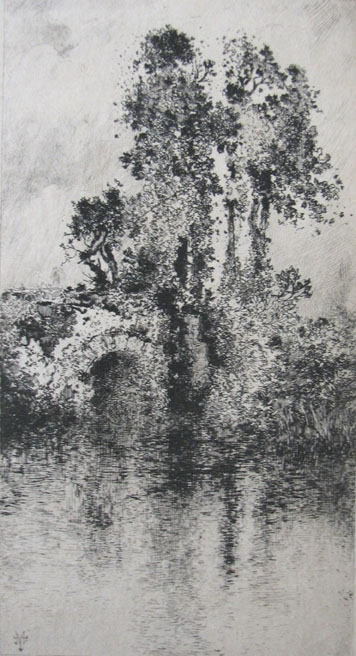 Fifth regular monthly meeting n.y. etching club _ jas. d. smillie's studio _ monday eveng. march 1" 1878.
Owing to the fault of the Secretary regular&formal notices of this meeting were not sent out. Only R. S. Gifford Walter Shirlaw, C. S. Reinhart, E. A Abbey and James D. Smillie 5- were present. It proved to be to those present a very enjoyable&informal meeting with general conversation on art matters until 11 o'clk, then, by common consent, adjourned.