Section overview
Polygons
Perimeter
Circumference/Diameter/Radius
The Number
Formulas
Polygons
We can make use of conversion skills with denominate numbers to make measure­ments of geometric figures such as rectangles, triangles, and circles. To make these measurements we need to be familiar with several definitions.
Polygon
A polygon is a closed plane (flat) figure whose sides are line segments (portions of straight lines).
Polygons




Not polygons




Perimeter
Perimeter
The perimeter of a polygon is the distance around the polygon.

To find the perimeter of a polygon, we simply add up the lengths of all the sides.
Sample set a
Find the perimeter of each polygon.
Practice set a
Find the perimeter of each polygon.
Circumference/diameter/radius
Circumference
The circumference of a circle is the distance around the circle.
Diameter
A diameter of a circle is any line segment that passes through the center of the circle and has its endpoints on the circle.
Radius
A radius of a circle is any line segment having as its endpoints the center of the circle and a point on the circle.
The radius is one half the diameter.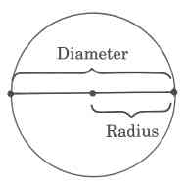 The number
The symbol , read "pi," represents the nonterminating, nonrepeating decimal number 3.14159 … . This number has been computed to millions of decimal places without the appearance of a repeating block of digits.
For computational purposes, is often approximated as 3.14. We will write to denote that is approximately equal to 3.14. The symbol "≈" means "approximately equal to."
Formulas
To find the circumference of a circle, we need only know its diameter or radius. We then use a formula for computing the circumference of the circle.
Formula
A formula is a rule or method for performing a task. In mathematics, a formula is a rule that directs us in computations.

Formulas are usually composed of letters that represent important, but possibly unknown, quantities.

If , , and represent, respectively, the circumference, diameter, and radius of a circle, then the following two formulas give us directions for computing the circum­ference of the circle.
Circumference formulas

or
or
Sample set b
Practice set b
Exercises
Find each perimeter or approxi­mate circumference. Use .
Exercises for review