Seeds and pollen as an evolutionary adaptation to dry land
Unlike bryophyte and fern spores (which are haploid cells dependent on moisture for rapid development of gametophytes), seeds contain a diploid embryo that will germinate into a sporophyte. Storage tissue to sustain growth and a protective coat give seeds their superior evolutionary advantage. Several layers of hardened tissue prevent desiccation, and free reproduction from the need for a constant supply of water. Furthermore, seeds remain in a state of dormancy—induced by desiccation and the hormone abscisic acid—until conditions for growth become favorable. Whether blown by the wind, floating on water, or carried away by animals, seeds are scattered in an expanding geographic range, thus avoiding competition with the parent plant.
Pollen grains ( [link] ) are male gametophytes and are carried by wind, water, or a pollinator. The whole structure is protected from desiccation and can reach the female organs without dependence on water. Male gametes reach female gametophyte and the egg cell gamete though a pollen tube: an extension of a cell within the pollen grain. The sperm of modern gymnosperms lack flagella, but in cycads and the Gingko , the sperm still possess flagella that allow them to swim down the pollen tube to the female gamete; however, they are enclosed in a pollen grain.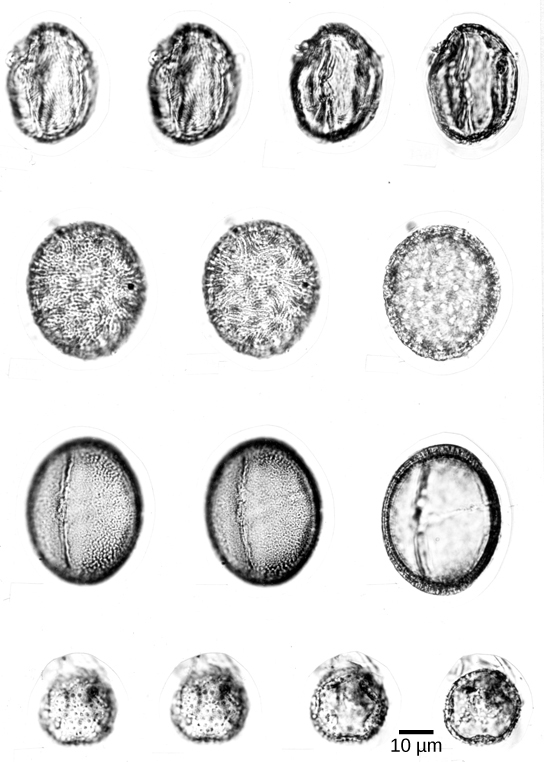 Evolution of angiosperms
Undisputed fossil records place the massive appearance and diversification of angiosperms in the middle to late Mesozoic era. Angiosperms ("seed in a vessel") produce a flower containing male and/or female reproductive structures. Fossil evidence ( [link] ) indicates that flowering plants first appeared in the Lower Cretaceous, about 125 million years ago, and were rapidly diversifying by the Middle Cretaceous, about 100 million years ago. Earlier traces of angiosperms are scarce. Fossilized pollen recovered from Jurassic geological material has been attributed to angiosperms. A few early Cretaceous rocks show clear imprints of leaves resembling angiosperm leaves. By the mid-Cretaceous, a staggering number of diverse flowering plants crowd the fossil record. The same geological period is also marked by the appearance of many modern groups of insects, including pollinating insects that played a key role in ecology and the evolution of flowering plants.
Although several hypotheses have been offered to explain this sudden profusion and variety of flowering plants, none have garnered the consensus of paleobotanists (scientists who study ancient plants). New data in comparative genomics and paleobotany have, however, shed some light on the evolution of angiosperms. Rather than being derived from gymnosperms, angiosperms form a sister clade (a species and its descendents) that developed in parallel with the gymnosperms. The two innovative structures of flowers and fruit represent an improved reproductive strategy that served to protect the embryo, while increasing genetic variability and range. Paleobotanists debate whether angiosperms evolved from small woody bushes, or were basal angiosperms related to tropical grasses. Both views draw support from cladistics studies, and the so-called woody magnoliid hypothesis—which proposes that the early ancestors of angiosperms were shrubs—also offers molecular biological evidence.