If a chemical reaction absorbs energy rather than releases energy on balance, then the ∆G for that reaction will be a positive value. In this case, the products have more free energy than the reactants. Thus, the products of these reactions can be thought of as energy-storing molecules. These chemical reactions are called endergonic reactions and they are non-spontaneous. An endergonic reaction will not take place on its own without the addition of free energy.
Art connection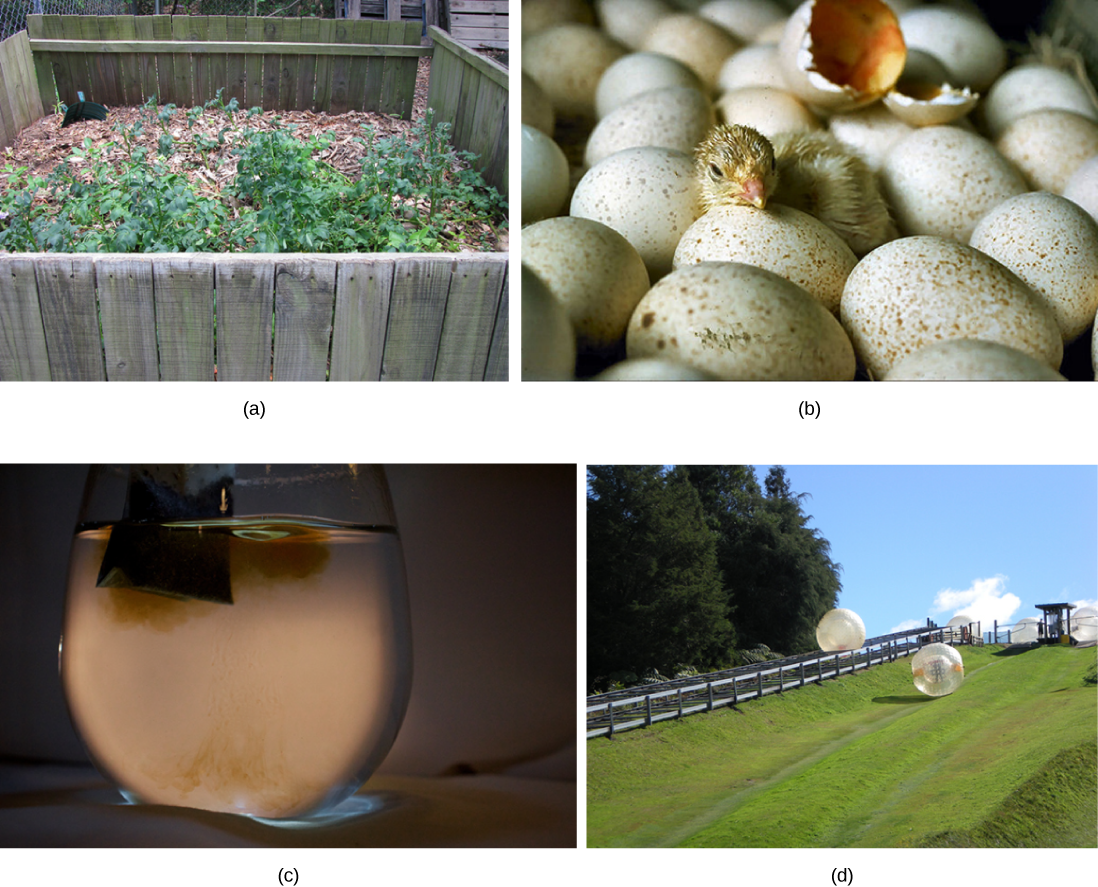 Look at each of the processes shown and decide if it is endergonic or exergonic.
There is another important concept that must be considered regarding endergonic and exergonic reactions. Exergonic reactions require a small amount of energy input to get going, before they can proceed with their energy-releasing steps. These reactions have a net release of energy, but still require some energy input in the beginning. This small amount of energy input necessary for all chemical reactions to occur is called the activation energy .
Concept in action
Watch an animation of the move from free energy to transition state of the reaction.
Enzymes
A substance that helps a chemical reaction to occur is called a catalyst, and the molecules that catalyze biochemical reactions are called enzymes . Most enzymes are proteins and perform the critical task of lowering the activation energies of chemical reactions inside the cell. Most of the reactions critical to a living cell happen too slowly at normal temperatures to be of any use to the cell. Without enzymes to speed up these reactions, life could not persist. Enzymes do this by binding to the reactant molecules and holding them in such a way as to make the chemical bond-breaking and -forming processes take place more easily. It is important to remember that enzymes do not change whether a reaction is exergonic (spontaneous) or endergonic. This is because they do not change the free energy of the reactants or products. They only reduce the activation energy required for the reaction to go forward ( [link] ). In addition, an enzyme itself is unchanged by the reaction it catalyzes. Once one reaction has been catalyzed, the enzyme is able to participate in other reactions.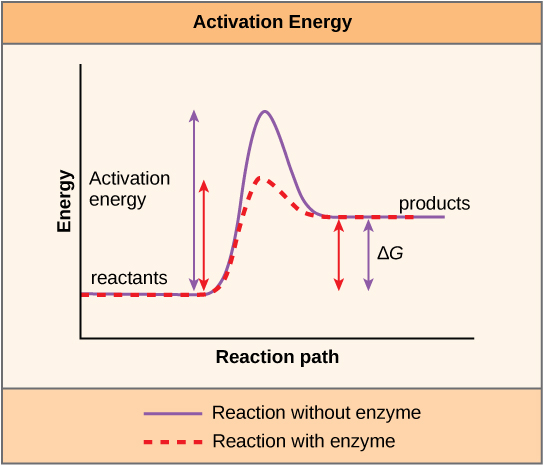 The chemical reactants to which an enzyme binds are called the enzyme's substrates . There may be one or more substrates, depending on the particular chemical reaction. In some reactions, a single reactant substrate is broken down into multiple products. In others, two substrates may come together to create one larger molecule. Two reactants might also enter a reaction and both become modified, but they leave the reaction as two products. The location within the enzyme where the substrate binds is called the enzyme's active site . The active site is where the "action" happens. Since enzymes are proteins, there is a unique combination of amino acid side chains within the active site. Each side chain is characterized by different properties. They can be large or small, weakly acidic or basic, hydrophilic or hydrophobic, positively or negatively charged, or neutral. The unique combination of side chains creates a very specific chemical environment within the active site. This specific environment is suited to bind to one specific chemical substrate (or substrates).