English first additional language
Grade 7
Module 5
Silent reading: matching descriptions and sketches
IMPROVING VOCABULARY
(a) Read the descriptions of the following four types of cats and match them to the sketches below:
(i) It has a waved coat which is short, fine and silky. It has no guard hairs. Its body is hard, muscular and slender. The skull is flat and the line profile from the forehead to the edge of the nose is straight. The head is wedge-shaped. The ears are large and are set high on the head. The whiskers and eyebrows are crinkled. The tail is long and tapered.
(ii) The coat is short and fine. It has a long, svelte body. Its head is long. There is width between the eyes, narrowing in straight lines to a fine muzzle. The eyes are oriental and slanting. The hind legs are long and the tail is tapering.
(iii) Its coat is long and flowing, with longer hair around the neck. Its body is thickset, low on the legs. Its head is large, round and wide. The cheeks are full, the nose is short and broad, the eyes are large and round and the ears are small, neat and well-placed. The tail is short, broad and well-furnished.
(iv) The coat is short and fine and the body is lithe and long. The head is heart-shaped, the eyes are bright and large and the ears are sharp. The hind legs are longer than the front legs. The tail is long and tapered.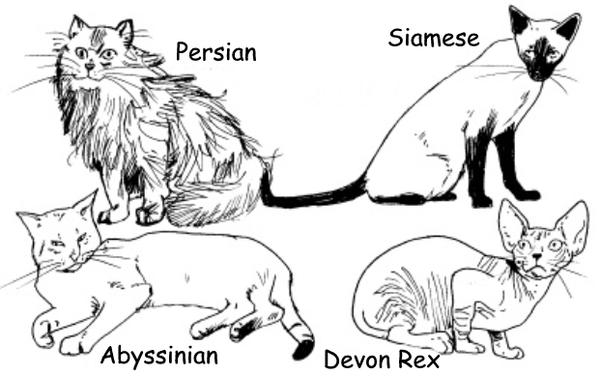 9. POSTER
Your cat is lost. Draw up a suitable poster to be pinned up in the local supermarket.
Remember to include the following:
A full description of your cat, including what type of cat it is, its age, type and colour of fur and any distinguishing features (white patch over eye, etc.). Use suitable descriptive adjectives and adverbs. Remember to provide the name it answers to and say whether it was wearing a flea collar or not. Leave an appropriate space for a sketch or a photograph. Include your name and address, as well as your telephone number, on the poster. Also state whether a reward is being offered. The poster must attract attention, so vary the size and colour of your letters.
10. POETRY: CLASS PROJECT
(a) Write a poem consisting of four verses to describe your cat when it is:
happy
sad
hungry
angry
(b) Try to use a lot of sound words to indicate the mood that the cat is in. Use appropriate movements and interpretations in your groups and act as cats in the four above-mentioned moods.
MAKE USE OF THE FOLLOWING WORDS:
scratch
scream
hiss
scatter
spitfire
pftts
whiskers
snarl
spits
miaow
gasps
purr
slathery
slithery
spitch
spatch
11. FELINE FIGURATIVE LANGUAGE
(a) There are many idiomatic expressions which are related to cats in one way or another. Some meanings are given below. How many idioms can you supply?
(i) to expose the trick; to let out the secret
(ii) to be always quarrelling and fighting
(iii) to avoid worrying and fretting oneself to death
(iv) to sit on the fence; to see how things are likely to turn out before a decision is made
(v) to rain incessantly
(vi) a thief who enters by climbing
(vii) a whistle, often rude
(viii) said about people who will not mind their own business