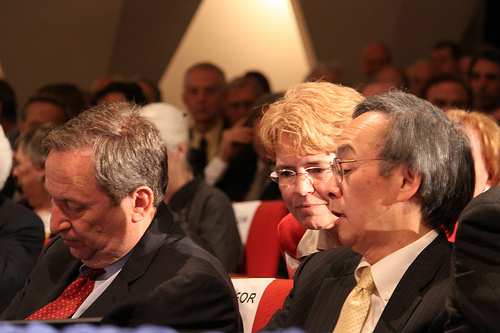 The american recovery and reinvestment act
On February 17, 2009, Obama signed into law the American Recovery and Reinvestment Act (commonly known as the stimulus package). The approximately $800 billion package contained more than $30 billion for science and technology, with investments in clean energy, education, basic research, health care, broadband communications, infrastructure, and medical discoveries. Specific R&D increases included:
National Science Foundation: $3 billion, including $2.5 billion for research and related activities, $400 million for major research equipment and facilities, and $100 million for improving instruction in science, math and engineering.
National Institutes of Health: $10 billion, including $1.3 billion for the National Center for Research Resources ($1 billion of this for competitive awards, construction and renovation of extramural research facilities); $8.2 billion to the Office of the Director ($7.4 billion for Institutes and Centers and Common Fund); and $500 million for repair and improvement of NIH buildings and facilities.
Department of Energy: $0.4 billion, including $16.8 million for energy efficiency, renewable energy sources and batteries, and $1.6 million for science programs.
ARPA-E: $400 million for high-risk, high-payoff research into energy sources and energy efficiency.
NASA: $1 billion, including $400 million for science, $150 million for aeronautics, and $400 million for exploration.
National Institute of Standards and Technology: $600 million, including $220 million for research, competitive grants fellowships and equipment, and $360 million for maintenance and construction of NIST facilities.
U.S. Geological Survey: $140 million for surveys, investigations and research.
Department of Defense: $300 million for research, testing and evaluation.
Energy initiatives
The development of clean, alternative, sustainable energy sources was accorded an early high priority by the Obama administration. To this end, solicitation for ARPA-E's first round of funding awards was made in April 2009; the following October, Secretary of Energy Steven Chu announced the first thirty-seven awards. The lead researchers were in seventeen states, 43 percent of the awardees were small businesses, 35 percent were educational institutions, and 19 percent were large corporations. That December, Chu announced a second round of awards in three categories: Innovative Materials and Processes for Advanced Carbon Capture Technologies; Batteries for Electrical Energy Storage in Transportation; and Electrofuels. Chu also announced a new ARPA-E fellowship program to enable qualified scientists and engineers to spend up to two years working in relevant federal agencies.