Lewensvaardighede
Graad 3
Eendag as ek groot is
Module 6
Entrepreneur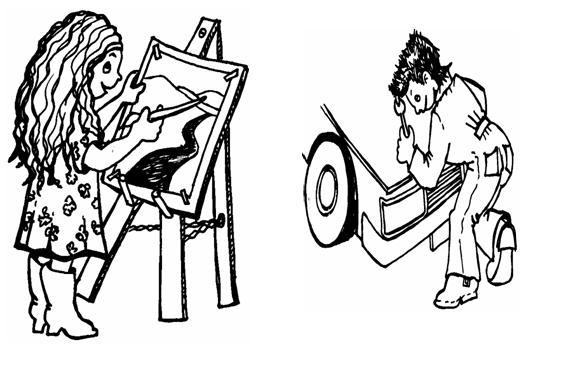 Entrepreneur
Wanneer jy eendag jou eie besigheid wil begin, moet jy baie seker maak dat die mense jou produk sal wil koop.
Skryf neer watter drie produkte jy graag sal wil verkoop.
Waarom dink jy sal mense graag jou produk wil koop? Gee twee redes daarvoor.
Teken hoe jou produkte gaan lyk.
Maak 'n advertensie om een van jou produkte te adverteer.
Maak 'n lysie van wat jy nodig gaan hê om jou produk te maak.
Teken prentjies van jou benodighede.
Bereken hoeveel dit jou gaan kos.
Skryf die prys langs elke item neer.
Voel jy nog opgewonde oor jou produk?
ONTHOU, JY MOET SEKER MAAK DAT JY 'N WINS OP JOU PRODUK MAAK!
Gaan gesels met die eienaar van 'n winkel. Vind 'n bietjie meer uit hoe sy aankope gedoen word en of dit 'n winsgewende besigheid is.
Merk met 'n kruisie of 'n regmerkie om te sê hoe jy oor jou produkte voel.
| | | |
| --- | --- | --- |
| 1. Ek het meer geleer oor 'n besigheid. | | |
| 2. Dit was vir my lekker om navorsing te doen. | | |
| 3. Dit was vir my baie interessant om met die eienaar van 'n besigheid te gesels. | | |
| 4. Daar was baie nuwe produkte op die mark. | | |
| 5. Ek sou graag eendag my eie besigheid wil bestuur. | | |
Assessering
Leeruitkomstes(LUs)
NATUURWETENSKAP LU 1
WETENSKAPLIKE ONDERSOEKDie leerder in staat om met vertroue te reageer t.o.v. nuuskierigheid oor natuurlike verskynsels en om die verhoudinge te ondersoek en probleme op te los in wetenskaplike-, tegnologiese en omgewingskontekste.
Assesseringstandaarde(ASe)
Dit is duidelik wanneer die leerder:
1.1 Beplan : die materiaal wat deur die groep gekies is om die groep se plan te kommunikeer gebruik;1.2 Doen : konstruktief aan die aktiwiteit deelneem en die doel daarvan verstaan.
TEGNOLOGIE LU 1
TEGNOLOGIESE PROSESSE EN VAARDIGHEDE Die leerder is in staat om tegnologiese prosesse en vaardighede met verantwoordelikheid toe te pas deur gepaste inligtings- en kommunikasietegnologie te gebruik.
Assesseringstandaarde(ASe)
Dit is duidelik wanneer die leerder:
1.1 Ondersoek : vind uit oor die historiese konteks wanneer sy of hy 'n probleem, behoefte of geleentheid met betrekking tot strukture, verwerking of stelsels en beheer gegee word;1.2 Ondersoek : vind uit waarom bestaande produkte met betrekking tot 'n probleem, behoefte of geleentheid gepas vir die doel daarvan is;1.4 Maak : verduidelik hoe produkte gemaak gaan word en wat gebruik gaan word om dit te maak;1.5 Maak : maak produkte op 'n veilige manier deur 'n verskeidenheid soorte materiaal te heg/las of saam te voeg;1.6 Evalueer : sterk punte en swakhede van eie en ander se produkte identifiseer.
Memorandum
Die leerder kan 'n beroep kies (trek 'n kaartjie uit 'n houer). Hy/sy moet naslaanwerk gaan doen of met iemand daaroor gaan praat en dan mondeling daaroor kom doen in die klas.
Vertel vir die klas waarom jy eendag 'n Entrepreneur wil word.
Questions & Answers
Receive real-time job alerts and never miss a matching job again
Source:  OpenStax, Lewensvaardighede graad 3. OpenStax CNX. Sep 21, 2009 Download for free at http://cnx.org/content/col11106/1.1
Google Play and the Google Play logo are trademarks of Google Inc.
Notification Switch
Would you like to follow the 'Lewensvaardighede graad 3' conversation and receive update notifications?