Selective permeability
Plasma membranes are asymmetric: the interior of the membrane is not identical to the exterior of the membrane. In fact, there is a considerable difference between the array of phospholipids and proteins between the two leaflets that form a membrane. On the interior of the membrane, some proteins serve to anchor the membrane to fibers of the cytoskeleton. There are peripheral proteins on the exterior of the membrane that bind elements of the extracellular matrix. Carbohydrates, attached to lipids or proteins, are also found on the exterior surface of the plasma membrane. These carbohydrate complexes help the cell bind substances that the cell needs in the extracellular fluid. This adds considerably to the selective nature of plasma membranes ( [link] ).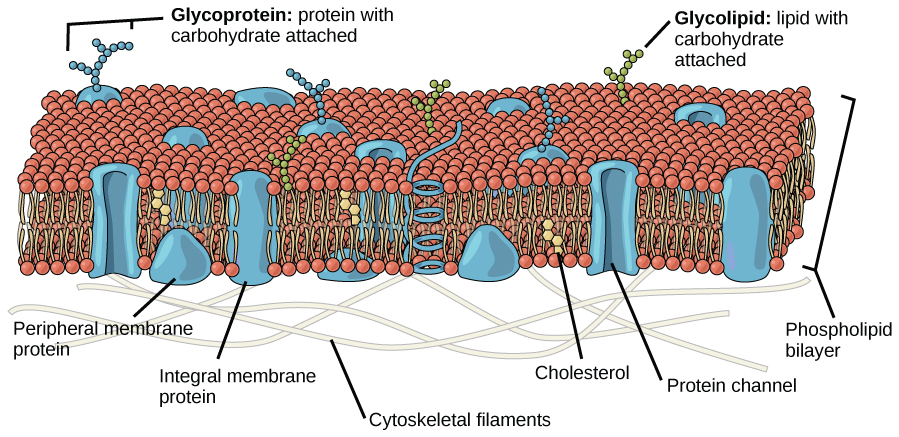 Recall that plasma membranes are amphiphilic: They have hydrophilic and hydrophobic regions. This characteristic helps the movement of some materials through the membrane and hinders the movement of others. Lipid-soluble material with a low molecular weight can easily slip through the hydrophobic lipid core of the membrane. Substances such as the fat-soluble vitamins A, D, E, and K readily pass through the plasma membranes in the digestive tract and other tissues. Fat-soluble drugs and hormones also gain easy entry into cells and are readily transported into the body's tissues and organs. Molecules of oxygen and carbon dioxide have no charge and so pass through membranes by simple diffusion.
Polar substances present problems for the membrane. While some polar molecules connect easily with the outside of a cell, they cannot readily pass through the lipid core of the plasma membrane. Additionally, while small ions could easily slip through the spaces in the mosaic of the membrane, their charge prevents them from doing so. Ions such as sodium, potassium, calcium, and chloride must have special means of penetrating plasma membranes. Simple sugars and amino acids also need help with transport across plasma membranes, achieved by various transmembrane proteins (channels).
Diffusion
Diffusion is a passive process of transport. A single substance tends to move from an area of high concentration to an area of low concentration until the concentration is equal across a space. You are familiar with diffusion of substances through the air. For example, think about someone opening a bottle of ammonia in a room filled with people. The ammonia gas is at its highest concentration in the bottle; its lowest concentration is at the edges of the room. The ammonia vapor will diffuse, or spread away, from the bottle, and gradually, more and more people will smell the ammonia as it spreads. Materials move within the cell's cytosol by diffusion, and certain materials move through the plasma membrane by diffusion ( [link] ). Diffusion expends no energy. On the contrary, concentration gradients are a form of potential energy, dissipated as the gradient is eliminated.