Afrikaans huistaal
Graad 7
Module 14
Literêre skatkis
Die klassieke letterkunde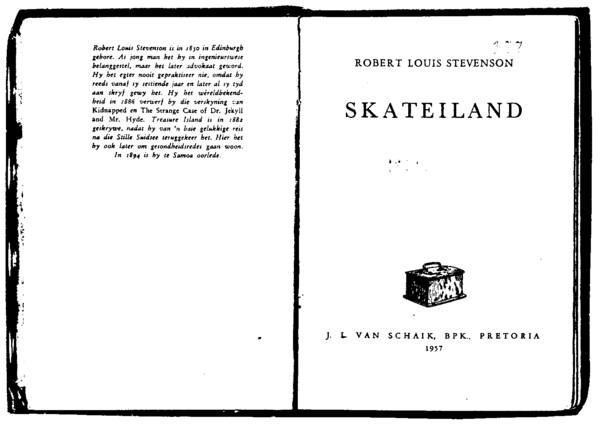 'n Kunstenaar werk met materiaal wanneer hy besig is om te skep.
Die skilder gebruik olie- of waterverf wanneer hy 'n skildery maak.
Skrywers (of woordkunstenaars) gebruik taal om mee te skep. Die kunswerke wat hulle skep, staan bekend as letterkunde .
Letterkunde is nie bloot stories wat mense geskryf het om ander mee te vermaak nie. Trouens, goeie letterkunde speel 'n baie belangrike rol in ons lewens. Dit stel mense in staat om kennis te maak met die mees basiese lewenskwessies. Daar kan gesê word dat die letterkunde hom bemoei met die mens se bestaan en lewenservarings .
Al is 'n letterkundige werk reeds honderde jare oud, kan dit steeds iets sê oor die dinge wat deel is van mense se belangrikste lewenservarings soos byvoorbeeld geboorte en dood, liefde, hartseer, eensaamheid en begeertes.
Die letterkunde kan steeds betekenisvolle kommentaar lewer oor probleme wat so oud as die mens self is, en waarmee elke nuwe geslag te doene kry. Wat ons voorouers honderde jare gelede ervaar het, ervaar ook ons nog steeds.
Verhale en stories wat daarin slaag om mense oor baie jare steeds te boei en stof tot nadenke bied omdat hulle die toets van die tyd deurstaan het, word uiteindelik deel van die klassieke wêreldletterkunde. Hulle word in ander tale vertaal sodat meer mense dit kan lees.
In Afrikaans is daar 'n lang lys van boeke wat vertaal is uit ander wêreldtale soos Engels, Frans en Duits sodat ons ook in Afrikaans die genot en plesier daarvan kan ervaar wanneer ons die boeke lees.
Een sodanige boek is Treasure Island deur Robert Louis Stevenson. Hierdie boek het reeds in 1883 verskyn. Dit is die eerste vollengte roman wat hy geskryf het. Dit is in 1925 in Afrikaans vertaal met die titel Skateiland .
Julle het waarskynlik reeds met hierdie verhaal op televisie kennis gemaak. Etlike weergawes is gebeeldsend, of as 'n film, of as 'n tekenprent. Walt Disney het 'n vollengte rolprent daarvan vervaardig en is in die meeste videowinkels beskikbaar. Die verhaal in Afrikaans behoort in die plaaslike biblioteek beskikbaar te wees as deel van die vertaalde Libri-reeks.
Die skrywer
Robert Louis Stevenson is in 1850 in Edinburgh gebore. Sy vader was 'n welvarende en beroemde ingenieur. As kind was hy dikwels siek en het meeste van die tyd in die bed deurgebring waar hy baie gelees het. As jong man het hy in ingenieurswese belanggestel, maar het later as advokaat gekwalifiseer. Hy het egter nooit gepraktiseer nie, omdat hy reeds vanaf sy sestiende jaar en later al sy tyd aan skryf gewy het. Hy het wêreldbekendheid in 1886 verwerf met die verskyning van Kidnapped en The Strange Case of Dr Jekyll and Mr Hyde. Treasure Island is in 1882 geskryf, na sy terugkeer van 'n genotvolle reis na die Stille Oseaan en Suidsee. Hier het hy ook later om gesondheidsredes gaan woon. In 1894 is hy in Samoa oorlede.
'n Uittreksel uit die 1925-vertaling van Skateiland
By die eerste groot boom het ons stilgestaan, maar, volgens die kompas, was dit die verkeerde. So ook met die tweede. Die derde was goed twee honderd voet hoog; 'n reus van 'n boom, met 'n stam so wyd as een huis, en 'n breë skaduwee, waaronder 'n hele afdeling soldate sou kan maneuvreer. Van Ooste en Weste kon dit van die see af gesien word, en sou as 'n teken kon gedien het as baken vir 'n skip.