Natuurwetenskappe
Graad 5
Lewe en lewenswyse
Module 9
Die invloed van bome op lewende organismes in en onder bome
Aktiwiteit:
Om vas te stel watter invloed immergroen en bladwisselende bome op die lewem\nde organismes in en onder hulle het
[lu 1.2]
Alles wat in die natuur gebeur, is van betekenis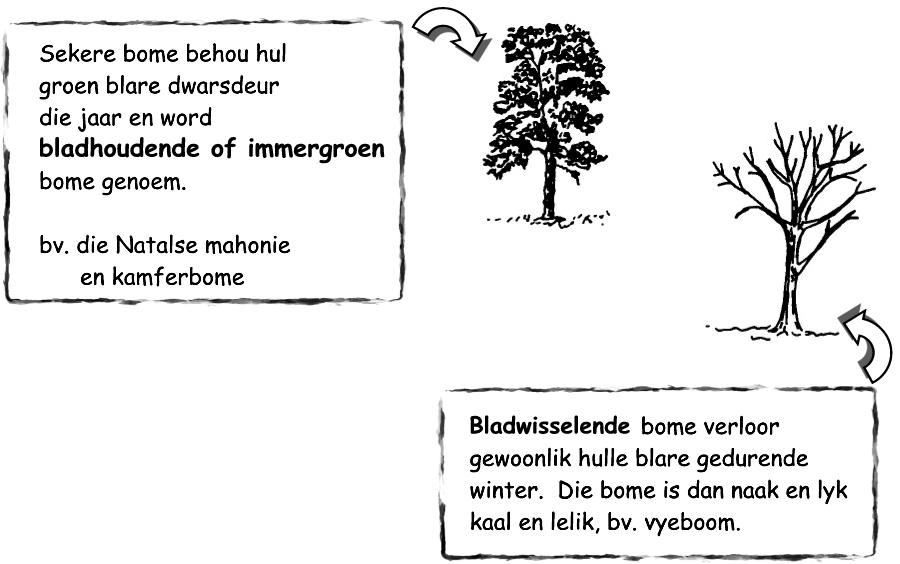 Hoe affekteer die aard van die twee soorte bome die diere wat in die bome of onder hulle leef?
Assessering
LU 1
WETENSKAPLIKE ONDERSOEK Die leerder is in staat om met selfvertroue op weetgierigheid oor natuurlike verskynsels te reageer, en om binne die konteks van wetenskap, tegnologie en die omgewing verbande te ondersoek en probleme op te los.
Dit is duidelik wanneer die leerder:
1.1 ondersoeke beplan;
1.2 ondersoeke uitvoer en data versamel;
1.3 data evalueer en bevindinge kommunikeer;
Memorandum
Die belangrike is dat die leerders self dink en antwoorde waag, bv.
voëls kan slegs sekere tye van jaar nes maak in 'n bladwisselende boom.
bladwisselende bome verskaf slegs sekere tye van die jaar voedsel aan insekte.
die grond onder 'n bladwisselende boom is dalk droër en harder as onder 'n bladhoudende boom.
'n bladhoudende boom verskaf altyd skaduwee aan plante en diere wat daarvan hou, ens.
Questions & Answers
Receive real-time job alerts and never miss the right job again
Source:  OpenStax, Natuurwetenskappe graad 5. OpenStax CNX. Sep 23, 2009 Download for free at http://cnx.org/content/col10980/1.2
Google Play and the Google Play logo are trademarks of Google Inc.
Notification Switch
Would you like to follow the 'Natuurwetenskappe graad 5' conversation and receive update notifications?