Afrikaans eerste addisionele taal
Graad 6
Module 7
Die geheimsinnige see
Die geheimsinnige see
Ons praat van die wêreld waarin ons leef as die "aarde." Eintlik is dit verkeerd, want daar is baie meer water as vasteland (mainland). As ons die wêreld sou verdeel in see en vasteland, sal daar 70% see en 30% vasteland wees. As die sirkel hieronder die aarde voorstel, hoe kan jy dit verdeel om aan te dui watter persentasie is water en watter persentasie is vasteland?
Duisende jare gelede het die mense net die land geken en byna niks geweet van die wye en geheimsinnige oseaan nie. Die land was al wat belangrik was. Ons kan dit sien op hierdie "Wêreldkaart" wat 2 500 jaar gelede geteken is deur 'n Griekse geleerde, Hekatäus. Hierdie kaart stel die aarde voor as Europa, Asië en Noord-Afrika en die Middellandse See.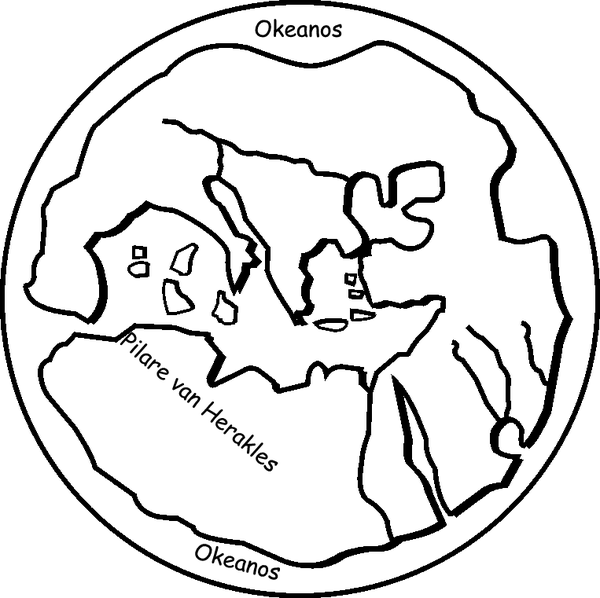 Die wêreldkaart van die Griekse geleerde Hekatäus (ongeveer 500 v.C.)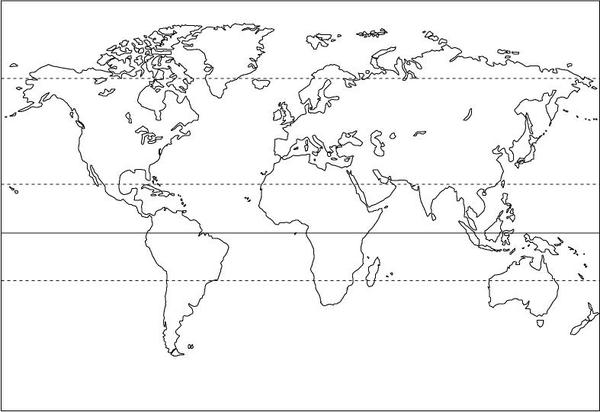 Die wêreldkaart vandag
Verdeel nou in groepe en bespreek die volgende:
Wat is die grootste verskille tussen die twee kaarte?
Hoeveel vastelande is daar op ons wêreldkaart?
Watter lande kan julle herken op Hekatäus se kaart?
Wat is hulle name?
Hoekom word die Middellandse See so genoem?
Wat is die Griekse naam vir die oseaan?
Seediere
Die see is die tuiste van talle plante en diere. Die meeste seediere kom in die kuswaters naby die land voor. Kan jy enige van die volgende herken? Werk saam met 'n maat en skryf die name neer van die seediere wat julle herken. Kies uit die lys hieronder.
seeperdjie; kreef; haai; rob; dolfyn; paling; pikkewyn; walvis: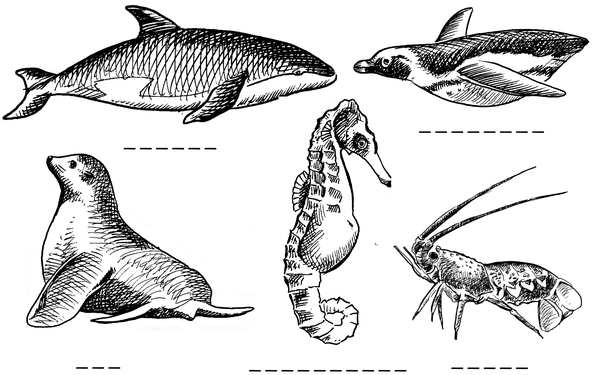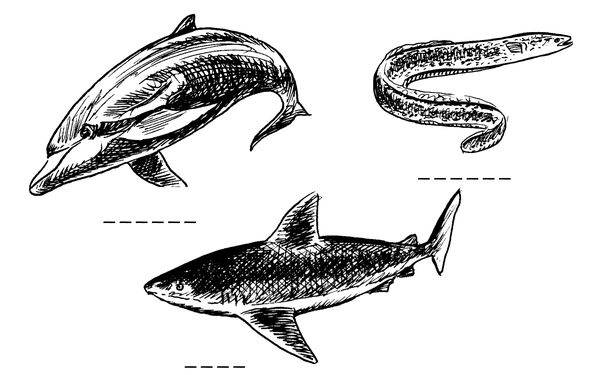 Leer nou die spelling van hierdie seediere se name.
Mondeling
Jy het nou 'n gesprek tussen 'n haai en 'n duiwelvuurvis ontsyfer. Hier gaan nou nog 'n gesprek volg, maar hierdie slag is jy ook 'n vis. Jy kan enige vis of seedier wees. Jou maat gaan die onderstaande vrae vra en jy moet hulle kan beantwoord. Jy sal dus 'n bietjie inligting moet insamel oor die vis of seedier wat jy wil wees. Jy en jou maat gaan beurte maak om die vrae te stel. Ons kan mos ook sê julle gaan beurte maak om 'n onderhoud te voer. Onthou om in volsinne te antwoord.
ONDERHOUD
Julle kan die antwoorde neerskryf as julle wil.
Wat is jou naam? (Watter soort seedier of vis is jy?)
Beskryf hoe jy lyk:
Waar of wat is jou woonplek?
Wat eet jy en hoe kry jy jou kos in die hande?
Wie of wat is jou vyande en hoekom?
Hoe plant jy voort? (How do you reproduce?)
Hoe beweeg jy?
Het jy enige eienaardige gewoontes? (Do you have any strange habits?) Vertel ons daarvan.
ASSESSERING: MONDELING – onderhoud voer
Skriftelike werk
Skryf nou 'n kort verslag oor die seedier of vis waaroor jy gepraat het. Beskryf dieselfde dinge soos wat jy dit gedoen het terwyl jy mondeling gepraat het.
watter soort seedier of vis jy is;
jou voorkoms;
jou woonplek;
jou kos;
jou vyande;
waar jy jou eiers lê;
hoe jy beweeg;
enige eienaardige gewoontes
Skryf ongeveer ag tot tien sinne. Die titel moet die naam van jou vis of seedier wees.
Stilleestoets
Lees die onderstaande leesstuk oor visse se uitwendige kenmerke. Beantwoord die vrae.